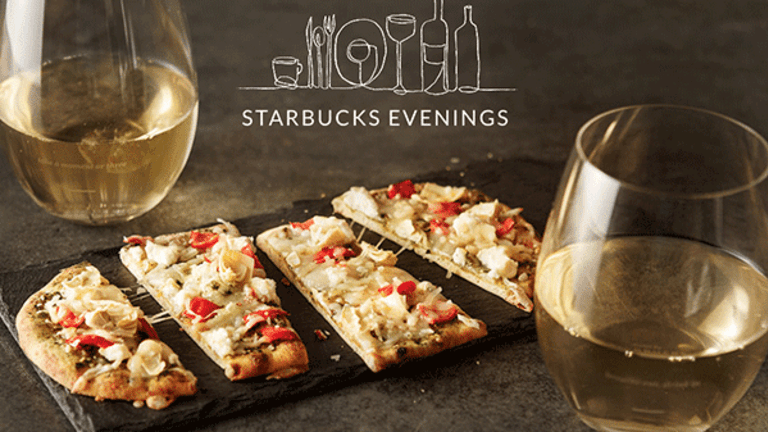 Starbucks Struggles to Become Your Local Saloon
Starbucks' heart is in the right place in wanting to serve booze and dinner food, but the entire platform needs work.
Before venturing off into brunch-friendly food, Starbucks (SBUX) - Get Starbucks Corporation Report should reassess its foray into happy hour offerings that target small groups.  
After testing its evenings menu in select stores in 2010, foods such as a tiny mac and cheese and an array of beer and wine are now available at about 430 U.S. Starbucks locations. We decided to put the entire Starbucks evenings experience to the test recently after coming across it at a New York City location. Although we weren't expecting the same attentive customer service often found at typical happy hour restaurant spots, or a super high-quality food offering as Starbucks doesn't make its food on site (it comes packaged), we held out hope for a reasonably satisfying visit.
Unfortunately, that didn't happen, which, in hindsight, should have been anticipated.
"You have to remember that the evenings program is brand new territory for them, and success has never been guaranteed. Having a coffee shop sell wine and other alcohol in the evenings? When you think about it, it's not necessarily an intuitive move--or at least wasn't when they rolled it out," explained David Henkes, Advisory Group Senior Principal at research firm Technomic.
Here is our experience.
The evening food offered at this Starbucks location consists of eight items (seen below on the right), headlined by two flatbreads and a truffle mac and cheese. Yum.
We walked up to the register with plans to sample the entire menu.  
"Bacon-wrapped dates, we have to try those," we said.
Here is our check. Notice that it only includes two flatbreads (in addition to two espresso cloud IPA beers). The reason? None of the other items were in stock, said the cashier. 
No big deal. The bigger deal, however, was how we would get our food in the crowded Starbucks after paying. We weren't given a ticket or one of those restaurant buzzers to eventually come and pick up our order at a counter. We were simply told to go sit down and a Starbucks employee "would find us."
After 10 minutes or so sitting a small circular table (the four restaurant booths were filled by one or two people scrubbing free Wi-Fi--this is where Starbucks having a seating hostess at its evenings locations may be helpful) we went to go find the Starbucks employee to check up on the order. Luckily, we ran into the employee coming out from behind the counter carrying our beers. No food just yet--that came a few minutes later. 
The craft beer is actually priced pretty darn well for New York City.
The espresso cloud IPA is a new addition to the Starbucks evening menu. We never tried putting espresso in a beer before, but were intrigued. The entire process reminded us of doing jagerbombs at the club back in college. 
Here is what a jagerbomb is, for you noncool people.
The beer came out ice cold!
When we asked the server how to properly drink the espresso cloud IPA, she said pour the espresso shot in and enjoy. Seeing as there was sufficient room in the beer glass and the espresso shot was small, we poured it into the glass as instructed.
Then the below instantly happened. We aren't chemists, so aren't sure if adding coffee to ice cold beer causes some form of chain reaction. However, once cleaned up, the beer was the show-stopper here. It tasted great, and we are now open to putting coffee in our after-work happy hour Bud Lights. 
All beer needs to have coffee in it--yes, for real.
The Starbucks chicken sausage flatbread--a detailed explanation isn't even needed as the picture should say it all. It needs work, and a lot of it. And, it got cold very fast unlike, say, a simple cheese pizza bought from a fast food joint.  
Moving right along.
If you aren't one of the lucky ones in the group to grab the two center pieces on the artichoke flatbread (pictured closer to you), don't expect any feta cheese. Sad, but true story. 
Where's the cheese?
Artichoke flatbread close-up done in the hopes of showcasing some feta cheese.
Both flatbreads need work.
Starbucks is a holding in Jim Cramer's Action Alerts PLUS Charitable Trust Portfolio. Want to be alerted before Cramer buys or sells SBUX? Learn more now.