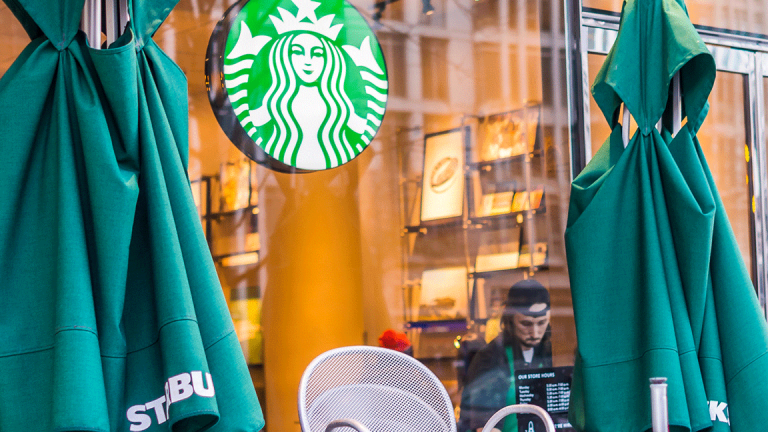 Starbucks Stock Performance in 2018: -12%
Starbucks shares have continued their terrible week following news of CEO Kevin Johnson hitting the reset on Wall Street expectations.
Can't blame Starbucks (SBUX) investors for continuing to haul tail out the back door. 
The home of the $5 latte saw its shares dive 3% to $50.59 on Thursday as investors digested a shaky TV performance by Starbucks CEO Kevin Johnson on Wednesday and his attempt to reset Wall Street expectations. Starbucks shares are now down by 12.2% on the year. The stock has lagged the Dow Jones Industrial Average undefined and S&P 500 undefined for the better part of two years. 
Outgoing Starbucks executive chairman Howard Schultz told TheStreet's founder Jim Cramer Friday the stock is "cheap and undervalued."
On Tuesday evening, Starbucks said it would shutter 150 U.S. stores next year amid heightened competition from the likes of upstart Blue Bottle and new ready-to-drink coffee aisles in grocery stories. Global same-store sales are expected to rise 1% versus the previous consensus forecast of 3%. 
Cramer, who pressed Johnson on-air Wednesday, said there are multiple problems with Starbucks. "There's a lot not to like," Cramer said.
Morgan Stanley analyst John Glass said further risks to achieving his new $59 price target are continuing thanks to U.S. and China same-store sales declines and rising costs in coffee and labor.
Street Analysis
3 Big Challenges Starbucks Just Revealed
Starbucks says global same-store sales may rise 1% in the most recent quarter. In the preceding quarter, same-store sales rose 2%. Sales may have been hampered by the incident in May that took place at a Starbucks in Philadelphia.
The company will also move quicker to shutter under-performing stores. Said Starbucks, "Starbucks is optimizing its U.S. store portfolio at a more rapid pace in FY19, including shifting new company-operated store growth to underpenetrated markets, slowing licensed store growth, and increasing the closure of underperforming company-operated stores in its most densely penetrated markets to approximately 150 in FY19 from a historical average of up to 50 annually."
The company signaled it continues to battle cost increases, likely for wages, training and tech investments. Said Johnson, "While certain demand headwinds are transitory, and some of our cost increases are appropriate investments for the future, our recent performance does not reflect the potential of our exceptional brand and is not acceptable. We must move faster to address the more rapidly changing preferences and needs of our customers. Over the past year we have taken several actions to streamline the company, positioning us to increase our innovation agility as an organization and enhance focus on our core value drivers which serve as the foundation to re-accelerate growth and create long-term shareholder value."
Starbucks is seeking to license company-operated stores in certain markets likely as a means to lower costs.
The 3 Short-Term Fixes
Introduce a more generous rewards program. 
Close more than 150 stores to cut costs and reduce cannabalization. 
Watch more markets analysis from TheStreet here.