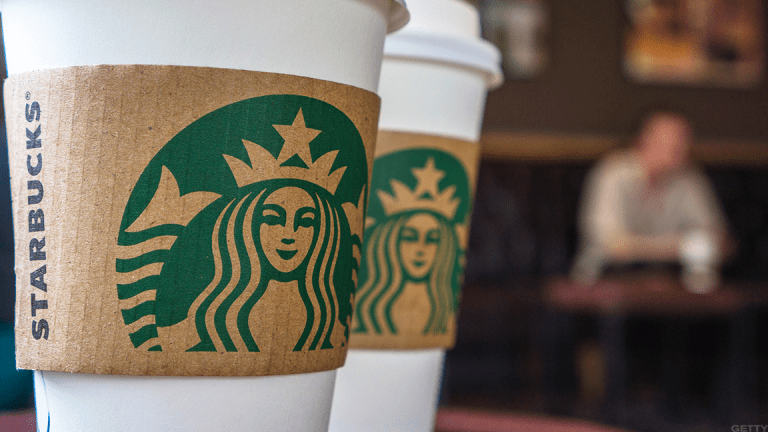 Starbucks Stock Is as Cold as a Venti Iced Coffee
Starbucks has impressive growth in China and disappointing growth in the U.S. Nobody knows what to do with this stock, Cramer reasoned.
After falling more than 4% in Friday trading thanks to its Thursday evening earnings report, Starbucks (SBUX) - Get Report is trying to stabilize Monday. So far, it's not going well.
Shares are down about 1.5% on the day as investors continue to digest the company's fiscal first-quarter results. There's one main problem with Starbucks and it's got a lot of investors in a quandary, TheStreet's Jim Cramer said on CNBC's "Mad Dash" segment.
No one knows what to pay for Starbucks stock, Cramer reasoned. The China story continues with robust optimism, as the region continues to churn out impressive growth numbers. On the flip side, though, Starbucks' largest segment, the U.S., continues to put up unimpressive growth numbers.
Cramer isn't the only one making this observation. Bernstein analysts downgraded Starbucks to market perform from outperform and lowered their price target to $64 from $67. The analysts explained that the growth in China is not enough to offset the disappointing growth in the U.S.
So what's wrong with the U.S. business? It doesn't help that the answer keeps changing. First it was too much demand and chaos with the company's Mobile Order and Pay solution. Now there are questions as to whether Starbucks whiffed on some of its key drinks during the quarter.
"This is a battleground stock," Cramer reasoned, because investors don't know what to pay for it. Many are not willing to give the company the benefit of the doubt anymore and if Starbucks isn't able to rejuvenate its U.S. business, then shares seem overpriced.
While spinning off its China business -- much like what Yum Brands (YUM) - Get Report did with Yum China (YUMC) - Get Report -- Starbucks management doesn't seem keen on the idea, added Cramer, who also manages the Action Alerts PLUS charitable trust portfolio.
So where does that leave Starbucks? We don't know! Which is precisely the problem.
The stock doesn't command the valuation that it used to. If management figures out how to bring the U.S. business back to more impressive growth, it will recapture that premium. If not, shares are too expensive. Starbucks is also too big for a takeover, sporting a market cap of more than $80 billion.
In many ways, this stock looks like Nike (NKE) - Get Report before its recent rally, Cramer concluded.
More of What's Trending on TheStreet:
At the time of publication, Cramer's Action Alerts PLUS had no position in any security mentioned.