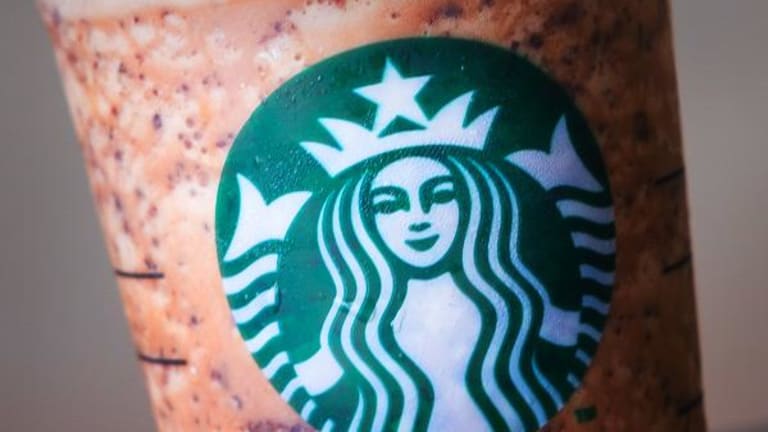 Starbucks Stock Could Use a Jolt -- Plus Jim Cramer's Take
Can Starbucks keep growing, even though its stock is nearly 4% lower for the year?
Can Starbucks keep growing, even though its stock is nearly 4% lower for the year?
In the last quarter, shares of Starbucks (SBUX) - Get Report are up 6.7%, but are still lower by 3.9% year to date. Last week, Starbucks management held an analyst meeting and presented its five-year plan to grow the company. The plan looks pretty aggressive but achievable.
Starbucks continues to target 10% revenue growth and 15% to 20% earnings growth. To get there, the company plans to add a staggering 12,000 new cafes by 2021. About half are expected to open in the United States and China. (If you thought we had too many Starbucks right now, just wait!) The company plans to have a total of 37,000 cafes by 2021.
Management hopes to drive earnings with mid-single-digit comparable-store sales growth, which seems fairly achievable. From 2014 to 2016, Starbucks reported an overall blended comp of 5.5%, 6.9% and 5.4%, respectively by year.
The company is also squeezing costs out. Starbucks found a way to cut $400 million out of its supply chain this year and is on track to deliver another $1 billion in savings by 2021.
Jim Cramer and Jack Mohr hold the stock in their Action Alerts PLUS portfolio. They wrote of the stock last Friday, "Ultimately, the company is supported by a robust pipeline, ambitious growth targets in China (which will eventually be a larger market than the U.S.), and focused improvements on through-put. We recognize that there are some challenges next year regarding wage pressure and a need to return to improved domestic same-store-sales growth, but we are cautiously optimistic that the company can deliver on its initiatives." Cramer and Mohr have a $65 price target on the stock.
Starbucks is a holding in Jim Cramer's Action Alerts PLUS Charitable Trust Portfolio. Want to be alerted before Cramer buys or sellsSBUX? Learn more now.
Starbucks has an impressive track record. In just the last two years, it increased revenue by 27% to $20.9%. In the same period, earnings grew 39% and the company's market cap rose 45%. Starbucks returned $3.2 billion in cash to shareholders and the stock has returned double what the S&P 500 has.
Management believes it can elevate the brand even further by opening stores with a higher-end reserve bar and separate reserve stores. The company plans to open 20 to 30 exclusive "Roasteries" globally, as well as and 1,000 Starbucks Reserve stores. In addition, the company thinks it can add Reserve Bars to 20% of its current locations. The company will begin to roll out the Reserve concept next year.
With $9 billion in incremental revenue over the next five years, the North American business is expected to double profits. Management plans to drive additional sales by offering more food. Right now, the company sells about $2.4 billion worth of food. Breakfast sandwiches account for about 40% of food revenue. Cold beverages also offer an opportunity to drive incremental sales -- they are just 35% of sales and management believes it can find ways to drive that number toward 50% by 2021.
Revenue grew 11% in fiscal 2016 and is expected to increase another 7.5% next year. The company earned $1.91, up 20.7%, and posted a 5.4% same-store sales number.
Starbucks plans to release first-quarter fiscal 2017 results on Jan. 26. Investors are anticipating earnings of 52 cents per share on $5.8 billion in revenue.
The quick-service restaurant group trades between 25 and 30 times forward estimates, so it is entirely plausible that Starbucks could trade to the mid $60s on fiscal 2018 estimates of $2.47.
This article is commentary by an independent contributor. At the time of publication, the author held no positions in the stocks mentioned.