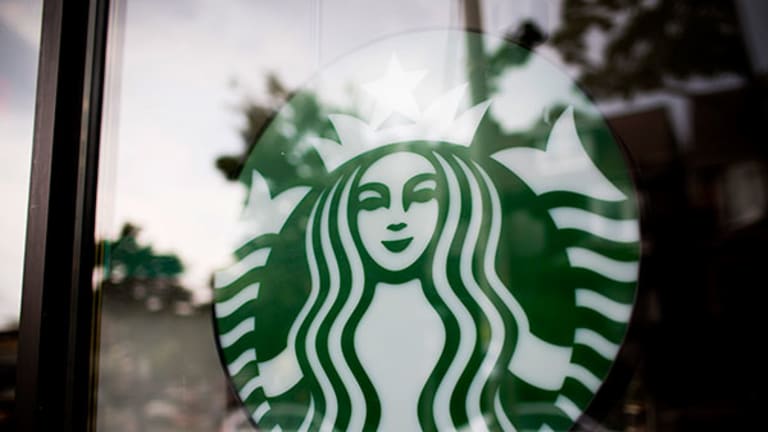 Starbucks Pops: What Wall Street's Saying
Starbucks CEO Howard Schultz's earnings conference call comments, chock full of growth initiatives, continually sets this company apart from others in the food and beverage industries.
NEW YORK (TheStreet) - Starbucks (SBUX) - Get Free Report reported fiscal second-quarter earnings last night that were largely in line with what Wall Street was expecting. However, it was CEO Howard Schultz's conference call comments, chock full of growth initiatives, that continually sets this company apart from others in the food and beverage industries.
The Seattle-based company said after the markets closed on Thursday that quarterly net income attributable to Starbucks rose 9.4% to $427 million, or 56 cents a share, for the March 30-ending quarter. Starbucks had guided in its first-quarter earnings for the second quarter EPS to be in the range of 54 to 55 cents a share. Beating the weather pessimists, Starbucks also reported same-store sales of 6% above consensus expectations of 5.4%. The company said operating margin rose 130 basis points, primarily from "lower commodity costs and sales leverage."
During the conference call, Schultz, who in January ceded daily operations oversight to COO Troy Alstead, in order to focus on strategies to continue the company's growth trajectory, named a host of upcoming initiatives, from drive-through stores to new products such as Fizzio, a cold carbonated beverage, to possibly licensing its digital platform. 
Schultz said that "major tech companies" and "national retailers" have contacted the coffee chain asking if the company would be "willing to license or white label" its technology and mobile platforms.
While Schultz didn't name names on the call, it's clear the company is considering it.
Schultz reiterated in the call that approximately 14% of Starbucks' tender sales come from mobile payments rising 75% from just one year ago. More than 10 million Starbucks customers are actively using its mobile platform. "Most national retailers did not invest ahead of the growth curve ... to execute this and to fully understand it," he said, adding that technology companies don't have the consumer interface to execute a platform. "We are in a very unique position. ... We strongly believe there is an opportunity" to monetize the platform that will complement Starbucks' business.
"We have not made a decision as to what we will do, but I can share with you we are actively pursuing a number of conversations," he added. "We are in the sweet spot to take advantage" of the situation.
Starbucks shares were rising 0.32% to $71. 32 on Friday. Here's what Wall Street analysts have to say following the company's earnings report last night.
Jason West, Deutsche Bank (Buy; lowered PT to $84 from $88)
We came away from F2Q results more confident in SBUX's ability to sustain strong SSS, driven by an impressive pipeline of initiatives (food, sodas, tea, tech). However, Americas SSS compares are 2pts. tougher in 2H vs. 1H, so we're still modeling 2H SSS in the +5-6% range, though with an upward bias given the strong exit from F2Q. We've raised our FY14E EPS to $2.67 from $2.65, reflecting the solid F2Q and higher EPS guidance (now $2.62-2.68 vs. $2.59-2.67 prev.). We're also taking this opportunity to adjust our FY15 model for higher coffee futures. While SBUX has contracted its coffee needs through ~1H of FY15 and views the recent move in coffee as manageable (via pricing and P&L management), we are raising our 2H15 COGS assumptions modestly (+20bps). This brings our FY15E EPS to $3.10 from $3.15.
Brian Bitner, Oppenheimer (Outperform; $86 PT)
In a difficult weather-impacted environment, SBUX's 6% comp was above 4-5% buy side expectations and should provide stock much better support than experienced year-to-date. Food improvements remain comp accretive (despite negative chatter) and beverage innovation still has a strong pipeline to drive comps. SBUX still boasts multi-layered growth drivers, and we believe in-store food and CPG opportunities are the most important thesis drivers from here. We tick up our F14 estimates, but do tick down F15 estimates (to +18% EPS growth).
John Glass, Morgan Stanley (Overweight; $92 PT)
2Q results were strong enough to arrest the downward drift in shares that began in late '13 as comps rebounded sequentially despite poor weather and management projected confidence in forward momentum and pipeline of innovation to come. Higher coffee costs in '15, while still a concern, don't seem to pose a threat to ongoing 15-20%+ EPS growth model.
Bonnie Herzog, Wells Fargo Securities (Outperform; raising PT to range of $89-$91
We continue to be impressed with SBUX's ability to deliver results and believe the future for the company remains very bright based on: (1) SBUX's strong execution of multiple initiatives in the U.S., (2) its tremendous potential to become an international powerhouse, (3) its impressive loyalty programs and digital offerings, and (4) its long runway for growth in CPG both in the U.S. and internationally where it's just getting started. Bottom line - SBUX's momentum continues and we think tremendous upside potential exists globally as Starbucks is on the cusp of its next great inflection point.
--Written by Laurie Kulikowski in New York.
Disclosure: TheStreet's editorial policy prohibits staff editors, reporters and analysts from holding positions in any individual stocks.