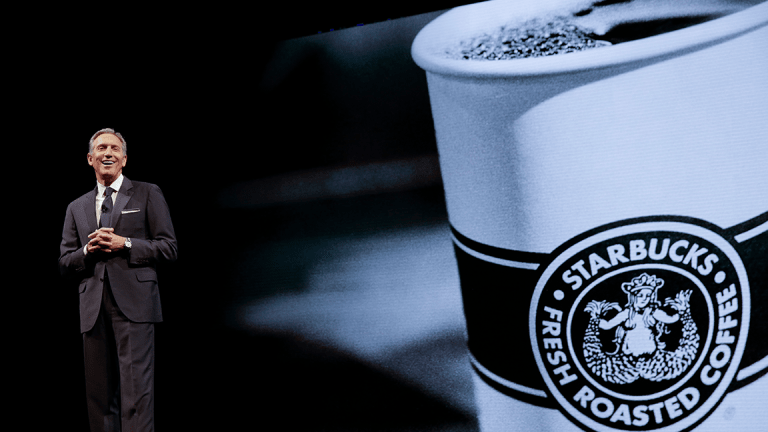 Starbucks May Be Better Off Without Schultz
After 40 years leading the charge for premium coffee, the executive chairman's pending exit will leave a void and an opportunity.
After 40 years leading the charge for premium coffee, the executive chairman's pending exit will leave a void and an opportunity.
A void and an opportunity. 
That's the story on what the pending exit of Howard Schultz from Starbucks Corp. (SBUX) - Get Report means after his 40-odd years leading the charge for the premium coffee company he founded.
"Graveyards are filled with indispensable people," Evercore ISI analyst Matt McGinley told TheStreet on Tuesday, June 5. "Howard provided a vision for that brand that others will be able to carry forward."
Schultz announced on Monday that he will step down as board chairman on June 29; the executive left his CEO post more than a year ago.
Schultz provided a "safety net" for investors, given his track record for driving growth and establishing a vision for the brand, BMO Capital Markets analyst Andrew Strelzik wrote in a note on Tuesday. "Now investors' focus will intensify on a management team that has not yet demonstrated the ability to improve performance in the key U.S. market amid a challenging environment."
McGinley added that Wall Street may not afford current CEO Kevin Johnson and the rest of the leadership team the same patience for slips that it gave to Schultz.
"For example," McGinley added, "in 2010 Starbucks made the strategic decision to sever its Kraft partnership, and in 2013, it cost SBUX $2.7 billion to settle those claims."
Any founder's departure, and Starbucks is no different, offers some immediate uncertainty for the company, analysts have said, but it also gives a boost to the current management team and the chance to sculpt the company as it sees fit. Schultz will be replaced as chairman by Myron Ullman, former chairman and chief executive of J.C. Penney Co. (JCP) - Get Report .
"Ullman's track record at J.C. Penney is impressive, given that he pulled it back from the brink -- as Schultz did for Starbucks -- but Schultz's challenge in many ways was less dramatic," said Dorothy Crenshaw, a principal of New York public relations firm Crenshaw Communications. "Ullman's actions at Penney showed many of the same qualities Schultz is known for, like listening to employees, recognizing the importance of staff morale, respect for the company's heritage and willingness to make painful changes quickly."
Crenshaw, whose firm once worked for Starbucks, believes the company likely will  flourish under Ullman and the executive team.
That team, though, has its work cut out for it. Shares are down about 13% over the past year, and it has missed consensus expectations for revenue in seven of the past 10 quarters. Shares on Tuesday morning were down 2.4% to $55.72.
In spite of those challenges, Morningstar Inc. analyst R.J. Hottovy, who touted the company's deep bench of talent, added, "Investors should feel positive about long-term prospects of this company." 
And Neil Saunders, a GlobalData Retail managing director, said: "Starbucks is not a one-man band. It's in good hands."
4 Top Experts Tell You How to Play the Market. TheStreet's Scott Gamm recent sat down with top market watchers from Bank of America, Fisher Investments, Invesco and Wells Fargo. Register to watch a free roundtable in which they lay out their best advice.