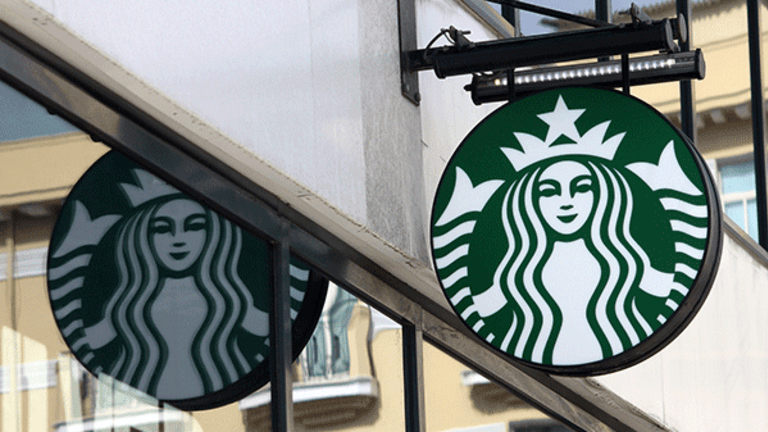 Starbucks Free, Holiday Espresso Drinks Could Spur a Long-Term Boost to Sales
The coffee chain will give away free espresso drinks for an hour each day through January 2.
On Friday, Seattle-based coffee mega-chain Starbucks (SBUX) - Get Report announced that, in the spirit of the holidays, the company would be giving away free tall espresso drinks. Starbucks stock sank slightly.
Still, this was a present for Starbucks investors. The lowered price is an opportunity to get in for long-term gains.
Starbucks is giving away the beverages, which include mochas, cappuccinos, and lattes, at more than 1,000 locations between Dec. 23 and Jan. 2. In a departure from previous freebie offers, no purchase is necessary. In addition, participating locations will be giving out a special limited-time "cheer card" that will provide further discounts on drinks and food.
But this is not just a huge free-for-all. Each day, the special will be offered at only 100 locations. To determine which locations are offering free drinks on that given day, customers need to visit the website: starbuckscheer.com. That's not the only limitation. The giveaway will only occur from 1 to 2 p.m each day.
The announcement is generating a buzz on social media, and visitors to the participating Starbucks are sure to be greeted by long lines of espresso aficionados.
Which is exactly what Starbucks wants and needs.
The entire restaurant industry is battling a recession. A crop surplus has made prices for groceries at the supermarket low, while at the same time distribution costs for restaurants are rising. That means it's cheaper to cook at home, while eating out gets more expensive.
Efforts by Starbucks, as well as by rivals Dunkin' Donuts (which is owned by Dunkin' Brands), Panera Bread, and even beleaguered Chipotle Mexican Grill, have included a loyalty rewards program that, despite a rocky start, has helped to boost same-store sales. In fact, this key metric saw a much-needed increase in the fourth quarter.
With fierce competition and a lackluster environment for the industry, Starbucks has had to continue with special promotions such as the free espresso drinks. In addition, the company is staying on its customers' radars by making them check in with a website daily, as well as inspiring continued loyalty with further discounts on other food and drink items. 
Starbucks is currently trading down 5% year to date. But Starbucks is still a strong long-term play for investors. Take dips such as Friday's as a gift - an opportunity to load up on shares at a discount.
Starbucks is still a great stock worth holding onto for the long term.
---
But if you're not willing to settle for the long term, there is a way that you could start collecting income from profitable trades right now. In fact, I know a trader who has turned $5,000 into more than $5 million just by following this simple step-by-step process.Click here to see how easy it is to make "Free Money" every month.
The author is an independent contributor who at the time of publication owned none of the stocks mentioned.