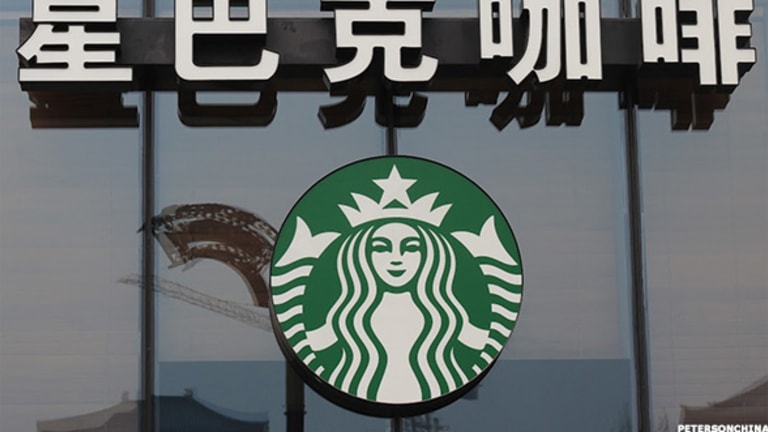 Photos: Starbucks in China Is Almost Unrecognizable
The coffeehouse company entered the Chinese market 18 years ago.
Starbucks Corp. (SBUX) - Get Starbucks Corporation Report  looks at its future in China and sees only opportunities to tap and money to be made.
It has been in the country some 18 years.
In its third-quarter earnings call on Thursday, July 27, Starbucks executives laid out their strategy for the future of the coffeehouse chain. In particular, the company emphasized its plans for increasing its presence in China, which it believes provides a path for growth far into the future.
"We are extremely excited about our strategy and the opportunity to further enable long-term growth in China," CEO Kevin Johnson said on the call. "In fact, given our performance and success in China and the momentum we are seeing across the country in both retail and CPG channels, we now see the opportunity for Starbucks in China being even greater than we originally thought."
Here is a brief look at Starbucks China.
More of What's Trending on TheStreet:
On the Up and Up
For the second year in a row, Starbucks saw an increase of 7% in same-store sales in the third fiscal quarter, which the company attributed to increased traffic. Starbucks has seen a jump of 22% in revenue over one year and a 9% uptick in operating income in China.
Acquiring a Longtime Partner
As Starbucks seeks to benefit from China, the company announced on Thursday, July 27 that it was buying out its East China business joint venture in its largest acquisition ever. For $1.3 billion in cash, Starbucks is purchasing the remaining 50% of the joint venture from Uni-President Enterprises Corp. and President Chain Store Corp. Starbucks is also selling its 50% ownership to those partners in its Taiwan joint venture.
More than Manhattan
Starbucks has about 2,800 stores across 130 cities in the People's Republic of China. Shanghai has more Starbucks than any other city, with 600 cafes. That's about double the number in New York City. Starbucks has opened roughly 500 locations per year in China, which is more than one store per day, and CEO Johnson said the company has no plans on slowing down. Its goal is to have 5,000 stores in the Far Eastern nation by 2021.
Bigger than Disney?
In December, Starbucks is opening a 30,000-square-foot coffee emporium in Shanghai. It is Starbucks' first international roastery, with the first built in Seattle, the coffee chain's headquarters.
Howard Schultz, the company's chairman and former CEO, told The New York Times that he thinks the opening will have a "larger consumer impact" than the Shanghai Disneyland amusement park. The Walt Disney Co. (DIS) - Get Walt Disney Company Report saw a 5% increase in operating income in its quarter ending on April 1, after the Shanghai park opened in summer 2016.
Connecting With Tencent
In its earnings call, Starbucks executives made it clear that they were looking to take advantage of the digital world by partnering with tech companies. They pointed to Starbucks' relationship with Shenzhen, China-based Tencent Holdings Ltd. (TCEHY) as an example.
In December, Starbucks announced that customers in China could now use Tencent's WeChat, a Chinese social media app, to make purchases at its stores. In early 2017, it introduced a social gifting feature that allows people to send Starbucks gift certificates to friends and family members through the app. Schultz said in the earnings call that in its first six months, customers have made more than two million gift transactions.
It's Just Mobile Pay For Now
Starbucks has not introduced all its technology opportunities into China yet, however. In the United States, its Mobile Order & Pay option led to congestion problems in its stores as employees became so swamped with filling orders. Since then, Starbucks has introduced a new tablet in its stores called the dom to better track mobile orders, and it appears to be working.
China, however, has not seen Mobile Order & Pay yet. Although Starbucks China has an app, it only allows people to use their mobile devices to pay for their orders in store. Once the company has the order function ready operationally, perhaps then Starbucks will introduce the option in the Asian nation.
Teavana Nirvana
Although Starbucks is closing all its Teavana stores, its tea business grew 40% over the past five years in the United States. It is booming even more in China and Japan, where tea sales increased 60% since launching there one year ago.
Your $3 Pick-Me-Up Could Be More
In 2013, Starbucks faced protests after reports revealed the company charged a third more for lattes in China than in the United States.
According to a comparison by TheStreet, a grande latte in China was $4.62, while it was $4.25 in New York City, a 9% difference. Likewise, an iced coffee was $4.02 in China but 28% lower in the United States at $3.15.
Yummy Yunnan Coffee
Starbucks has not only invested heavily in its infrastructure in China but also suppliers. The company is growing a high-end Arabica coffee in the Yunnan Province in southwestern China, creating hundreds of jobs in addition to the 10,000 positions made in its new stores. There has even been discussion of creating a global brand with the coffee in conjunction with the Chinese government, The New York Times reported. Starbucks has done similar ventures in Colombia, Ethiopia and Sumatra.
Extending Benefits to Families
In the United States, Starbucks has some well-known benefits programs for employees, including tuition coverage. In China, Starbucks offers competitive pay as well as housing allowances, healthcare benefits and even critical illness insurance for employees' parents. On the earnings call, Johnson said 90% of eligible employees have enrolled in the initiative, which Starbucks started in its third quarter.
When in China...
Schultz told The New York Times that 18 years ago, when Starbucks originally entered China, it tried to export the company's business practices and philosophy. He said that was a "mistake," and Starbucks has since learned that to gain the trust of the Chinese government, employees and customers, it first must trust them. Now, Schultz said the division is one of the most independently operated of the company.
Additionally, Starbucks sells special products in honor of local holidays. This includes mooncakes, a pastry eaten in honor of the Mid-Autumn Festival.
Starbucks is a holding in Jim Cramer's Action Alerts PLUS Charitable Trust Portfolio. Want to be alerted before Cramer buys or sells SBUX? Learn more now.
Watch More with TheStreet:
Has Warren Buffett Found an Answer to Amazon?
Jay Cutler Isn't The Only Athlete With a Serious Paycheck; These Sports Contracts Will Blow Your Mind