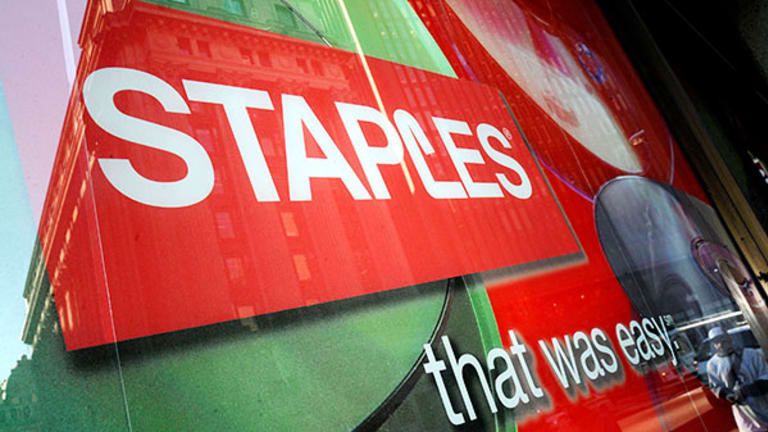 Staples Restructuring Is 'Too Late,' Says Analyst
Staples shares are sinking after the office supplies chain reports first-quarter earnings that were worse-than-expected amid a restructuring plan meant to shift focus to e-commerce and more business-to-business products. At least one analyst is saying that the transformation comes 'too late.'
NEW YORK (TheStreet) -- Shares of Staples (SPLS)  were sinking 11.5% to $11.85 after the office supplies chain reported first-quarter earnings that were worse-than-expected amid a restructuring plan meant to shift focus to e-commerce and more business-to-business products. At least one analyst said the transformation comes "too late."
Staples reported first-quarter net income of $96 million, or 15 cents a share, which fell 43% from the first quarter of 2013. Non-GAAP earnings came in at $115 million, or 18 cents a share, missing analysts' estimates by 3 cents, according to Thomson Reuters. The 3-cent shortfall came from an $11 million tax charge related to the repatriation of foreign earnings as well as a $22 million net gain related to the sale of its Smilemakers business, Staples said.
Revenue of $5.65 billion fell 2.8% from the year-earlier quarter, but exceeded analysts' estimates of $5.61 billion. Staples' gross margin fell 90 basis points from the year-earlier quarter to 25.1%.
Staples' comparable-stores sales in its North American business fell 4% from a decline in traffic and flat average order size, it said, while online sales rose by 6% in local currency driven by "increased conversion on the company's desktop and mobile Web sites as well as its previously-announced expanded assortment of products for small businesses beyond just office supplies." Staples is also focusing on growing its copy and print sales. The company noted in its earnings release that same-store sales for copy and print in North America stores rose in the "high single digits," while online copy and print sales rose in the "double digits."
Staples is battling against the likes of Walmart (WMT) - Get Walmart Inc. Report, Best Buy (BBY) - Get Best Buy Co., Inc. Report and Amazon (AMZN) - Get Amazon.com, Inc. Reportinin the office supply space. Its competitor Office Depot (ODP) - Get ODP Corporation Report said two weeks ago that it plans to shutter 21% of its 1,900 stores by 2016. Office Depot merged with Office Max in November.
Staples announced on March 6 that as part of a company-wide restructuring that it would shutter 225, or roughly 10%, of its store base, the bulk to be closed this year. Staples said on Tuesday during its first-quarter earnings call that it closed 16 stores in the first quarter and plans to close 80 underperforming stores in the second quarter. The company plans to close 40 stores in the back half of the year, it said on Tuesday.
Some analysts aren't convinced the restructuring will work. As an investor, it might be tough to take the blows as the company reforms itself.
"We look upon the weaker-than-expected 1Q (Apr.) results and 2Q (Jul.) guidance that SPLS reported today as 'more of the same' from the struggling chain in an increasingly challenged sector," wrote Oppenheimer analyst Brian Nagel, in a research note. He has a "perform" rating on the stock.
"Staples is working aggressively to adapt its enterprise amid rapidly changing dynamics within the Office Products Retail Category. We are encouraged with SPLS' turnaround efforts, but remain concerned that a strategic repositioning at the chain is simply occurring 'too late.' SPLS continues to generate substantial cash and enjoys a very solid balance sheet. However, we do not foresee any type of significant recovery in sales and EPS trends at the company in the near to intermediate term," the note said.
The company announced on the same day as the restructuring that it had launched the first two of its so-called omnichannel stores.
The stores, located in Norwood, Mass., and Dover, Del., "incorporate Staples.com and Staples' mobile assets into the retail experience, letting customers shop how they want," the retailer said at the time. "We listened to our customers and provided the products, services and features they need to succeed".
"The stores feature several new Staples.com kiosks, providing customers with access to more items than ever, as Staples continues to drive towards its vision of providing every product businesses need to succeed. Through the kiosks, customers can select from more than 100,000 items, including the latest tech products, furniture, school supplies, and cleaning and break room items. And, Staples.com offers free, next business day delivery to more than 98 percent of North America. When they're done shopping, customers can either complete their transactions at the kiosk or the store register."
The omnichannel stores also feature consultation areas for small-business customers who need tech or professional printing assistance as well as meeting spaces and work stations for mobile professionals, among other things.
Deutsche Bank analyst Mike Baker said it is still early in the restructuring to come to a conclusion. "SPLS indicated that they had secured $100mm in cost savings this quarter against its $500mm two year plan," according to a note this morning. "But, we believe it's too early to see the flow through from that, as SG&A before charges was up $20mm. There is also some reinvestment going on. We think the company is talking the right steps, including aggressively closing stores this year, 80 of which will close next quarter. We maintain our Hold rating as they work through their improvement initiatives."
Asked when Staples expected to see a return to historical margins, Ron Sargent, Staples chairman and CEO, answered: "When you're trying to take a company the size of Staples ... [with a] strong retail legacy moving it in online there's going to be a lot of changes and hard to predict when to get back to historical margins ... But I can tell you were making a lot of progress internally."
Staples.com sales are growing "nicely again," he said, and the company's assortment expansion "seems to be paying dividends." Sargent added that Staples' re-launched branding efforts have been well received. Additionally, sales through Staples' kiosks are the fastest growing part of the business. The company is also placing emphasis on digital print and copy.
"The business has changed a lot," Sargent said. "We're going to be selling a lot less paper-based office supplies in the future" as the mix switches to a greater percentage of digital-based products, which are lower-margin products.
As the company continues its transition, it expects sales in the second quarter to fall from last year, with non-GAAP earnings in the range of 9 cents to 14 cents a share. Analysts were looking for second-quarter earnings of 15 cents a share.
-- Written by Laurie Kulikowski in New York.
>>Read More:
How PizzaRev Plans To Be the 'Chipotle of Pizza'
Why JCP's Online Strategy Is Not That Bad
Mobile Commerce Expected to Surpass $100B in 2014. But Are Retailers Ready?
Disclosure: TheStreet's editorial policy prohibits staff editors, reporters and analysts from holding positions in any individual stocks.