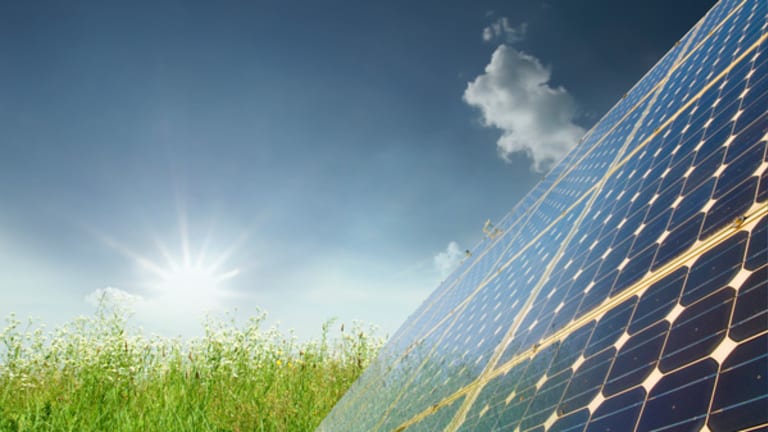 Squeeze LDK Solar, Broker Tells Investors
LDK Solar is offering holders of a convertible bond a cash sweetener, but a broker says investors should demand more from the Chinese solar company.
NEW YORK (
) --
LDK Solar
(LDK)
announced last week that it's offering a cash sweetener to holders of its convertible bonds due 2013, but a U.K.-based broker is telling investors that the LDK solar deal isn't sweet enough.
LDK Solar announced after the close last Wednesday that it would be offering holders of convertible bonds due 2013 a $60-to-$85 cash sweetener if investors accepted a replacement convertible bond issue also featuring a 2013 maturity.
Investors in the convertible notes have the right to make LDK repurchase the bonds in April 2011. Such an exercise in aggregate would cost LDK just under $400 million. The $60-to-$85 range for the cash offer is per $1,000 held in the convertible issue, and subject to Dutch auction rules.
>>LDK Solar Tries to Avoid April 'Pay Me' Date
The issue of the LDK Solar convertible has been around all year. It was one of several overhangs on shares of the Chinese solar company. LDK's capital expansion plans, its agreement to early repayment of funds due to Germany's
Q-Cells
, and the fact that convertible note holders had the right to demand repayment in April in the aggregate of $395 million all weighed on LDK shares.
The Chinese solar company announced a $9 billion loan package with the China Development Bank, and tight supply in the solar wafer market led to strong performance from LDK. LDK Solar shares have doubled this year, and almost all the gains have come in the past few months as the loan package and wafer pricing strength occurred, and shorts ran to cover.
Yet LDK Solar share gains this year look paltry compared to the LDK Solar stock price above $38 at the time of the convertible offering in 2008.
The problem for LDK is that the price at which it completed the convertible is close to four times its current share price of roughly $11, even after the Chinese solar stock's recent strong rally.
Mark Bachman, analyst at Auriga Securities, had said earlier this year: "With a strike price on the 2013 convertible debt of ~$39/ADS, we find it likely that the $400 million in outstanding convertible bonds will be put back to the company in April 2011."
LDK's offer of a cash sweetener to holders of the convertible bonds seems to concede that the Chinese solar company would like to avoid the April "pay me" date, even with its strong backing from the China Development Bank.
In fact, LDK's move was a signal to U.K. broker Mint Partners that investors have the leverage in negotiations with LDK about the convertible, and investors should hold out for more.
Clive Bastow, broker with London-based Mint Partners, wrote in a note to clients that it doesn't believe LDK Solar has the cash to execute on its expansion plans for 2011 unless the put option is removed.
LDK is expanding its polysilicon plant operations, its cell manufacturing and its solar module business.
The convertible bond D-Day for LDK hasn't slowed down recent enthusiasm for the company's shares from the Street. ThinkEquity raised LDK to a buy on Monday as part of a slew of solar sector upgrades that also included U.S. solar companies
First Solar
(FSLR)
and
SunPower
( SPWRA).
"There is very little chance of the option value kicking in on this
convertible issue. We advise holders not to take up this offer and to try and force better terms from the company. Based on our calculations the company should be offering closer to USD $200 for the removal of the investor put option," Mint Partners wrote in its note to clients.
However, as the $200 cash sweetener per $1,000 of convertible issue held would continue to siphon off the LDK cash balance, Mint Partners noted that the Chinese solar company could offer bondholders the $85 maximum cash sweetener per $1,000 convertible face value, and change the conversion price of the bond.
A higher cash offer would limit the draw on LDK's wallet, while giving the bondholders a balanced instrument going forward. "We calculate that the conversion price would need to be refixed to $17.75 per ADS from the current USD 39.29," the U.K. broker wrote.
Mint Partners has a sell rating on LDK Solar shares.
The LDK Solar offer has begun and runs until Dec. 22. Piper Jaffray is LDK's financial advisor.
-- Written by Eric Rosenbaum from New York.
RELATED STORIES:
>>LDK Solar Tries to Avoid April 'Pay Me' Date
>>Solar Losers: Here we go Again in Germany
>To contact the writer of this article, click here:
Eric Rosenbaum
.
>To follow the writer on Twitter, go to
.
>To submit a news tip, send an email to:
.