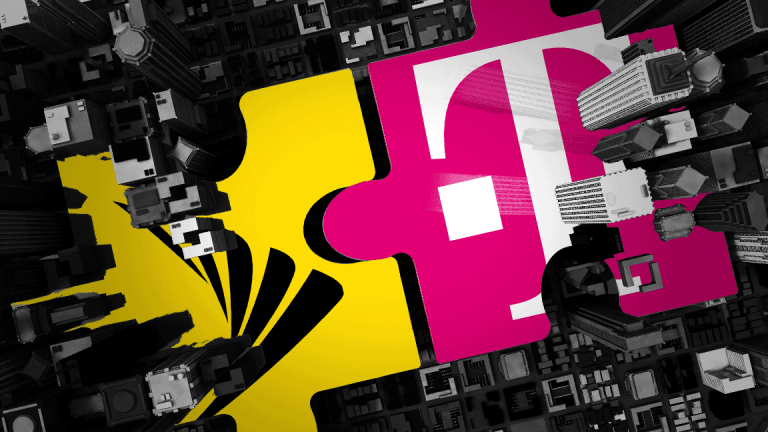 Sprint and T-Mobile Merger Gets FCC Chair OK After 5G Network Development Pledge
Sprint and T-Mobile US surge after U.S. Federal Communications Commission Chairman Ajit Pai says he would recommend approval of their $26 billion merger plans.
Sprint   (S) and T-Mobile US (TMUS) shares surged Monday after U.S. Federal Communications Commission Chairman Ajit Pai said he would recommend approval of their  $26 billion merger plans.
The FCC chairman said he would agree to the tie-up, and recommend it to his colleagues, following pledges from both companies to build 5G networks around the country, while ensuring "robust" infrastructure in rural areas, and to also enhance in-home broadband offerings to its customer base.
"Two of the FCC's top priorities are closing the digital divide in rural America and advancing United States leadership in 5G, the next generation of wireless connectivity," Pai said in a statement. "The commitments made today by T-Mobile and Sprint would substantially advance each of these critical objectives."
"I'm also pleased that the companies have committed to a robust buildout of their mid-band spectrum holdings," he added. "Demonstrating that 5G will indeed benefit rural Americans, T-Mobile and Sprint have promised that their network would cover at least two-thirds of our nation's rural population with high-speed, mid-band 5G, which could improve the economy and quality of life in many small towns across the country."
Sprint shares jumped 24% to $7.65, while T-Mobile gained 5.4% to $79.46.
Republican FCC Commissioner Brendan Carr said he would support Pai's decision, saying "Americans across the country will see more competition and an accelerated buildout of fast, 5G services" in a deal that will "strengthen competition in the U.S. wireless market and provide mobile and in-homebroadband access to communities that demand better coverage and more choices."
Democrat Jessica Rosenworcel, however, appeared less convinced.
Earlier this month, Sprint posted weaker-than-expected fourth quarter earnings that included a slump in new phone subscribers to the country's fourth-largest carrier as it prepares to merge with T-Mobile US.
"We are making the best of the limited financial and low-band spectrum resources that we have," CEO Michel Combes told investors on a conference call. "Nevertheless, we're hopeful to complete our merger with T-Mobile, which will allow the combined company to have the breadth and the depth of spectrum to provide a truly consistent national-wide 5G experience."
"As a standalone company, we like to scale to keep pace with the bigger carriers, AT&T and Verizon, in sustained capital investments," he added. "And without additional low-band spectrum, we will face challenges to provide customers with consistency or coverage comparable to that of the two big carriers."
Looking into the 2019 year, Sprint said it expects earnings to fall between $400 million to $500 million over the June quarter, as wireless revenues retreat, and trimmed its capex plans to around $2.9 billion even as it launches 5G networks in nine cities around the U.S. and prepares a new line-up of 5G-compliant phones for release over the next few months.
However, CFO Andrew Davies told investors that the company wouldn't provide full-year earnings guidance owing to the late-stage of its merger plans with T-Mobile, with the two sides now see completing at the end of July given the U.S. Justice Department's Antitrust Division's reluctance to approve the combination.