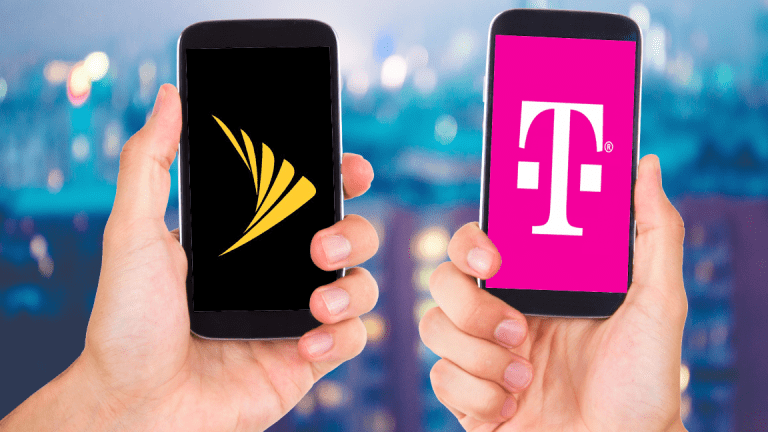 Sprint, T-Mobile Owners Gain on Merger Talk Reports
The resumed talks will mark the third time the companies have come to the table in four years.
Here we go again.
The owners of Sprint Corp. (S) - Get SentinelOne Inc. Class A Report and T-Mobile US Inc. (TMUS) - Get T-Mobile US Inc. Report saw their shares surge on Wednesday, April 11, on reports that the companies have restarted merger talks.
T-Mobile owner, Deutsche Telekom (DTEGY) , saw shares surge 3.65% in Frankfurt to €14.06 and Sprint's Japanese owner SoftBank Group Corp. (SFTBY) shares gained as much as 4.8% in Tokyo on Wednesday, before paring gains to 3.54%.
Sprint shares were up 2.99% in premarket trading at $6.20, after they surged 17.35% in New York on Tuesday, to close at $6.02. T-Mobile stock closed at $63.13 after gaining 5.67%, shares were up 0.33% in premarket trading. 
The resumed talks will mark the third time the companies have come to the table in four years. The Wall Street Journal reported the talks are in the preliminary stage and it is unclear of the terms.
The fresh talks come five months after Sprint and T-Mobile called off talks after an agreement about the terms couldn't be reached.
In November, Deutsche Telekom CEO Tim Hoettges told staff that the proposed merger between wouldn't have been in the best interest of shareholders.
The day-to-day control and ownership ratio of the merged entity had been issues throughout the merger talks with Sprint majority shareholder Softbank Group, Hoetteges wrote in a blog post to employees seen by Reuters, along with valuation, financing and regulatory issues.
"On the basis of these four points, we together decided against a merger," he wrote. "This decision was not easy for us, we struggled hard. But on the other hand, I have always said: We don't do bad deals."
The CEO said that he had travelled to the private home of Softbank CEO and Sprint Chairman Masayoshi Son in Tokyo in a bid to save the deal, however the pair decided against it.