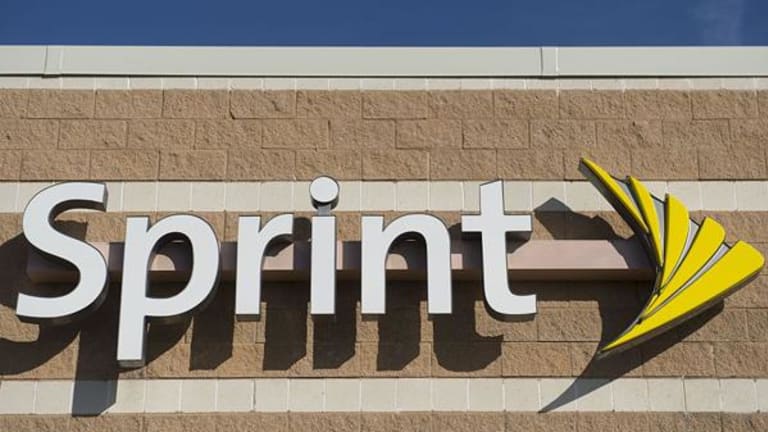 Sprint Reports Third-Quarter Loss Despite Beating Verizon, AT&T in One Key Area
The No. 4 wireless carrier added more post-paid phone subscribers than Verizon or AT&T in its fiscal third quarter.
Sprint (S) - Get Free Report posted a larger-than-expected loss on Tuesday before the opening bell, though revenue topped forecasts for the company's fiscal third quarter.
CEO Marcelo Claure touted the 368,000 net additions of post-paid phones, which have traditional monthly phone bills, during the Tuesday morning call. Sprint topped Verizon (VZ) - Get Free Report and AT&T (T) - Get Free Report for the fourth straight quarter and notched its highest subscriber gains in four years during what Claure called the most competitive quarter he has seen as CEO.
Sprint lost 12 cents per share, while generating $8.5 billion in sales. Wall Street expected Sprint to lose 8 cents per share on $8.3 billion in revenue.
Claure on the call outlined the rationale behind the recent move to purchase a 33% stake in Jay Z's Tidal music streaming service. The Sprint brand will benefit, especially with millennials, by associating with the popular service, he said. Sprint also can test the value of exclusive content in acquiring and retaining customers. Finally, he said, Sprint can build Tidal by providing the service to its 45 million mobile subscribers. "It's an inexpensive way to get into exclusive content," Claure said.
The Tidal deal, of course, could be the appetizer for a bigger transaction involving Sprint itself. The Overland Park, Kan., company and T-Mobile US (TMUS) - Get Free Report have held merger talks in the past. While Obama regulators pushed back against a deal, a Trump administration could be open to talks.
Cable companies also could bid for wireless companies such as Sprint or T-Mobile. T-Mobile, however, is less expensive than Sprint and is growing faster, Craig Moffett of MoffettNathanson noted in a Tuesday report.
During the Q&A, CFO Tarek Robbiati acknowledged the growing anticipation of consolidation under the Trump administration. 
"The common thread is that Sprint has great assets, including the best spectrum portfolio in the U.S.," Robbiati said of the range of potential deal scenarios involving the telecom.
"From a policy perspective it would seem to make sense that over the long term, further consolidation among the smaller players may be necessary to compete with the Big Two, but it's early days, and we will monitor the situation closely," Robbiati said. 
The outlook for consolidation may have a bigger impact on Sprint stock than the details of the latest quarterly report, Wells Fargo analyst Jennifer Fritzsche suggested in a note. "We have seen significant investor focus on the potential for inorganic activity with [Sprint] under a Trump administration," Fritzsche wrote. "In our view -- this is the largest focus on the name right now more than near-term fundamentals."
Sprint may have curried favor with the Trump administration by announcing in late December that it would add 5,000 jobs in the U.S.
Claure told investors Tuesday that it would bring overseas digital sales jobs to the U.S. because domestic staffers have higher success rates. 
Sprint also plans to add 500 to 1,000 stores in the next 18 months, as Claure explained that the company is "underdistributed."