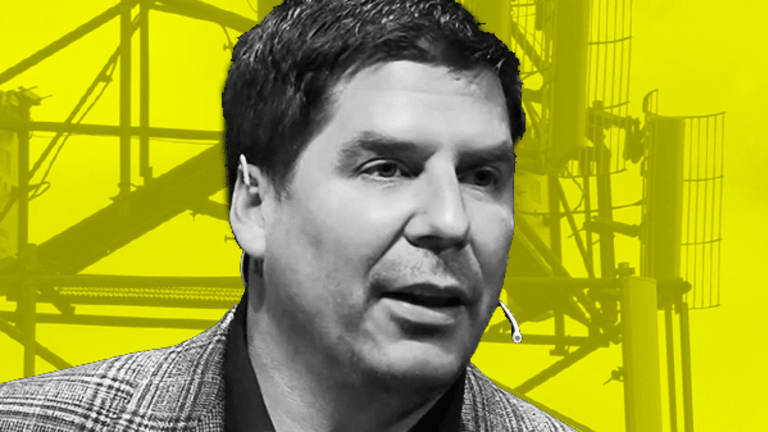 Sprint CEO's Bold Merger Prediction Could Open This Ugly Can of Worms
If Marcelo Claure is right about an imminent deal, backer SoftBank will have tough choices. If he's wrong, Sprint could suffer.
Sprint Corp. (S) - Get Free Report CEO Marcelo Claure's suggestion that a widely speculated mega-deal involving the carrier will materialize "in the near future" has upped the pressure for the wireless carrier and its backer, Softbank Corp. (SFTBY) , to come through with a deal.
Engineering a massive merger would be costly for SoftBank, but failing to do so could have repercussions for Sprint.
T-Mobile USA Inc. (TMUS) - Get Free Report , which Claure acknowledged in a call with media after Sprint's earnings presentation has the biggest payout but the toughest regulatory outlook, makes the most sense for Sprint. The carriers would gain scale and cut costs from their network, marketing and other areas. A Sprint purchase of T-Mobile USA at $80 per share would pay 15% savings and other benefits operating expense, according to UBS. 
Claure essentially acknowledged that Charter Communications Inc. (CHTR) - Get Free Report is on the radar of Masayoshi Son, the chairman of Sprint and founder of Japanese technology and telecom titan Softbank, during call Tuesday, Aug. 1. Sprint could use Charter's fiber network to carrier traffic once it leaves wireless towers and could potentially create a streaming bundle akin to AT&T Inc.'s (T) - Get Free Report DirecTV Now. Merging Charter and Sprint would produce 12% synergies by UBS's calculations. 
Softbank could afford to buy up the shares of Sprint it does not own and acquire Charter, Macquarie Capital analyst David Gibson wrote in a Wednesday report, if it sold assets. 
"[SoftBank] has stated it intended to reduce its debt and improve its ratings," Gibson observed. "This deal if completed is likely to do the opposite."
Charter has a $100 billion market cap and is worth about $160 billion billion including debt.
Gibson suggested that Son would likely need $80 billion in funds, which it could raise by selling Arm Holdings, the chipmaker that SoftBank acquired for $32 billion last year, and half of its stake in Jack Ma's Alibaba Group Holding Ltd (BABA) - Get Free Report , which would be worth about $48 billion.
More of What's Trending on TheStreet:
Without selling assets, the effect on SoftBank's balance sheet would be astronomical.
Charter has about $63 billion or so in debt. If SoftBank paid for Charter's equity with an even mix of cash and stock, Craig Moffett of MoffettNathanson LLC noted Tuesday, it would need to raise another $60 billion to $80 billion. SoftBank's existing pile of $135 billion load, and debt could reach $280 billion when factoring in all of the debt involved in a deal. "That would bring SoftBank's total to as much as $280 billion, making it the most indebted non-financial company the world has ever seen," Moffett wrote.
Keep in mind that the combined Sprint and Charter could ultimately have designs on T-Mobile USA, which is worth $73 billion including debt.
If Claure and Son cannot pull off a deal, SoftBank will not have to put its balance sheet at risk. Sprint could pay a price, however.
"Like an unsold house that has sat too long on the market, an asset that has been shopped too often without success takes on an air of taint," Moffett suggested, Sprint could appear "damaged goods" in the eyes of investors. 
If Claure's timetable is correct, at least Sprint investors won't have to wait long to find out.
Sprint's shares fell 0.9% to $8.79 by Wednesday's close.
Watch More with TheStreet: