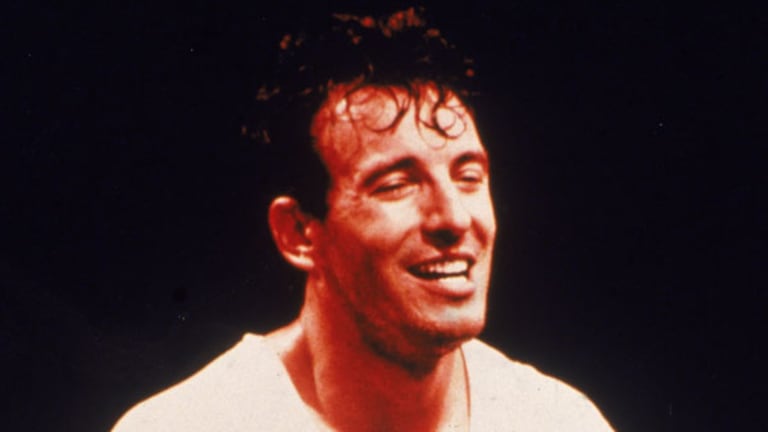 Publish date:
'Springsteen And I' Documentary Crushes Expectations
After seeing the premiere screening, Rocco Pendola provides thoughts on the fan-produced documentary <I>Springsteen And I</I>.
After seeing the premiere screening, Rocco Pendola provides thoughts on the fan-produced documentary <I>Springsteen And I</I>.
NEW YORK (TheStreet) -- Monday night, in the interest of preserving the all-important work-life balance, I attended the premiere screening of what turns out to be a pretty fantastic documentary about Bruce Springsteen fandom, Springsteen And I. If it comes to your neighborhood, I highly recommend it. If not, hopefully Netflix (NFLX) - Get Report or a broadcast entity such as HBO will pick it up.
Aside from a couple of relatively cheesy and seemingly forced moments, the filmmakers did an excellent job making sense out of how some of the world's biggest Bruce fans feel about Springsteen and The E Street Band. As a diehard, who has seen a relatively measly 15 or so live shows, it has always been difficult to relay to non-believers what fuels my shared obsession.
Several poignant moments in the doc, however, do an excellent job taking us somewhere constructive and meaningful.
Throughout the film, we heard from a working class Dane, who spoke with a rough-around-the-edges eloquence about the place Springsteen occupies in his life. Even though he used words to describe his connection with Bruce and his music, it's difficult, even as a writer, to put it into words, if that makes any sense. If you're a big Springsteen fan, that statement probably resonates. Even the best attempts at explaining the power and the glory, the mystery and the ministry of rock-n-roll,
vis-à-vis
E Street, lack. Not to shortchange myself, but it feels like Bruce is the only person who can transform such abstract and powerful psychology into suitable words.
But, maybe not. While I don't want to give away everything that happened in, or that I liked about,
Springsteen And I
, two examples, among many, hit me hardest and triggered considerable emotion. Translation: I cried.
The night before meeting several of the fans featured in the documentary, Bruce watched film of their contributions. So, when he met these people, he came in knowing what they look like and what they said, including the hilarious Brit, the husband of a diehard fan, who pleaded for Springsteen to make his shows shorter. He also had seen John, the working class Dane I referenced, bare his soul regarding his connection to Springsteen.
After the initial meet and greet in Copenhagen, Bruce reentered the room and, according to John, who is a groundskeeper at the Denmark stadium the E Street Band played, walked straight towards him. John stated that Bruce gave him the biggest hug he had ever received in his life, stepped back and looked at him like there was something he wanted to say, but couldn't find the words.
After a bit of silence, Bruce removed a leather cuff from his wrist. He grabbed John's wrist and strapped the cuff on it. Bruce told John, "This is a symbol of brotherhood."
You could get away with calling that cheesy, but, I took it as Bruce being unable to convey what his fans mean to him. Unable to articulate the emotion a performer, an artist, a writer must feel when grown men speak of you as their spiritual guide and always-at-the-ready mental health support. Or when an adult woman looks back on her first experience of a Springsteen show as a key ingredient in her transformation from clueless high school girl to thoughtful and sophisticated sexual being.
Because when Bruce addressed the group of fans who starred in the documentary backstage in Copenhagen, he, as he often does, sort of fumbled through a response about how he gets the energy to do what he does (i.e., tour the world and play 3-4 hour shows as he approaches 64 years of age). Bruce told these fans he feels honored and privileged to play the same role in the lives of so many that other musicians -- past and present -- played and play in his life. It's another iteration of Bruce's recurring depiction of the give and take between he and his audience -- they come to his music or a show in need of "something" from him and vice versa.
Great answer, don't get me wrong, but Bruce was uncomfortable giving it. He always is. That's one reason why the action of giving John the leather cuff -- an unparalleled gift really -- stuck with and deeply affected me.
For as incredible of a poet as Springsteen is, he seems to prefer that the lyrics in his music serve as actions. And he opts to express gratitude to those who adore him and might not have survived without him through actions like the one he decided to take with John.
Springsteen and I
does as nice a job as possible using words, but it does a better job letting us in on some of the actions that I expect Bruce has repeated, one way or another, thousands of times over throughout his career.
--
Written by Rocco Pendola in Santa Monica, Calif.
Rocco Pendola is
TheStreet's
Director of Social Media. Pendola's daily contributions to
TheStreet
frequently appear on
CNBC
and at various top online properties, such as
Forbes
.