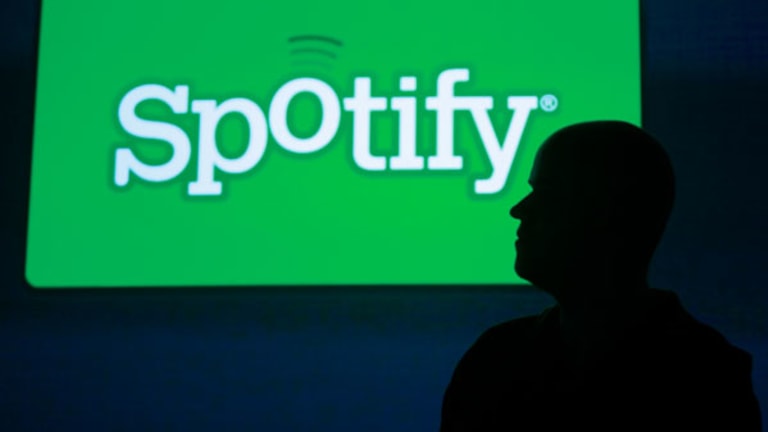 Spotify Said to Power 114% Jump in Paid Music Subscription Revenue for 2016
According to the RIAA, streaming services accounted for 51% of U.S. music revenue in 2016, up from 34% in 2015, as the industry posted its biggest revenue gain since 1998.
Privately held Spotify may face doubts about its path to profitability, but it nonetheless was hailed as the clear leader in a Recording Industry Association of America report that streaming services accounted for the majority of U.S. music revenue for the first time in 2016.
Streaming services accounted for 51% of U.S. music revenue last year, which jumped by 11% year-over-year to $7.7 billion. That's the biggest jump in U.S. music sales since 1998, according to the trade organization.
Spotify is well in the lead with 50 million paying customers globally, followed by Apple (AAPL) - Get Free Report Music with 20 million subscribers. In addition, Pandora (P) , iHeartMedia, Amazon (AMZN) - Get Free Report and Tidal all offer subscription streaming services.
"Spotify is driving the increase more than the other services for one reason or another," eMarketer senior analyst Paul Verna said, noting that other players haven't taken off as much as was expected.
Russ Crupnick, managing partner of research firm MusicWatch, said Spotify is beating its competitors partly because it's been able to create a little bit of the same cultlike feeling among its followers that Apple once created for its customers. Since Spotify's users are so satisfied with their experience, they also tend to be "evangelists" for the service, creating positive word of mouth advertising. Spotify is easy to use and does an especially good job at making music easy to share on social platforms, he said.
"Spotify is really hitting everything that's important to the core music users and early adopters," he said. 
The service's path forward looks especially appetizing when you look at how many people aren't yet paying for a music subscription service, Crupnick pointed out. For people over the age of 13 who use the Internet, 90% still aren't paying for a music subscription service, leaving a long path forward for growth, according to MusicWatch. 
Part of the reason for the large number of people without a music subscription service is because the music industry is competing with a number of other subscription services, such as Netflix (NFLX) - Get Free Report and publications such as The New York Times (NYT) - Get Free Report .
"People have limited resources, and music is not something that people have been jumping up and down to pay for," Verna said. "But the figures from the RIAA suggest that society may have turned a corner when it comes to willingness to pay for music." 
Apple is a holding in Jim Cramer'sAction Alerts PLUS Charitable Trust Portfolio. Want to be alerted before Cramer and the AAP team buy or sell AAPL? Learn more now.
The 11% year-over-year uptick in U.S. music sales is another positive indicator for Spotify, suggesting this may be the start of a period of sustainable growth after a period of 15 years of declines in the business. "I think the transition to streaming is on solid footing, and we will probably see a general uptrend, although that doesn't mean there won't be ups and downs along the way," Verna said.
Record labels went kicking and screaming, but they seem to have finally accepted that streaming is the best path forward for the industry, Verna said. Paid streaming music services saw a 114% year-over-year jump in revenue to nearly $2.5 billion for 2016. Crupnick said that although record labels have always liked the idea of streaming, they just didn't like how much they and artists were getting paid under the business model. 
Music streaming is a low-margin business, meaning that players in the market have a hard time satisfying record labels and spending money on licensing and marketing, while also trying to turn a profit. The only solution for these companies is for them to increase their volume of subscribers, Verna said. The goal of Spotify and Apple Music is to get free listeners, which only bring in a few dollars of revenue, to eventually transition them to paying listeners, which provide $90 to $100 in annual revenue. The RIAA report shows that more and more people are making this transition. 
While the price tag would seem like the biggest roadblock for people considering a subscription, Crupnick said it's actually something simpler: belief. Once people experience what it's like to have a music service that allows you to control the experience by creating your own playlists, they say, "Wow, that's cool!" and tend to stay with the service. "There's actually no evidence that a lower price brings in more subscribers," he added. 
But despite $2 billion in sales from 50 million subscribers paying at least $9.99 per month and up to 70 million visitors coming to the ad-supported free version of the platform, Spotify remains unprofitable. 
Spotify is trying to secure licensing deals with major music labels so that it can have a clearer financial report to show investors before it schedules its expected IPO, which would allow it to raise enough capital to pay back its investors. Verna said he sees these sales figures as a move in the right direction toward a public offering for Spotify, while Crupnick commented that the licensing deals will eventually get done and "will be fine." 
Spotify's head start in the streaming game, along with an increasing willingness to pay for a music streaming service, makes for a "really good path forward" for Spotify, Crupnick concluded. "I'm really positive on Spotify," he said.