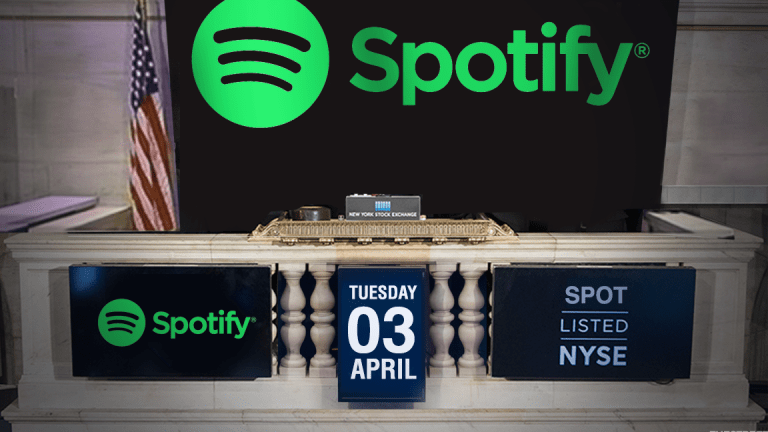 Spotify Hasn't Yet Justified a $30 Billion Valuation
Though the online music leader continues delivering impressive growth, generating large profits from it is easier said than done.
Of all the big-name consumer Internet companies out there, Spotify (SPOT) - Get Free Report  is among the toughest to value.
Not just because gauging the long-term growth of Spotify, which ended its first day of trading on the NYSE on Tuesday with a roughly $30 billion valuation after accounting for outstanding stock options and grants, is challenging (it's hardly alone on that count). But because its future profitability appears subject to the whims of two powerful groups of companies: Music labels such as Sony undefined , Universal and Warner, and tech giants such as Apple (AAPL) - Get Free Report , Alphabet/Google (GOOGL) - Get Free Report and Amazon.com (AMZN) - Get Free Report .
Pair that uncertainty with relatively low gross margins and still-large operating losses (free cash flow is admittedly a little better), and there are good reasons for investors to tread carefully with the online music leader as long as its valuation is close to current levels. At least until it either makes real progress with its margin-expansion strategy or can enact meaningful price hikes without causing major damage to subscriber growth.
Jim Cramer and the AAP team hold positions in Apple, Alphabet and Amazon for their Action Alerts PLUS Charitable Trust Portfolio. Want to be alerted before Cramer buys or sells AAPL, GOOGL or AMZN? Learn more now.
If one was to merely value Spotify based on its revenue or its subscriber count, its market cap would look reasonable for a company guiding for 20% to 30% sales growth this year. Whereas Netflix (NFLX) - Get Free Report trades for 7.7 times its 2018 revenue consensus and -- based on a consensus year-end subscriber count of 142.2 million -- is worth $865 per subscriber, Spotify trades for 4.7 times the midpoint of its 2018 revenue guidance range of $6.1 billion to $6.6 billion and -- based on the midpoint of its year-end subscriber guidance of 92 million to 96 million -- is worth $319 per subscriber.
But it goes without saying that Netflix and Spotify's business models are quite different. Netflix leans heavily on an unmatched original content library that it can afford thanks to its unmatched global scale. And together with investments in licensed material, this original content library gives Netflix long-term pricing power that it's starting to flex. And exercising this pricing power will help Netflix afford to pay for more original content.
Spotify, on the other hand, remains dependent on deals with music labels (typically renewed every two years) who license the same content to a number of Spotify rivals, and thus have a lot of negotiating leverage as long as those rivals don't balk at their terms. Spotify's music deals, and to a lesser extent the large cloud infrastructure payments due to Google, are why the company only expects a 2018 gross margin of 23% to 25%.
Web radio leader Pandora (P) , whose huge royalty payments to music rights holders are a key reason why it has struggled over much of its history to turn a profit, can doubtlessly relate.
At its March 15 investor day, Spotify asserted that its margin-expansion strategy doesn't revolve around convincing top labels to cut it better deals, but on using its considerable data and reach to deliver services that enable artists to attract new fans and better connect with existing ones. But as its margin guidance makes clear, it remains to be seen just how much of a needle-mover these services end up being.
Meanwhile, competition from tech giants who -- in the name of keeping users hooked on platforms that are monetized in various other ways -- might not necessarily care about profiting from their music services is likely to weigh on Spotify's bottom line for a few different reasons. Key among them are the following:
The fact that the tech giants might be comfortable making little or no money from their music services could make them comfortable agreeing to margin-pressuring deals with top labels, while keeping their individual plans priced at $10 per month or less. And that creates pressure for Spotify to both agree to similar deals and refrain from hiking prices.
Whereas Spotify's annual sales and marketing expenses have grown to about $700 million, the tech giants can promote their music services to users of their platforms (iOS, YouTube, Amazon Prime, etc.) for free. And they can host their music services on their own, highly efficient, cloud data centers rather than pay a third party (in Spotify's case, Google) to do so. This provides a cost advantage that's likely to impact how their services are priced.
One of the tech giants -- Amazon -- is undercutting Spotify's pricing. The other two -- Apple and Google -- are matching Spotify's pricing but bundling video services with their music subscription plans. Apple has reportedly inked deals for dozen original video projects since October; Apple Music, which has already housed some Apple originals, is a logical venue for such content. Google's YouTube Red service pairs the Google Play Music service with ad-free YouTube and original content, and is expected to soon feature a music service more tightly integrated with YouTube. These moves could make Spotify think twice about the reluctance it has shown to date to make large video investments.
For all these reasons, it's hardly a given that Spotify, which has forecast a 2018 operating loss of €230 million to €300 million ($283 million to $369 million), will generate the kind of profits needed to justify a $30 billion valuation. While the company has done a remarkable job of creating a giant and highly engaged user base, and of using software and data to differentiate its services, creating substantial profits from all that activity is easier said than done when Big Music and Big Tech are breathing down your neck.
Just ask Pandora.
Amazon, Apple and Alphabet are holdings in Jim Cramer'sAction Alerts PLUS Charitable Trust Portfolio. Want to be alerted before Cramer buys or sells AMZN,AAPL or GOOGL? Learn more now.
Subscribe to our Youtube Channel for extended interviews, Cramer Replays, feature content, and more!