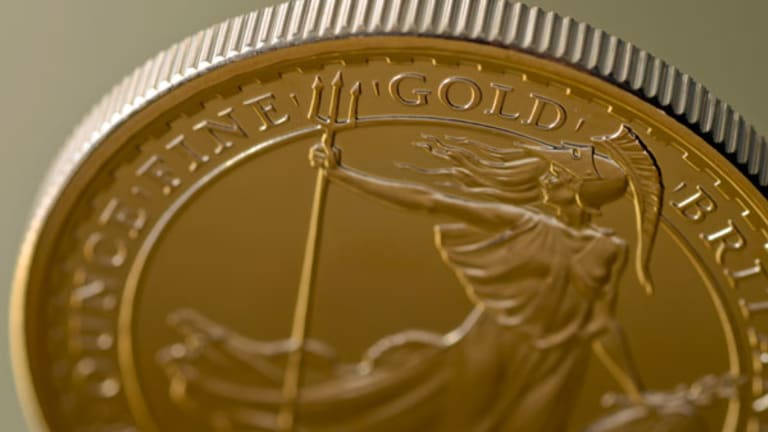 Spot Gold Prices: No Bubble, No Bubble...
Spot gold prices have been in the red Friday afternoon as investors take profits and raise cash across the commodities complex after a good run up.

NEW YORK (TheStreet) -- Spot gold prices were in the red Friday afternoon as investors took profits and raised cash across the commodities complex after a good run up.
"There's not a lot of green on the screen today," Gabelli portfolio manager Howard Ward said, pointing out that gold's dip was not unique in the market Friday. The market was on shaky ground Friday as investors digested news that Ireland might need to seek a debt rescue package from the EU.
New York spot gold prices were dropping by $38.70, or 2.8%, to $1,370.20 an ounce.
Gold prices fell as many analysts continued to assert that gold is in a bubble that is about to burst.
Still, three analysts that
TheStreet
spoke with believe that gold bears are confusing overbuying in the short-run with a bubble.
Gabelli portfolio manager Howard Ward said gold is only in the "middle innings" of a bull market, noting that it hasn't even doubled in the last 30 years. He noted that over the last 30 years, gold has compounded annually at 2.5% -- paltry compared with the more than 10% increase for stocks and bonds in the same time period. Over the last 20 years, gold has compounded annually at 6% vs. 9% for stocks and bonds, he added.
It was only in the last decade when gold really began to shine, compounding at 16.9% annually vs. -0.4% for the S&P 500 Index and 8.2% for treasuries, according to Ward.
Ward said, by contrast, that each decade of the last three decades, on their own and combined, have seen record performances in the bond market.
In other words, when compared with a host of other asset classes, gold still has far more room to run, considering that currently most financial institutions have a low-single digit percentage allocation in the yellow metal and foreign central bank holdings of gold have been at an all-time low, while their currency reserves have been at an all time high. "This is a very small market," Ward said.
To paint a more vivid picture of how small the gold market is, Ward said that all the investments that have been pouring into gold ETFs, which currently accounts for most of the money going into the yellow metal, so far total $100 billion. "That's about one-third the size of
Apple's
(AAPL)
market cap," he said.
Now "you have the individual retail demand for gold rising," especially in the BRIC (Brazil Russia, India, China) emerging markets countries "and those central banks who were selling gold for last ten years are buying it back," for protection in an uncertain global economic environment. "A number of central banks out there are bidding for chunks of gold from the IMF (International Monetary Fund)."
All this, Ward says, is a recipe for continued gains in gold.
Echoing Ward's thoughts was EverBank World Markets president Chuck Butler, who said, "I personally think gold has a long way to go still and I don't think it's in a bubble's braces. If you get a crowd of people together and ask who owns gold, you won't find many hands go up. That's been my test, and I still don't see many hands."
Gregory Marshall, President and CEO of Global Asset Management, a wholesaler dealing in gold, silver, platinum and palladium, said he believes the price of gold will surpass $1,500 an ounce in the not too distant future. "Gold is up 400% against the U.S. dollar in the last eleven years and should continue its ride as investors protect themselves from economic and political uncertainty. I do not believe at this stage that a 'gold Bubble' exists; the general public are still not in this market."
Marshall expects some short-term downturns in gold prices, but is bullish about the yellow metal's long term direction.
New York
were falling by $1.56, or 5.6%, to $26.12.
New York spot platinum prices were losing $73, or 4.2%, to $1,681 an ounce, while its sister metal was losing traction.
New York spot palladium prices were falling by $33, or 4.6%, to $678 an ounce.
Mining stocks and precious metals ETFs were settling in negative territory towards the end of Friday's trading session. Mining stocks offer another form of exposure to precious metals.
Newmont Mining
(NEM)
was down 2.3% to $61.59 and
Agnico-Eagle Mines
(AEM)
was falling by 2% to $79.80.
Silvercorp Metals
(SVM)
was losing 6.7% to $11.38, while
Hecla Mining
(HL)
was surrendering 5.7% to $8.41.
Market Vectors Junior Gold Miners ETF
(GDXJ)
was down 3.9% to $39.18,
ETFS Physical Palladium Shares
(PALL)
was falling 4.3% to $67.99 and
SPDR Gold Trust (ETF)
(GLD)
was down 2.9% to $133.69.
-- Written by Andrea Tse in New York.
>To contact the writer of this article, click here:
Andrea Tse
.
>To follow the writer on Twitter, go to
.
>To submit a news tip, send an email to:
.
RELATED STORIES:
>>Spot Metals Roundup, 11/11: Spot Gold Prices Eye $1,500
>>Spot Metals Roundup, 11/05: Spot Gold Prices: Headed Higher?
>> Spot Metals Roundup, 11/04: Spot Gold Prices Shine, But Silver Brighter
>> Spot Metals Roundup, 11/02: Spot Gold Prices Rage On
Copyright 2010 TheStreet.com Inc. All rights reserved. This material may not be published, broadcast, rewritten, or redistributed.