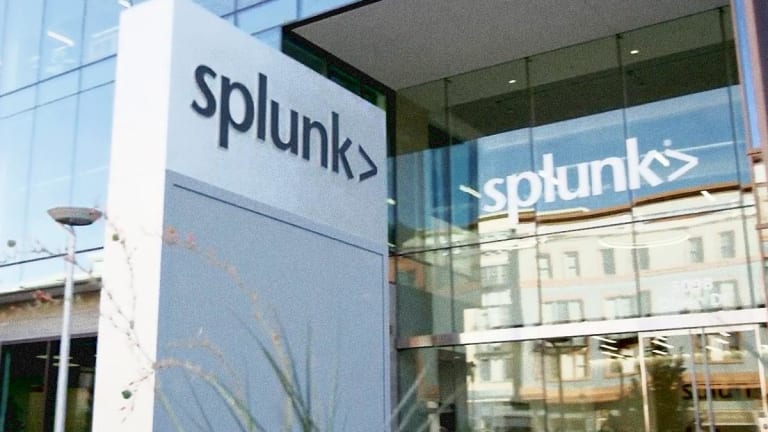 Splunk Shares Higher After Data-Analysis Firm Beats on Adjusted Net
The GAAP fiscal third-quarter loss was flat with that of the year-earlier quarter on a stronger-than-expected 30% higher revenue.
Splunk, (SPLK) - Get Free Report the provider of a data-gathering, analysis and application platform, reported a fiscal third-quarter loss flat with that of the year-earlier quarter on 30% higher revenue.
At last check in after-hours trading, Splunk shares were 3.4% higher. They closed the regular session on Thursday little changed at $126.84.
For the quarter ended Oct. 31, and for the year-earlier period, the San Francisco company reported a net loss of 38 cents a share. 
In the latest period, adjusted earnings were 58 cents a share. Shares outstanding rose 4.1% to 152.4 million.
Revenue reached $626.3 million from $481 million.
A survey of analysts by FactSet produced consensus estimates of 54 cents of adjusted earnings on revenue of $604.1 million.
The company now expects fiscal 2020 revenue of $2.35 billion, compared with its previous estimate of $2.3 billion. Its adjusted operating margin is affirmed at an estimated 14%.
"With the shift to a renewable model largely complete, momentum in our term license and cloud offerings drove 53% growth in total annual recurring revenue during the quarter," Chief Financial Officer Jason Child said in a statement.
Among a number of corporate initiatives in the quarter, Splunk highlighted a new $150 million venture fund to invest in data-analytics startups.
Two-thirds of the total is earmarked for startups "working to transform data into business value," the company said.
And a $50 million social-impact fund will invest in "organizations using data for the good of society," Splunk said.
The first of these investments went to  Zonehaven, a cloud-based-analytics application designed to help communities use data to improve evacuations and reduce wildfire risk.