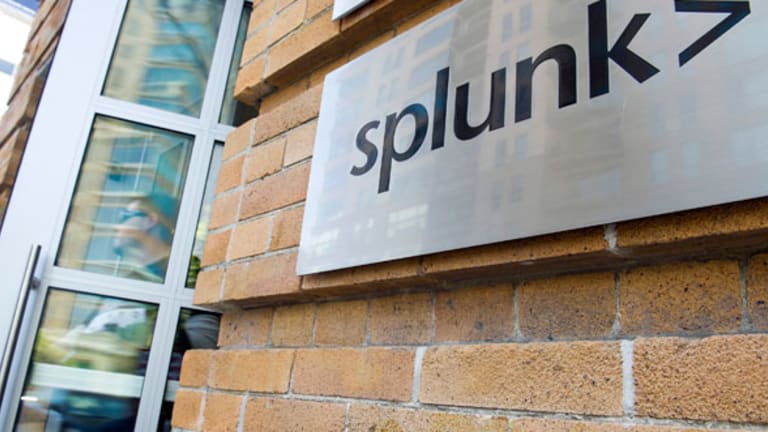 Splunk's Selloff Might Have Much to Do With a Misunderstood Cloud Transition
A shift towards cloud revenue streams is weighing on Splunk's billings and license growth. But it has a clear long-term payoff.
The 10% drop posted by Splunk (SPLK) - Get Splunk Inc. Report on Friday following its latest earnings report stems in part from the high expectations priced into shares following a big six-month rally.
It might also have something to do with how a shift in the company's sales mix towards cloud subscriptions has made investors jittery about how much it's billings its customers. Perhaps too much so.
Splunk, the largest provider of analytics software used to glean insights from the machine data thrown off by corporate systems, reported fiscal second-quarter revenue of $212.8 million (up 43% annually) and EPS of 5 cents, topping consensus estimates of $200.5 million and 3 cents. That wasn't too surprising, given Splunk has a long history of topping analyst estimates.
The company's third-quarter sales guidance of $228 million to $230 million is only in-line with a consensus estimate of $228.9 million. But its fiscal 2017 guidance was hiked to a range of $910 million to $914 million from one of $892 million to $896 million -- consensus was at $897.5 million. Its fiscal year ends in January.
Since going public in 2012, Splunk has shown a knack for steadily raising full-year guidance over the course of a fiscal year. And with the stock near its 52-week highs going into earnings, a beat-and-raise quarter was arguably priced in.
What did raise eyebrows is the fact Splunk's customer billings growth slowed markedly; UBS analyst Brent Thill estimates billings growth fell to 40% from the first quarter's 48%.
In addition, Splunk's license revenue growth, closely followed as a proxy for how much Splunk's installed base is growing, fell to 32% from the first quarter's 41%. Thill, who still has a buy rating on Splunk, asserts the company beat license revenue estimates by the smallest amount seen in the last five quarters.
When asked by Thill on the earnings call about the billings growth slowdown, CFO Dave Conte suggested the rapid growth seen by the Splunk Cloud platform -- it provides analytics software that's hosted on Amazon's (AMZN) - Get Amazon.com, Inc. Report cloud infrastructure, and can analyze large amounts of data from a variety of sources -- was pressuring billings.
Many cloud customers prefer to be billed on an annual basis, and Splunk typically bills less up-front for a cloud deal than it would for a comparable deal involving a traditional, perpetual, software license and related maintenance contract.
These are issues that other enterprise software firms transitioning customers to subscription-based cloud offerings, such as Microsoft (MSFT) - Get Microsoft Corporation (MSFT) Report, Adobe (ADBE) - Get Adobe Inc. Report and Autodesk (ADSK) - Get Autodesk, Inc. Report, are well familiar with. Autodesk just reported its second-quarter revenue fell 10% annually to $550.7 million due to its efforts to move buyers of its CAD/CAM software from licenses to subscriptions.
But with this transition well-telegraphed, sales still beat the average analyst estimate by nearly $39 million. That, along with full-year sales and EPS guidance hikes, helped Autodesk rise 8.1% on Friday to new highs.
By contrast, the magnitude of Splunk's transition appears to have caught many off-guard. Conte claimed second-quarter cloud bookings were more than double Splunk's original plan, and included four of the quarter's 10 biggest deals. He added the cloud business is now on a $100 million-plus annual bookings run rate, and (importantly) that all cloud revenue is recorded within the "maintenance and services" line on Splunk's income statement, rather than its "license" revenue line.
That provides some important context to Splunk's billings and license growth declines. Competitively, Splunk still appears quite dominant in its machine data analytics niche. And the company's market opportunity is growing as its software, traditionally used for IT operational intelligence, gets adopted for security, fraud-detection, app analytics and other use cases.
The strong uptake seen for Splunk's cloud platform only serves to bolster these trends. Even if its short-term impact on Splunk's numbers is giving markets some indigestion.