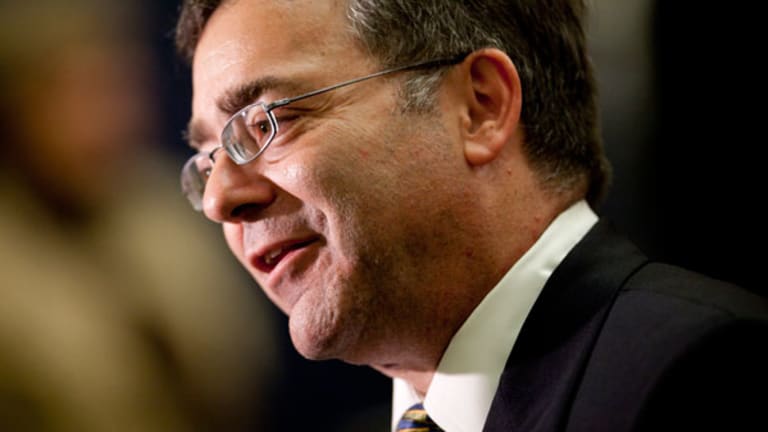 Spirit CEO Says Fees Should Rise at Peak Times, Calls JetBlue 'Icarian'
Spirit CEO Ben Baldanza says yield management should apply to fees, and says competitor JetBlue has an 'Icarian strategy.'
MIRAMAR (
) --
Spirit
(SAVE)
, the U.S. leader in the airline industry's effort to find new ancillary fees, said it wants to charge more for bags and assigned seats on flights at peak travel times.
In a wide ranging interview after the carrier released third-quarter earnings on Wednesday, CEO Ben Baldanza discussed applying yield management to ancillary fees, Spirit's below average on-time performance and Spirit's dissimilarity from low-cost European carrier
Ryanair
. He also said that competitor
JetBlue
(JBLU)
is pursuing an "Icarian strategy."
Airlines have historically charged more for tickets at peak travel times, using complex yield management systems to determine appropriate fares based on historic data and pricing trends. So far, the systems have not been applied to ancillary revenue sources. Historically, major airlines look to innovators like Spirit to develop new revenue strategies.
On the earnings call and in the interview, Baldanza said Spirit is exploring the possibility of applying yield management to ancillary revenue streams. "We've tiptoed around the idea, but not to the level of dynamic that we do ticket pricing," he said. "We like the idea and are looking into ways (to implement it)." Spirit charges low fares for seats and derives most of its passenger revenue from fees for everything else, including carry-on bags and boarding passes acquired at the airport.
Spirit shares have risen 141% this year on the basis of rapid, profitable growth. The carrier said Wednesday it will boost capacity by 22% over the next 24 months, as 28 new
Airbus
jets are added by the end of 2015 to the existing fleet of 51 Airbus jets.
"We're in the midst of a robust growth cycle," Chief Financial Officer Ted Christie said on the earnings call.
Baldanza would not specify where future expansion might occur but said that "in general we want to be where lots of people live." He declined to say whether Spirit might benefit if divestitures are required in the proposed merger between
American
(AAMRQ)
and
US Airways
(LCC)
. Asked if Spirit might fly Charlotte-Dallas, because such a flight might mitigate antitrust concerns, Baldanza said only, "There are a lot of people in the Carolinas."
At Fort Lauderdale-Hollywood International Airport, Spirit is the No. 2 carrier with 17.3% of the passenger traffic in the first seven months, according to airport statistics. No. 1 is JetBlue with 18.4% of traffic.
JetBlue said Tuesday that it will grow its fleet of Airbus A321 aircraft and will use them "to accelerate attractive growth opportunities at Fort Lauderdale."
Baldanza said he isn't worried about JetBlue. "We have a long record of serving Fort Lauderdale successfully," he said. "Our model works well in South Florida, with a lot of discretionary, price sensitive passengers." He said Spirit's profit strategy relies on three concepts: low fares, a basic product and capacity discipline, while JetBlue offers the opposite: a leisure-oriented product, higher fares than Spirit and limited capacity discipline because "they are not seasonality oriented, they are market-share oriented.
"To us, it's an Icarian strategy," he said. In Greek mythology, Icarus flew too close to the sun, which melted the wax binding his artificial wings. His story is considered to provide an example of excessive ambition that leads to ruin.
Spirit's on-time performance is generally a bit below average because Spirit is prone to delay rather than cancel flights, Baldanza said. Cancellations do not show up in the on-time data. "Because we have a thin schedule, mostly just one flight a day, a cancellation would mean you can't go until the next day," he said. "We choose to run late, rather than cancel." Spirit completes more than 99% of scheduled flights.
Because it doesn't provide the required 1% of passenger revenue, Spirit is not included in the U.S. Transportation Department's monthly compilation of U.S. airline operational performance. DOT reviews airlines annually to determine inclusion the following year. This year's test "had us just below the threshold," Baldanza said. It is likely, he said, that Spirit will be included in 2015.
Baldanza said he does not feel the pressure felt by Ryanair CEO Michael O'Leary to seek to attract higher-paying passengers, perhaps even business passengers. "He has 300-plus airplanes and 11% of the European market," Baldanza said. "We are 51 airplanes, nowhere close to their size. I don't know if we will have to (do that) at 300 airplanes, but we don't see the need now."
Early Wednesday, Spirit reported earnings excluding items of $57.9 million, or 79 cents a share. Analysts had estimated 75 cents. In the same period a year earlier, Spirit earned $25.2 million, or 35 cents a share.
The trading day was a wild one. Shares closed Tuesday at $43.05, opened Wednesday at $46.03, plunged to $39.36 shortly after noon, then recovered to close at $42.76. Various theories were offered for the performance. In a note, Cowen & Co. analyst Helane Becker blamed a one-time, $10 million current quarter charge disclosed during the earnings call related to maintenance expenses following the Oct. 15 engine fire in an aircraft that returned to Dallas soon after takeoff. Becker said the selloff was unwarranted and raised her target price to $48.
-- Written by Ted Reed in Charlotte, N.C.
>To contact the writer of this article, click here: