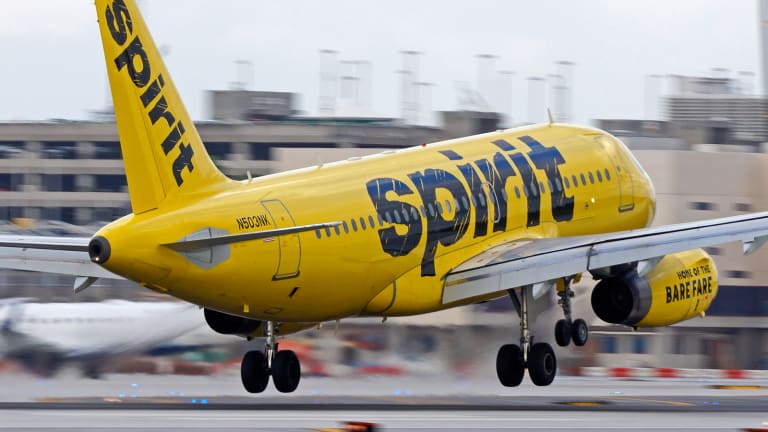 Spirit Airlines Investors Choke on 30% Growth Rate, Sell Shares
Spirit Airlines shares fell 9% on Wednesday as management project a second-quarter unit revenue decline of 15%. But some analysts are still buyers.
Spirit Airlines shares fell 9% on Wednesday as management project a second-quarter unit revenue decline of 15%. But some analysts are still buyers.
NEW YORK ( TheStreet) -- Fast-growing Spirit (SAVE) - Get Report became the airline industry's top loser in the first-quarter earnings cycle as shares dropped 9% after the carrier reported earnings and promised relentless future growth.
Spirit shares closed Wednesday at $70.66, down $7.22, or 9%. The shares are down 7% year to date.
Even though Spirit earned 96 cents a share, matching analysts' estimates, investors seemed to react more to management projections, during the earnings call, for declining revenue per available seat mile (RASM).
RASM fell 9.9% to 10.43 cents in the first quarter. It is projected to fall 14% to 15% in the second quarter.
"We could probably make more money if we were growing even faster," said CEO Ben Baldanza during the call.  "We feel great about our ability to execute spectacularly."
Several airline analysts seemed untroubled even as the share price tumbled, possibly an indication that the shares will stage a comeback. S&P Capital IQ analyst Jim Corridore maintained a strong buy. "SAVE is likely to continue to grow revenues and EPS faster than peers," he wrote, adding, "SAVE continues to show good cost control." He has a $100 price target.
Baldanza said rapid expansion is pressuring RASM because it takes time for Spirit to attract passengers in new markets. Spirit has announced 38 new routes that will begin in 2015. The second-quarter growth rate will be 32%, he said, compared with 17% in the same quarter a year earlier. Full-year growth will be 30%, compared with average 20% growth through 2021.
"We understand the RASM pressures that creates," Baldanza said. But he noted that cost per available seat mile also will fall because costs will be spread over more seat miles. "The CASM benefit is greater than the RASM hits for that set of markets," he said. "That suggests we should (grow) even more."
Evidently, it was too much growth for investors to stomach, especially since Baldanza noted that 40% of the first-quarter RASM decline was due to increased capacity. By contrast, he said, "60% is not our own stuff," but rather relates to competitive conduct including "fare compression" as competitors reduced fares, partially due to lower fuel costs, and to the Dallas situation.
 Imperial Capital analyst Bob McAdoo seemed supportive as he discussed Southwest pricing on its Dallas Love Field-Washington routes. "I am watching Dallas-Washington at Love Field," he said. "It's getting harder and harder to find a really cheap seat. I guess that's what you are saying, they are not offering as much junk there."
 McAdoo said he has seen "junk" fares of $59 and $79 in the past, but now "you are seeing $200 fares on a weekend." He asked, "Is that going on throughout all the new (Spirit) DFW markets they are in?"
Ted Botimer, Spirit senior vice president for network and revenue management, responded: "What we're seeing in DFW-Washington is pretty much similar to the trend overall. The capacity seems to be getting absorbed. That is the first step to everything rising back up -- the rational absorption of the capacity."
This article is commentary by an independent contributor. At the time of publication, the author held no positions in the stocks mentioned.