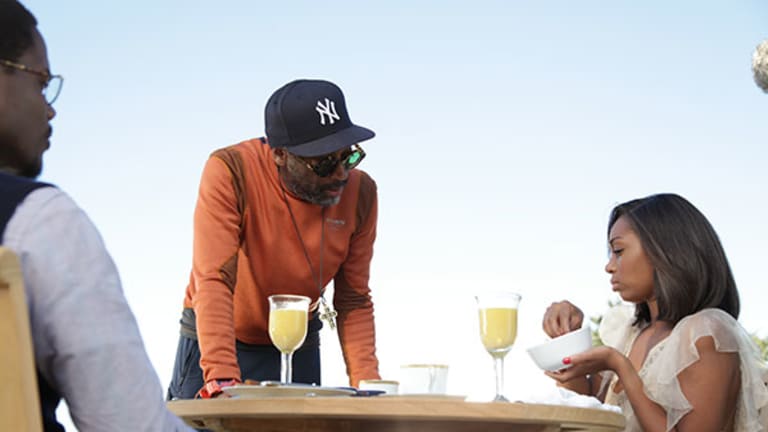 Spike Lee Turns to Vimeo to Distribute His Latest Movie
Vimeo will release Spike Lee's newest film Da Sweet Blood of Jesus in a deal that highlights the increasing acceptance of online distribution for first-run films.
NEW YORK (TheStreet) - Spike Lee will release his newest film Da Sweet Blood of Jesus exclusively on Vimeo, the video-sharing and rental site owned by Barry Diller's IAC Interactive (IACI) in a deal that highlights the increasing acceptance of online distribution for first-run films at a time when box-office sales are declining.
Lee's Da Sweet Blood of Jesus, which was financed in part through the crowd-funding site Kickstarter, won't appear in theaters for a month, giving Vimeo exclusive rights to rent or sell the film as a video-on-demand. The price of a 24-hour rental is $9.99 while a download is $14.99. Gravitas Ventures will release the film theatrically on Feb. 13.
Part of the attraction for Lee is that Vimeo takes only 10% of revenue generated by a video or film shown on its site compared to Google's (GOOG) - Get Alphabet Inc. Class C Report YouTube, which retains 45% of sales, and Apple's (AAPL) - Get Apple Inc. Report iTunes, which keeps 30%. It also allows Lee, a longtime critic of the studio system, an alternate means of distribution for a low-budget film, an option more filmmakers are likely to pursue as financing becomes challenging.
"What Lee's doing is rewarding his most loyal fans," said Kerry Trainor, Vimeo's CEO in an interview at the company's New York offices. "It's almost as if the digital sneak preview is becoming a distribution strategy."
The deal between Vimeo, which has a global audience of 170 million viewers, and Spike Lee, one of the country's best-known film directors, follows Sony's (SNE) - Get Sony Corp. Report Pictures' decision to release The Interview online on Christmas Eve, a day before it debuted nationally in 331 independent theaters.
Although The Interview's release occurred within the chaos and panic prompted by a massive cyber attack on the studio, it brought in more than $31 million in online rentals and sales, in addition to over $5 million at the box office, demonstrating the potential of simultaneous digital and theatrical distribution, a strategy known in the movie industry as a day-and-date release.
Lee's distribution deal with Vimeo goes a step further than a day-and-date release by seeking to capitalize on VOD sales, in contrast to box-office sales, which fell 5.2% in the U.S. in 2014 to $10.4 billion, according to Box Office Mojo. Vimeo has some experience with day-and-date releases having handled the distribution a year ago for The Internet's Own Boy: The Story of Aaron Swartz, which premiered at Sundance 2014. 
But film studios have historically balked at the prospect of day-and-date releases, fearing that a VOD release would cannibalize box office sales. A theatrical release is widely viewed as essential to generate publicity about a film which in turn fuels future video-on-demand sales. A simultaneous release, the thinking goes, could jeopardize both revenue streams.
Yet Trainor counters that in the new world of social media and digital platforms, Spike Lee's die-hard fans will spread word of Da Sweet Blood of Jesus, a love story starring Stephen Tyrone Williams and Zaraah Abrahams that reinterprets Bill Gunn's 1973 film Ganja & Hess, by generating grassroots interest that historically was provided by a theatrical release and movie reviews.
"Why not put it out first to your most ardent fans who will probably pay a premium?" Trainor said. "Your most ardent fans are going to buy it first so why not control that process, do it direct, use your own social channels, e-mail and release it on your own."
In recent years, independent studios such as IFC Films and Magnolia Pictures, which generally buy movies that are unlikely to play at national theater chains, have regularly released movies as day-and-dates. Magnolia, for example, with Lars von Trier's Melancholia was made distributed on VOD even before its theatrical release. Larger studios have also begun to selectively use the strategy.
Arbitrage, starring Richard Gere and Susan Sarandon, was released in 2012 by Roadside Attractions and Lions Gate Entertainment (LGF) , grossing about $8 million at the box office and $14 million on VOD, while the Weinstein Co's Radius-TWC had a similar experience with the comedy Bachelorette starring Kristen Dunst, which made less than $500,000 at the box office but generated $8.3 million through VOD.
Vimeo, which prides itself on not showing advertising prior to its videos or on much of its website, is betting on the film industry becoming more comfortable with debuting movies on VOD. Rather than trying to surpass YouTube, which has an audience greater than 850 million, Trainor says Vimeo is seeking to expand its inventory of films and videos, both short and long, for rent, download or free.
Trainor is headed to the Sundance Film Festival next week to meet with independent distributors about releasing their films on his digital platform, tktk by the increasing willingness of consumers to spend on mobile entertainment. Sales 
from mobile games, video, music and location-based services surpassed $9 billion last year, its compound annual growth rate reaching 50% since 2011, according to SNL Kagan.
Releasing films digitally is the next step, he said, in the progression from a theatrical-only release to paid video-on-demand to subscription VOD services such as Netflix (NFLX) - Get Netflix, Inc. Report .
"This is the evolution of windowing," Trainor said. "We're just starting to see these types of integrated distribution strategies start to emerge."
Written by Leon Lazaroff in New York
Contact by Email.
Follow @LeonLazaroff