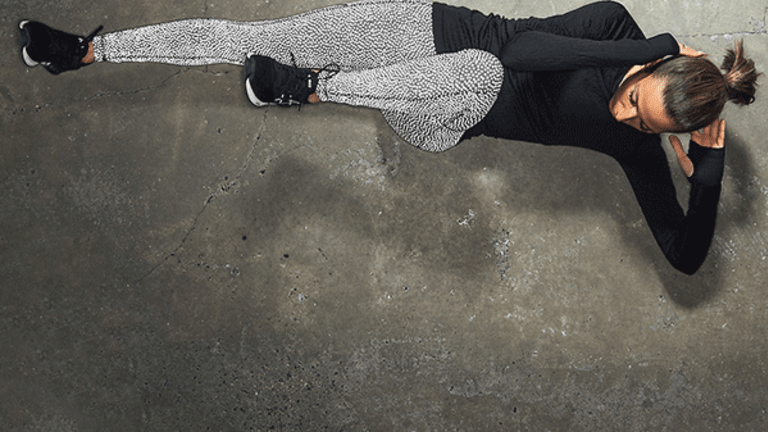 Speculation Is Fierce That Lululemon Could Be Acquired for a Stunning 50% Premium
The numbers people are chatting about.
Time to stretch and buy some Lululemon?
An analyst told TheStreet that speculation on Wednesday, June 28, that the althleisure company Lululemon Athletica Inc. (LULU) - Get Lululemon Athletica Inc (LULU) Report would be taken private surfaced is a "real possibility."
On the rumor, the stock rose briefly, then slipped.
The stock was up 5.3% to $59.16 by Thursday's close. On Aug. 19, 2016, the stock had a high of $80.65.
"We see going private/buyout/general M&A rumors all the time in the market," wrote Joshua Rodriguez, CEO and founder of CNA Finance in an email to TheStreet on Wednesday. "Very few of them prove to be true. However, in this case, there's a real possibility. At the moment, word on the wire is that Lululemon is going to go private at $85 per share. While a going private move may happen, and for various reasons, would be a strong move, I don't believe the price is going to be $85 per share. The premium there just isn't warranted. In fact, I'd be a believer around $70 per share.
"Now, don't get me wrong, I don't want to harsh anyone's mellow here, but it's a rumor. Nothing surrounding this story is verified to be factual... yet. Nonetheless, at the very least, it's interesting. If this thing does happen, and for some reason, at the ungodly premium that is being rumored, this could be a big win for investors."
Rumors have abounded about Lululemon's status since 2014, fueled in part by founder Chip Wilson's displeasure with the current management and the company's direction in recent years. A year ago, Wilson, who left the board in 2015, sent a letter to shareholders contending that the company had lost its way and needs a fresh strategy to jump-start its competitive advantage.
In the last year, the company has dealt with a cooling of customer interest and a change in fashion trends. And it has also closed stores, like many mall-based retailers. he company plans to shut down approximately 40 of its 55 ivivva stores geared to girls by Aug. 20 and convert about half of the remaining locations to lululemon stores this year. All affected employees will work until Sept. 1 and, if possible, be placed in other jobs within the company. Lululemon said that because the ivivva stores have been operating at a slight loss, it made the decision to close the bulk of them, while eight will remain in key communities and seven stores will be converted into Lululemon stores, where sales have been stronger.
But the company has had several wins, too.
In the last quarter, Lululemon reported earnings of 32 cents a share on revenue of $520.31 million. Analysts polled by FactSect were projecting earnings of 28 cents a share on revenue of $514 million.
It has also spent heavily to upgrade its digital operations, which Barclays expects to grow after a bigger platform release this year, and has been introducing and selling one new product well -- a $68 bra.
Neither Lululemon, nor Wilson were immediately available to answer questions from TheStreet.
Read More Trending Articles
Walgreens and Rite-Aid Just Laughed in the Face of Regulators, Strike One Clever New Deal
Here's Why Amazon Could Feast on the Remaining Carcass of Rite Aid After Failed Walgreens Merger
Walgreens Punches One of Its Biggest Rivals in the Face With This Surprising New Deal