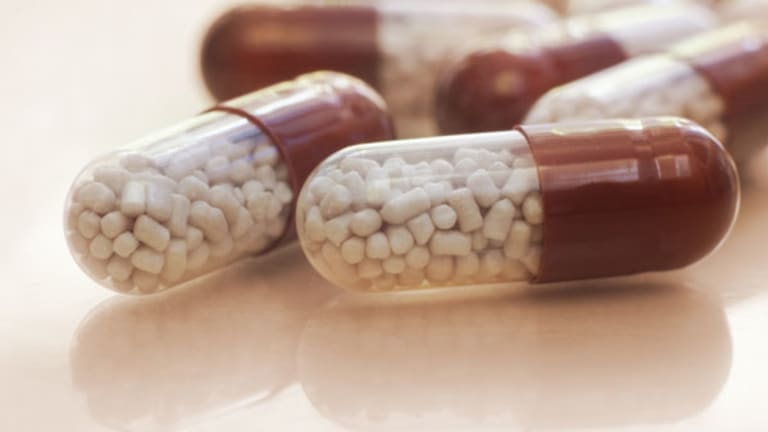 Spectrum a Takeover Target for Bayer? Color Me Skeptical
Those who believe Bayer would want to buy Spectrum for the rights to Zevalin need a strong dose of reality.
IRVINE, Calif. (
) -- A dose of reality needs to be injected into the conversation about
Spectrum Pharmaceuticals
(SPPI) - Get Free Report
being a possible takeout target of German drug giant
Bayer
.
Bayer owns European rights to Zevalin, a drug that treats non-Hodgkin's lymphoma (NHL) that has been a commercial failure for a variety of reasons. Spectrum owns U.S. rights to the drug and is currently seeking an expanded approval here that is supposed to widen the potential pool of NHL patients who can be treated with the drug -- and hopefully breathe new life into moribund sales.
The rumor mill is churning with this: If Spectrum wins the new Zevalin approval (the decision is expected Sept. 7), Bayer will want to buy the company so it can control worldwide rights to the drug.
Really? The problem with this rose-colored scenario is that Bayer shows very little interest in Zevalin today. The company barely markets the drug in Europe despite already having the expanded NHL approval there. (Bayer doesn't even break out Zevalin sales every quarter because the drug is barely a rounding error on its income statement.)
Perhaps the Bayer-is-buying-Spectrum scenario would make more sense if Bayer gobbled up its other drug partners. But that isn't happening, either. Case in point:
Onyx Pharmaceuticals
(ONXX)
, which co-markets the very successful cancer drug Nexavar with Bayer. Nexavar sales will probably top $850 million this year.
Reasons abound for why Bayer should have bought Onyx years ago, but still, no deal. Yet somehow, investors should be expecting Bayer to buy Spectrum?
I find that hard to believe. Yes, Spectrum also sells another smallish cancer drug and has some others in the pipeline, but nothing that's really going to move the growth needle for Bayer in any appreciable way.
If Bayer makes a deal, it should be for Onyx, not Spectrum.
How big of a drug can Zevalin be if/when the FDA approves the expanded label, which will allow Spectrum to market the drug as an initial treatment for NHL? (Right now, the drug is only approved for NHL patients whose tumors continue to grow despite previous treatments.)
I asked Spectrum CEO Rajesh Shrotriya that question recently. While he didn't want to set a firm sales guidance for the drug, his hope was that Zevalin could eventually grow to $100 million peak sales annually.
Zevalin was approved in the U.S. in 2001, but last year, doctors used the drug to treat about 700 patients with total sales of $11 million, according to Shrotriya. This year's sales are tracking about the same.
That's abysmal and far short of competing NHL drugs from companies like
Cephalon
( CEPH) and
Roche
.
With that said, growing Zevalin sales tenfold over the next few years doesn't seem entirely far-fetched and would definitely be a major accomplishment for Spectrum. As a near-term goal, Shrotriya says he'll be happy to see 2010 Zevalin sales double year over year.
Recall that Zevalin is a monoclonal antibody that seeks out and attaches itself to cancer cells. But unlike other such drugs, Zevalin carries a radioactive payload designed to kill the cancer cells while leaving neighboring healthy cells intact. Zevalin was the first in a new class of "radio-immunotherapies" approved by the FDA. Since its approval, only one other radio-immunotherapy drug has made it to the market --
GlaxoSmithKline's
(GSK) - Get Free Report
Bexxar. It's not a big seller, either.
Unfortunately the cutting-edge technology behind Zevalin turned out to be a major hindrance commercially. Because it's a radioactive compound, doctors and patients must go through a long checklist of precautions and pretreatment steps before Zevalin can be administered. Plus, the drug has never enjoyed favorable insurance reimbursement status, so oftentimes, doctors actually lose money when prescribing Zevalin to their patients.
Spectrum gained 100% U.S. rights to Zevalin earlier this year and is continuing efforts begun by the drug's previous owner,
Cell Therapeutics
(CTIC) - Get Free Report
, and starting new initiatives of its own designed to improve sales performance.
Zevalin today garners about 12% market share in the approximate 6,000 U.S. NHL patients treated with third-line drugs. The new FDA approval, if it comes Sept. 7, will expand Zevalin's NHL patient pool to 46,000 patients, according to Spectrum.
If the company maintains 12% market share overall, Zevalin will be used by just over 5,000 patients annually. At an approximate cost of $20,000 per treatment, Zevalin sales would reach a bit more than $110 million.
Of course, a drug doesn't go from 700 patients to 5,000 patients overnight, so assume it takes about four years to achieve.
These are my forecasts based on feedback from Spectrum, which isn't discussing its own internal sales forecasts for Zevalin other than to lay out the broad goals I mentioned above.
Notice, too, that Spectrum's expectations, even generally outlined, are way more realistic than what some company bulls have predicted recently. Most notably, an amateur stock picker writing for
Seeking Alpha
predicts 7,500 patients and Zevalin sales of $180 million within 18 months of the FDA approving the expanded label.
That forecast seems entirely unrealistic.
Dr. Andrew Zelenetz, chief of the lymphoma service at Memorial-Sloan Kettering Hospital in New York is a proponent of both Zevalin and Bexxar. He uses one or the other drug in about 25-30 NHL patients a year, which is a lot more than most doctors, he says.
An expanded label should boost Zevalin's use, but how much so is still not clear, he says.
For NHL patients with advanced disease, "there are many treatment options and it's easier for most doctors to choose something else over Zevalin," says Zelenetz.
As for Spectrum's valuation, yes, there's upside in the stock if the FDA approves the new Zevalin label next month (and if the agency also grants an expanded approval for the company's other drug, Fusilev, in October.)
By my back-of-the-envelope calculations, Spectrum is fairly valued at $9-10 a share, which includes the company's cash. The stock closed Monday at $7.18.
This assumes $110 million in Zevalin sales at the end of 2014 and $75 million in Fusilev sales by year-end 2013.
-- Written by Adam Feuerstein in Boston
Adam Feuerstein writes regularly for TheStreet.com. In keeping with TSC's editorial policy, he doesn't own or short individual stocks, although he owns stock in TheStreet.com. He also doesn't invest in hedge funds or other private investment partnerships. Feuerstein appreciates your feedback;
to send him an email.