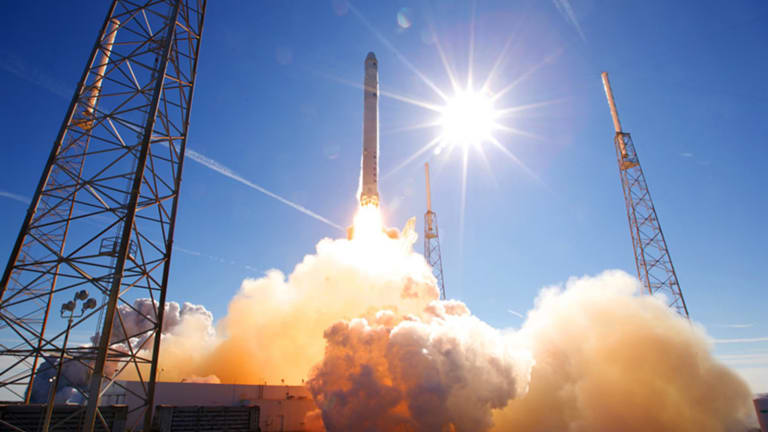 Elon Musk's SpaceX hopes to return to space on Saturday, just more than four months after one of its rockets exploded on a Florida launchpad. A report detailing the privately-held company's financials shows just how much is riding on the company's rocket breaking through the atmosphere as planned.
SpaceX hopes to launch one of its Falcon 9 rockets from California's Vandenberg Air Force Base on Saturday, delivering 10 Iridium communication satellites into orbit and beginning the process of getting the company's launch schedule back on track. If launched, it would be SpaceX's first since August, and would end a moratorium on launches that followed a launchpad fueling incident that caused an explosion.
The financials, which were detailed in the Wall Street Journal, outline how costly a launch setback is for the upstart rocket company. According to the report, SpaceX experienced a $260 million loss in 2015 on just under $1 billion in launch revenue following a previous explosion that curtailed launch operations, reversing a small operating profit in 2014.
SpaceX has the wherewithal to weather a launch freeze, with more than $1 billion in cash on its balance sheet and no debt. The broader concern is that an explosion could cause customers to lose confidence in the company and shift business elsewhere. One SpaceX customer, Inmarsat, in December switched a planned launch from SpaceX to a rival operator due to delays in the launch schedule.
For now SpaceX would appear to have nothing to worry about. The company declined to comment to the Wall Street Journal on its finances, but said it has more than 70 future launches on its manifest representing more than $10 billion in revenue. Assuming Saturday's launch goes as planned and SpaceX can get its operation up and running, most, if not all, of that business should be safe.
The Journal piece also lays out SpaceX's future financial projections which, like other Musk ventures such as electrical vehicle maker Tesla (TSLA) - Get Tesla Inc Report, are not lacking in ambition. The company hopes to go from just a couple billion in revenue today to $35 billion by 2025, thanks largely to the projected success of a satellite-Internet business that as of today is still only on the drawing board. SpaceX sees launch revenue of about $5 billion by 2025, with the Internet business projected to have 40 million subscribers and take in more than $30 billion in annual sales by then.
Others who have attempted to make satellite Internet work have been frustrated with the results, with the target market mostly reduced to those who, for geographic reasons, have no other options. Future efforts will also have to compete against ever-improving terrestrial wireless offerings, including the forthcoming 5G cellular networks.
SpaceX investors including Alphabet (GOOGL) - Get Alphabet Inc. Class A Report and Fidelity Investments have bought in to the promise, with Fidelity reportedly valuing the company at $16 billion. As the Journal notes, that is more than double the market capitalization of SpaceX rocket rival OrbitalATK (OA) , despite Orbital having four times the annual revenue.
Musk, owner of more than half of SpaceX's shares, has his share of detractors and a long history of frustrating his skeptics. A successful launch on Saturday would be his first step towards pushing SpaceX to great heights.