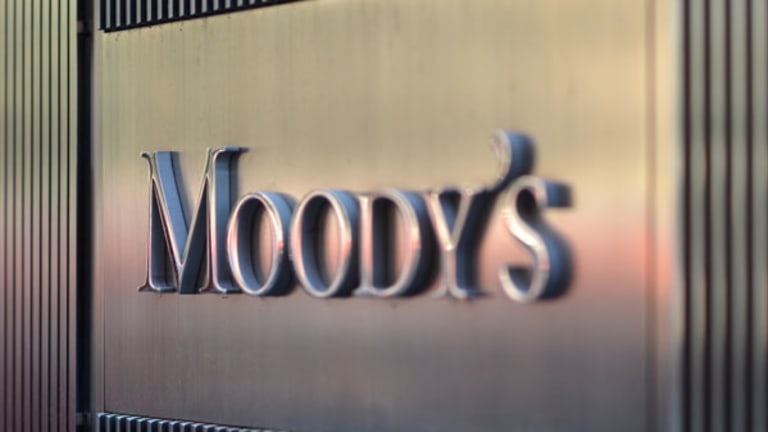 S&P, Moody's Shares Surge on Fraud Lawsuit Settlement
S&P and Moody's may not be out of the woods on fraud allegations even after a crucial investor settlement.
Updated from 11:39 a.m. ET to include closing share prices and additional analyst commentary
NEW YORK (
) --
Moody's Investors Service
(MCO)
and
Standard & Poor's
parent
McGraw-Hill
( MHP) shares were rising on Monday after both firms and
Morgan Stanley
(MS)
settled civil fraud lawsuits related to two failed investment vehicles.
The settlement's are a significant development for the firms as they try to expunge litigation tied to pre-crisis bond ratings, however, the prospect of federal and state fraud lawsuits remains a significant legal risk, according to some analysts.
Late on Friday, Moody's, S&P and Morgan Stanley settled investor lawsuits brought forward by
Abu Dhabi Commerical Bank
and King County, Washington surrounding two structured investment vehicles called Cheyne and Rhinebridge.
The suits, filed in 2008 and 2009, claimed that Moody's and S&P inflated ratings for the SIV's, while Morgan Stanley conveyed ratings it knew were inaccurate. Abu Dhabi's lawsuit had been set to go to trial on May 6.
The settlement is crucial for Moody's and S&P because, after years of legal back and forth, the plaintiffs' only remaining litigation surrounded claims of civil fraud.
Had Abu Dhabi or King County proven Moody's and S&P's bond ratings were fraudulent, it might have led to a potentially crippling flurry of litigation from other investors.
Shares in Moody's rose over 8% in Monday trading to $59.69, while McGraw-Hill shares rose nearly 3% to $53.45. Morgan Stanley shares gained nearly 4% to $22.21.
The settlement may also come as a blow for some investors betting on the eventual demise of ratings agencies such as David Einhorn of hedge fund
Greenlight Capital
. Einhorn
in a February earnings call Moody's was the firm's worst performing short position in 2012.
"Our biggest loser on the short side last year was Moody's," Einhorn
said
in February, on a quarterly conference call for
Greenlight Re
(GLRE)
, an insurer affiliated with the hedge fund.
Prior to that, Einhorn's most recent direct reference to the trade came in response to an audience question at an
.
"It's a matter of time before they all disappear," Einhorn said of the rating agencies, at the
.
Einhorn said earlier in 2013 Greenlight Capital had shorted shares of McGraw-Hill, after the
Department of Justice
brought a
against Standard & Poor's in February.
When asked if Friday's settlement impacted short positions in Moody's and McGraw-Hill, Jonathan Gasthalter, a Greenlight Capital spokesperson, declined to comment.
Warren Buffett-run
Berkshire Hathaway
(BRK.A)
remains
, according to
Securities and Exchange Commission
filings.
Moody's shares have gained over 40% in the last 12-months to new five-year highs.
"McGraw-Hill has settled the Abu Dhabi and King County cases without any admission of liability or wrongdoing," Jason Feuchtwanger, a company spokesperson, said in an e-mail. "The terms of the settlement are confidential," Feuchtwanger added.
"We are pleased to have settled these cases," Mark Lake, a Morgan Stanley spokesperson said, of the investor lawsuits claiming negligence. Moody's didn't immediately return an e-mail seeking comment.
Moody's and McGraw-Hill may not be in the clear yet, according to Mark Palmer an analyst at BTIG Research, who has long said litigation poses a serious risk to the financial position of both firms.
Palmer highlights a $5 billion civil fraud charge brought by the DoJ against McGraw-Hill as a significant risk for all rating agencies, even after settlements surrounding investor litigation. Reports from the
Wall Street Journal
and
Reuters
indicate the DoJ may look at similar charges against Moody's, while New York State Attorney General Eric Schneiderman has begun a probe on pre-crisis mortgage backed security bond ratings.
"Prior to Feb. 4, the most acute legal risk facing
Moody's was represented by the fraud cases brought by Abu Dhabi Commercial Bank, King County, Washington and others related to the Cheyne and Rhinebridge structured investment vehicles (SIVs)," Palmer wrote in a Monday
.
"We believe MCO should be particularly concerned about the potential for Schneiderman to file a lawsuit against it under the Martin Act," Palmer added in Monday's note, citing the state's lower legal burdens of proof to prosecute financial fraud.
Many on Wall Street appear to feel renewed scrutiny on the bubbly pre-crisis ratings handed out by the likes of S&P and Moody's will fizzle out, just like toxic real estate and structured securities they gave high ratings to.
Currently, Moody's, Standard & Poor's and Fitch Ratings' best defense against fraud or misrepresentation allegations centers on the First Amendment. Bond ratings, they claim, are simply opinions and fall under free speech rights.
In September, a ruling by U.S. District Judge Shira Scheindlin on the lawsuit against Moody's and S&P cast doubt on whether ratings opinions can be protected by First Amendment free-speech rights if a fraud can be proven.
While multi-year lawsuits by Abu Dhabi and King County, Washington won't expose whether or not a fraud can be proven against Moody's or S&P, there is still the prospect federal and state proceedings do so.
The DoJ's civil fraud charges were brought under the
Financial Institutions Reform, Recovery, and Enforcement Act
of 1989, which allows the government to seek civil penalties equal to the losses suffered by federally insured financial institutions. To date, the DoJ has identified over $5 billion in federal losses resulting from CDOs that were rated by S&P between March and October 2007, according to U.S. Attorney General Eric Holder.
"We expect the legal risk focus to shift to the DOJ case and the state attorneys general cases which are all in the early stages... The next milestone for the DOJ case is a May 20th hearing in Los Angeles, but we expect years before the cases get to a potential trial (a settlement could come sooner)," Alex Kramm, a UBS analyst wrote in a Monday client note.
Kramm rates McGraw-Hill shares a 'buy' and has the equivalent of a hold rating on Moody's shares.
"A DOJ lawsuit would be entirely without factual or legal merit," S&P said in a February statement.
-- Written by Antoine Gara in New York