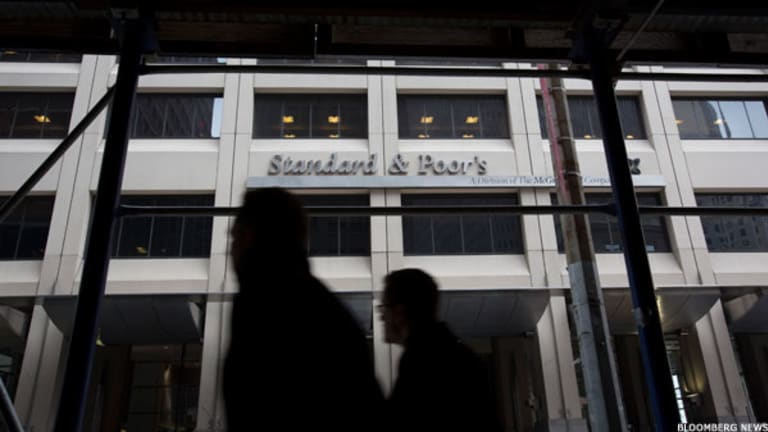 S&P, Moody's Face an 'Existential Threat'
If fraud is proven, the ratings companies could go the way of auditing firms that were caught up in scams.
NEW YORK (
) -- How bad could it get for ratings agencies
Standard & Poor's
(owned by
McGraw-Hill
(MHP)
) and
Moody's
(MCO) - Get Free Report
now that the
Department of Justice
is suing S&P on fraud charges and state attorneys general including Eric Schneiderman of New York appear to be ready to dig in for a legal fight?
Many on Wall Street appear to feel renewed scrutiny on the bubbly pre-crisis ratings handed out by the likes of S&P and Moody's will fizzle, just like toxic real estate and structured securities they gave high ratings to.
Still, firms face an "existential threat," as the prospect of federal and civil fraud charges on pre-crisis ratings overhangs the bond-rating industry, according to Mark Palmer, an analyst at brokerage firm
BTIG
.
In fact, Palmer sees ratings agencies facing the same risks as
Arthur Andersen
, the accounting firm that failed in the wake of the bankruptcy of
Enron
, which imploded because of widespread accounting fraud.
The conflict of opinion is highlighted both in Moody's earnings Friday and a
between Warren Buffett's
Berkshire Hathaway
(BRK.A) - Get Free Report
and David Einhorn of
Greenlight Capital Management
.
Moody's reported fourth-quarter revenue rose 33% to $754.2 million, while operating income increased by an even greater 51%. Still, the rating agency's impressive numbers amid an end-of-year bond-market surge didn't impress investors, and Moody's shares fell.
The selloff likely has more to do with reports from
Bloomberg
and
Reuters
that the DoJ may yet consider a suit against Moody's and that state attorney generals are already preparing litigation.
So how bad could it get?
BTIG's Palmer says S&P, Moody's and Fitch Ratings may eventually disappear if federal or civil fraud charges are proven. That's what happened to Enron's auditor, Arthur Andersen. The key, according to Palmer, is that a potential admission of fraud would render the opinions of an agency worthless.
"We believe a fraud conviction would not only be a threat to the agencies' business prospects, but an existential threat as well. Talk about downside risk," Palmer writes in a Feb. 7 note to clients.
Notably, Palmer sees the prospect that the demise of pre-crisis industry leaders comes as a result of emerging competition, a scenario many appear to consider unlikely.
"Some have argued that
Moody's and S&P, which have a virtual oligopoly in the credit-ratings space, are too large and too ingrained in global finance to simply go away," Palmer says.
"We believe that if one or both of the firms went the way of Arthur Andersen, then upstart rating agencies with untarnished reputations such as Morningstar, Kroll and A.M. Best could rise up to take their place," the analyst said.
Palmer, who appears to be sifting through the remnants of post-crisis muck on Wall Street for contrarian investment recommendations, sees potential legal risks as more extreme than
Bank of America
(BAC) - Get Free Report
, which is laden with litigation centered on the housing bust.
Currently, Palmer sees a positive outcome for monoline bond insurers such as
MBIA
(MBI) - Get Free Report
in winning legal battles against the banking industry for toxic securities.
"BofA will settle, Moody's is facing a different set of circumstances," Palmer said in an interview Thursday, noting that any admission of fraud by a rating agency would open the door to a flurry of litigation.
That mirrors the
of Einhorn, a noted short-seller who's
tech giant
Apple
(AAPL) - Get Free Report
in recent days.
While the DoJ's efforts appear to be targeted at S&P, for now, it and competitors
Moody's
(MCO) - Get Free Report
and
Fitch Ratings
will face scrutiny in civil fraud lawsuits set to hit courtrooms this month.
The DoJ claims S&P knowingly misrepresented risks in complex and highly rated debt securities before the financial crisis.
A seperate multi-year investor lawsuit against Moody's and S&P is set to unfold in courtrooms this month that may indicate whether the firms will face an onslaught of private claims, or whether they will put some litigation risk behind them, as booming debt markets create a strong pipeline of business for ratings agencies.
The suit filed in 2008 by Abu Dhabi Commercial Bank and Washington's King County argues Moody's and S&P knowingly misrated a structured investment vehicle (SIV) for
Morgan Stanley
, which the bank then sold to unwitting investors who suffered losses shortly thereafter.
The SIV, called "Cheyne," contained notes backed by supbrime mortgages and it received the "highest credit ratings ever given to capital notes," according to the judge presiding on the case.
Those notes failed during the credit crunch, and plaintiffs argue the securities were knowingly misrated by agencies because of high fees paid by the issuer, Morgan Stanley, which is also a defendant in the case. Investors are now litigating Moody's and S&P for fraud in a last push to hold the agencies accountable.
The suit centers on whether private investors can be paid out over claims of misrepresentation on the shoddy ratings ascribed to complex securities. Moody's and S&P, meanwhile, argue that their ratings stand as an opinion protected under the First Amendment of the U.S. Constitution, not a guarantee.
The private lawsuit, which is similar to the DoJ's civil fraud complaint against S&P unveiled Tuesday, is likely to either put to bed investors' claims for pre-crisis bond ratings -- or open a Pandora's box of liability that goes beyond the government's suit.
In September, a ruling by U.S. District Judge Shira Scheindlin on the lawsuit against Moody's and S&P cast doubt on whether ratings opinions can be protected by First Amendment free-speech rights if a fraud can be proven.
After the ruling expunged all but a fraud charge against Moody's and S&P on the Cheyne SIV, Einhorn
at the Value Investing Congress in October 2012 that the suit could subject ratings agencies to legal issues that would destroy their business models and financial position this year.
"It's a matter of time before they all disappear," Einhorn said of the rating agencies.
A similar suit on a SIV called "Rhinebridge" that was rated by Fitch, Moody's and S&P may also go to trial after a Jan. ruling from Judge Scheindlin.
Investors should watch for a February trial on fraud charges leveled against Moody's to settle the score between Buffett -- Moody's largest shareholder -- and Einhorn. The suit could also be a leading indicator on whether the DoJ's claims against S&P or any other ratings agency bear fruit.
"We allege that, by knowingly issuing inflated credit ratings for CDOs (collateralized debt obligations) -- which misrepresented their creditworthiness and understated their risks -- S&P misled investors, including many federally insured financial institutions, causing them to lose billions of dollars," U.S. Attorney General Eric Holder said in a statement Tuesday.
In addition, "we allege that S&P falsely claimed that its ratings were independent, objective, and not influenced by the company's relationship with the issuers who hired S&P to rate the securities in question -- when, in reality, the ratings were affected by significant conflicts of interest," Holder added.
The DoJ's civil fraud charges were brought under the
Financial Institutions Reform, Recovery, and Enforcement Act
of 1989, which allows the government to seek civil penalties equal to the losses suffered by federally insured financial institutions. To date, the DoJ has identified over $5 billion in federal losses resulting from CDOs that were rated by S&P between March and October 2007, according to Holder.
"A DOJ lawsuit would be entirely without factual or legal merit," S&P said in a statement Monday. "It would disregard the central facts that S&P reviewed the same subprime mortgage data as the rest of the market, including U.S. government officials, who in 2007 publicly stated that problems in the subprime market appeared to be contained."
-- Written by Antoine Gara in New York