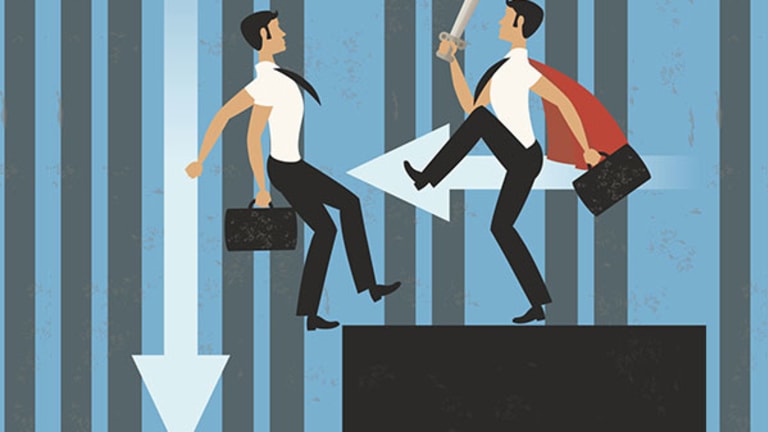 Sozzi: How to Undermine Your Boss and Get Them Fired
Don't bosses plain ole' suck? I can only imagine what retail workers at Sears, Wal-Mart, and RadioShack think about THEIR bosses.
This is the first column in a three-part series on how to navigate the corporate minefield.
NEW YORK (The Street) -- Don't bosses plain ole' suck? I can only imagine what retail workers at Sears (SHLD) , Wal-Mart (WMT) - Get Report, and RadioShack (RSH) think about THEIR bosses.
Push aside for a hot second that the top dog in the office earns a cool six-figure salary, excluding a $50,000 bonus come January. Yet, you aren't quite sure what this individual does to earn those megabucks, especially following another year of layoffs and subpar financial results. Bosses suck because of how they impact your daily life. For instance:
You have to kiss their rear at all company and non-company events. Bad mood, sick, or whatever, you have to be a champion of the boss's wins and future goals out in the public's eye. I know you have rage-out sessions at home post these uber-smiley, happy public situations.
You have to listen to this person talk and talk about useless things at five daily meetings that are profoundly out of touch with your tasks and future aspirations. That puts you to sleep, and could set your career off track.
You have to present in front of a boss likely to play mind games in real-time. Ever give a PowerPoint presentation, return to your seat, and others begin to converse...except the boss who is trying to break everything (and you) down? That process brings self-doubt into your existence, and who wants to feel confused and worthless. Dammit, we could all be career rock stars!
Tired of the boss? Wish he/she would disappear out of the front door never to be seen or heard from again? Do YOU strive to be the boss, that person that others outwardly demonstrate glowing affection towards but internally despise? Well, in order to attract these things, you have to undermine the current boss and get them fired. Here is the strategy plan to make that happen...
Read: 5 Tips to Speed Up Your Job Hunt
Step 1: Stalk and Befriend the #2
Stalk the second in command, an individual who knows the boss best outside of home. Remember, this person was likely recruited by the boss, so this stalking process must be handled with care. Nonetheless, this person also desires to be the big cheese someday soon, and you want to tap into that emotion. So you need to start putting doubt in this person's head about the boss's leadership. You could approach this by simply presenting financial facts and the solutions for fixing them, ahead of the next quarterly presentation to the board of directors. Let the second in command take all the credit for your awesome ideas panning out - it will keep you in his or her good graces as the second in command seeks to clean house. Doubt + truth = change.
Read: 5 Things Rich People Just Don't Talk About
Step 2: Build an Internal Army
You have one power-hungry boss sitting atop a giant company, but hundreds or thousands of employees. Turn that strength in numbers into a real strength by building little factions that are doing the best work inside the company. This usually involves moving in the complete opposite direction of the boss's grand ideas. Once you have a track record of winning with your small faction, engage with the second in command as presented in step one above.
Ultimately, this strategic plan is for the truly crazy at heart (disclosure: I am not crazy). To win in business, you have to be part hungry to succeed but to unleash that hunger within the context of the team. Everyone wins, you win.
-- By Brian Sozzi CEO of Belus Capital Advisors, analyst to TheStreet
At the time of publication, Sozzi held no position in the stocks mentioned.