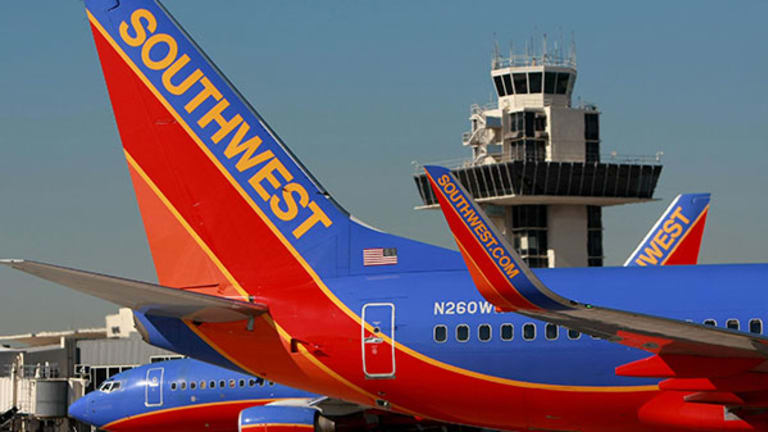 Southwest's Fourth-Quarter Beat a Result of Post-Election Demand, Says CEO
Shares of Southwest Airlines were soaring higher after reporting a top and bottom line beat for its fiscal 2016 fourth quarter.
Shares of Southwest Airlines (LUV) - Get Free Report were surging over 7% Thursday morning, after the company reported fourth-quarter financial results that beat on both the top and bottom line, before the market open. 
The Dallas-based airliner reported earnings of 75 cents per share, beating estimates of 70 cents per share. Revenue came in at $5.076 billion, beating projections of $5.033 billion.
"The story in the quarter is mainly just a strengthening of demand post-election," Southwest Airlines CEO Gary Kelly said on CNBC's "Squawk Box" Thursday morning. "We saw booking demands increase and then the period between the two holidays, especially in December before Christmas, we saw strengthening of close-end booking and business travel."
Kelly added that the company is seeing that strength continuing in the first quarter. However, while Southwest had a record load-factor after the election and traffic increase over 5%, Kelly is uncertain if that level of growth will continue into 2017 due to the company lowering capacity.
But for the fourth quarter "we had strong traffic, strong load factor and a strengthening of fares," Kelly noted. "So, the combination was an improvement of about a percentage point in revenue, it was very meaningful."
The pickup in strength, he asserted, seemed to be the strengthening consumer and an uptick in business travel. "Hopefully those trends continue," Kelly said. And, he believes that prices are beginning to firm, rather than depleting.