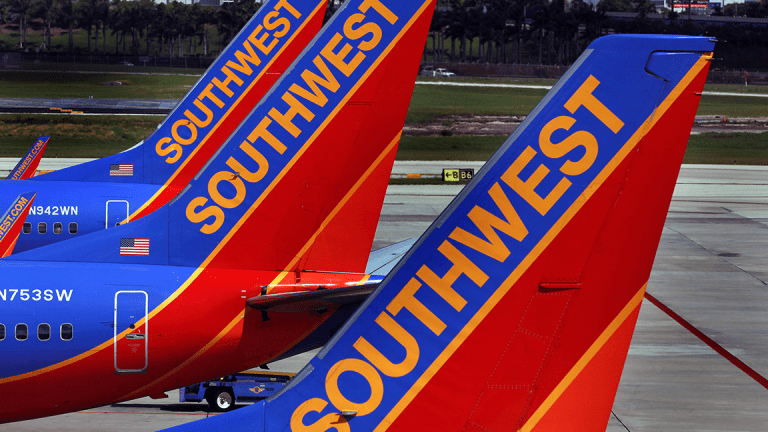 Southwest Airlines Extends Boeing 737 MAX Grounding by a Month, Until March 6
The carrier originally pulled the jet from its flight schedule through Feb. 8.
Southwest Airlines (LUV) - Get Report , the U.S. carrier with the largest fleet of the Boeing (BA) - Get Report 737 MAX, said it was extending the removal of the beleaguered plane from its flight schedule to March 6. 
That extends its previous flight-schedule ban, through Feb. 8.
The company changed its mind due to "continued uncertainty around the timing of MAX return to service," according to Southwest's regulatory filing. 
Southwest said that as of Sept. 30, the operational leases for commitments totaling $533 million for 16 737 MAX jets had not commenced. The company has 34 total MAX airplanes in its fleet. 
The company cited lost revenue, operating income and operating cash flows, and delayed capital expenditures as the direct effects of the grounding of the plane. 
The MAX has been grounded worldwide since March 2019 following two crashes of the plane, at Lion Air and Ethiopian Airlines, which resulted in the deaths of 346 people. 
United Airlines (UAL) - Get Report has pulled the plane from its flight schedule until Jan. 6, and American Airlines (AAL) - Get Report has it pulled through Jan. 15.
Boeing itself has targeted this quarter for the jet to make its return to air travel. 
Southwest shares were down 0.3% Friday, while United and American Airlines both fell about 0.4%.