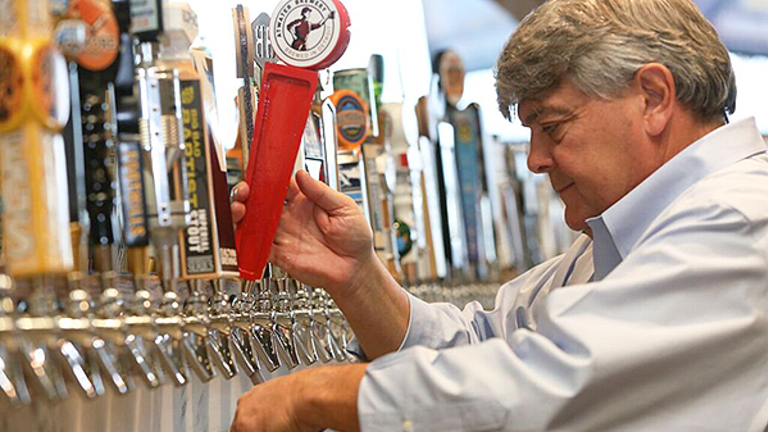 Publish date:
Sorry Budweiser, but This New Craft Beer Bar Concept Is Sweeping Across the Country
Growler USA expects to open one pub every two weeks this year.
Growler USA expects to open one pub every two weeks this year.
Editors' pick: Originally published March 26.
A new craft beer pub concept is gaining a major foothold across the nation just as the craft beer industry is expected to see another year of double-digit growth.
Privately held craft beer pub chain operator Growler USA, based in Denver, Colo., was founded in 2013 by entrepreneurs Dan White, CEO; Dave Shaw, president, and Vern Whittaker, retired CFO.
The company's motto is "True to the Brew" because each pub sells beer - about 100 different kinds - from local breweries in the area it is located. And none of Growler's pubs sell beer imported from outside the U.S.
Currently, Growler operates 13 pubs in nine states including in Texas, Washington and Georgia, but about 20 months ago, White, 62, told TheStreet that the company began franchising and will have a presence in all 50 U.S. states by the end of the year.
White said there are about 40 franchised pubs currently under development, with about one pub opening every two weeks in 2017. By 2018, Growler plans to sell 200 franchises across the nation, with one new location anticipated to open every week.
"What drew me to [craft beer] is actually the numbers and the entrepreneurial spirit of the craft beer industry," White said. Since 1998, the American craft beer industry has seen double-digit annual market share growth.
In 2015, the craft beer market grew 16.3%, representing $22.3 billion of the overall $105.9 billion beer market, according to the Brewers Association. Data for 2016 is expected to be released within the next few weeks.
Check out the list of the Brewers Association's top-selling craft beers.
Although the craft beer industry still represents a small slice of the overall pie, its rapid growth is posing a threat to traditional powerhouses like Anheuser Busch Inbev (BUD) - Get Report , which recently reported weaker-than-expected fourth quarter results with core profits falling 3.6% to $5.25 billion.
But, White said he doesn't view Growler as a threat.
"When craft beer first started, people compared it to beer that was being delivered by Clydesdales (Budweiser's mascot)," White said. "Like any industry that has a strong foundation, it eventually finds its own path."
He said craft beer is "creating its own market" with "legs of its own."
Still, AB Inbev CEO Carlos Alves de Brito said on the company's fourth quarter earnings call that "a lot of the new money" that it is putting in its U.S. business is "going toward the craft portfolio" rather than Bud and Bud Light. The company bought a majority stake in craft brewers including Goose Island (2011), Blue Point Brewing (2014) and Four Peaks Brewing (2015).