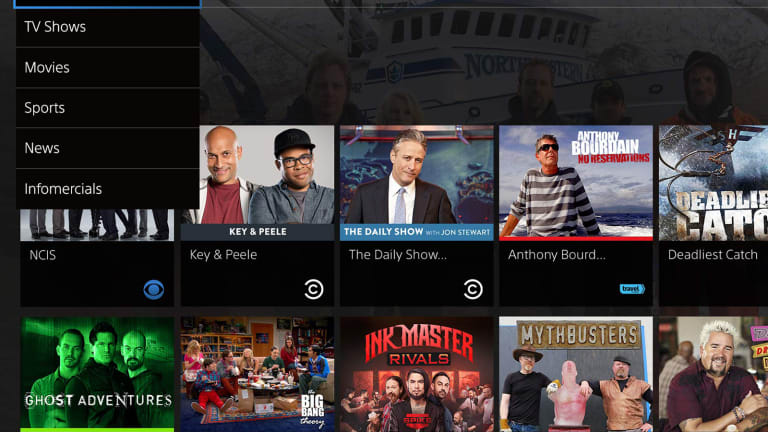 Sony Vue, SlingTV May Not Fulfill Cord-Cutters' Dreams of 'Skinny Bundles'
Even with some popular networks on board, streaming video options like Dish's Sling TV and Sony's upcoming Vue, with their smaller channel bundles, might not provide viewers' ideal small packages.
Dish's (DISH) - Get Free Report Sling TV and Sony's undefined PlayStation Vue, along with a host of new online subscription offerings, may not meet consumer yearnings for an affordable alternative to the traditional cable-TV bundle.
That's a sobering reality that proponents of the fast-emerging selection of online video services need to confront before they write off their local pay-TV providers, said Michael Goodman, a consultant at Strategy Analytics, a Newton, Mass.-based research firm.
"When you have small packages, it may cost less, but it might not have the right mix," Goodman said in a phone interview. "The challenge for these 'skinny' packages is getting the right mix of channels for consumers."
Sony is expected to launch PlayStation Vue later this month, streaming channels from CBS (CBS) - Get Free Report, 21st Century Fox (FOX) - Get Free Report and Discovery Communications (DISCA) - Get Free Report through its popular games console. Sony's online service is expected to offer a larger bundle of channels than Dish's SlingTV, which debuted earlier this year. Of course, SonyVue is also expected to charge a higher monthly rate.
At $20 a month, Sling TV offers live viewing of 16 channels, including CNN, HGTV, and some from AMC Networks (AMCX) - Get Free Report, that stream through devices like the Roku or mobile phones. Add-on packages, including a sports package, a kids package and a Hollywood Extra package, cost another $5.  Sony's Vue could run over $50 per month.
Dish, without providing subscription figures, said it has "seen an incredible response with regards to interest in Sling TV since our [Feb. 9] launch," according to spokeswoman Lacretia Taylor. She said Dish is catering to a younger generation of viewers by going for "the most popular channels in each genre instead of carrying every channel, to keep Sling TV simple and affordable."
Analysts like Goodman are skeptical of the crop of 'skinny' offerings, as well as such a la carte options as standalone streaming subscriptions to HBO and Showtime. They say the economics of channel subscriptions will not allow viewers to have what they really want -- a small package that includes the exact channels they want for the noncommitted lower rate.
Skinny packages are actually smaller versions of the cable model, meaning the channels still subsidize each other. Viewers who are not interested in cartoons or sports are still financially supporting the channels that offer them when they subscribe for, say, AMC's The Walking Dead. Separating the channels out into pure "a la carte" or creating tailored bundles would increase each channel's price. In such as system, once consumers compiled their favorite stand-alone offerings, the total price would be on par with what a full-package cable offering costs.
"Consumers have been saying they want a la carte, but it's going to get expensive very quickly," Goodman says. "You have to work through the economics of it. ... When it comes to a la carte, be careful what you ask for -- because you may get it."
U.S. pay-TV subscribers added 101,000 subscribers in the fourth quarter, reversing declines in the industry the previous two quarters, according to Strategy Analytics. Overall in 2014, about 4,000 subscribers cut their ties to pay TV.
"Cord-cutting remains a threat, and there are new options for consumers that have deployed during the first quarter of 2015, specifically the Sling TV service from Dish Network," said Jason Blackwell, director of Service Provider Strategies in a statement. "We also expect to see more standalone services from Time Warner's  (TWX) HBO Now, CBS' Showtime, and others, so 2015 will be challenging for the traditional Pay-TV vendors."
Among other drawbacks to Sling TV in particular, its on-demand offerings are slim, and viewers can't record, pause or fast-forward. Consumers also can't watch Sling TV on more than one device, which is "not practical for a family," Goodman points out. And major broadcast networks like CBS, FOX and Disney's  (DIS) - Get Free Report ABC aren't included in its package.

This article is commentary by an independent contributor. At the time of publication, the author held no positions in the stocks mentioned.