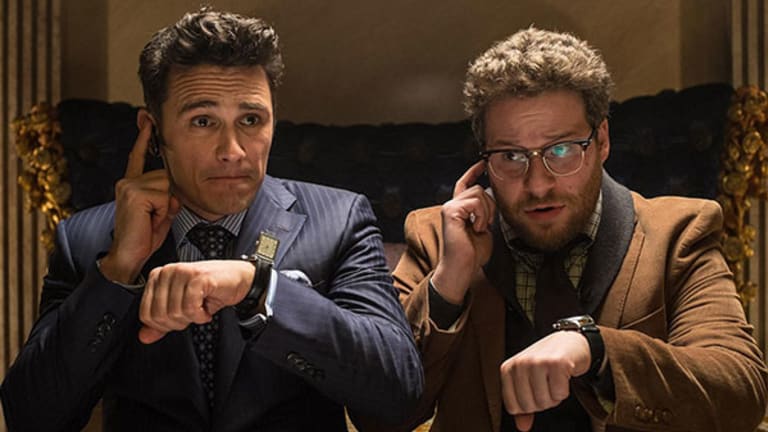 Sony Streams 'The Interview' Capping Weeks of Chaos and Curiosity
Sony began streaming "The Interview" on Wednesday, a surprising turn of events after the company said last week that it wouldn't show the satirical movie,
NEW YORK (TheStreet) -- After a turbulent few weeks, fraught with cyber-attacks and threats allegedly from North Korea, Sony's undefined  Sony Pictures on Wednesday released its movie The Interview online with theaters to follow on Christmas Day.
The movie, a satire about a scheme to assassinate North Korea's Kim Jong-Un, had a bumpy ride to its debut. Sony Pictures is letting viewers rent the movie online for about $6, or buy it for about $15, at its website, seetheinterview.com. The movie is also being made available through Microsoft's (MSFT) Xbox Video and Google's (GOOGL) YouTube Movies and Google Play. Certain independent theaters also plan to screen the movie on Thursday.
But would North Korea try to block online access to the movie? Apparently the country has legions of hackers at its disposal, yet they still suffered some mysterious Internet blackouts this week. Will North Korea's propaganda machine release saber-rattling videos of its military as a countermeasure to the movie?
Whether or not The Interview is actually any good almost does not matter at this point. The tug of war over its release made Sony's troubles with hackers a tangible issue.
Eric Wold, senior analyst with investment bank B. Riley, said in a research note Wednesday he hopes the squabbles over the movie will be a nonissue for theatergoers. However, he added in an email to TheStreet, the movie is likely to be released at a loss. "Given the amount of money that has been spent producing and marketing The Interview (reportedly as much as [$80 million to $90 million] globally), it would be impossible to recoup anything near that with a limited domestic release," Wold said.
He explained that the way the business works, even if the movie brought in $10 million to $15 million from the domestic box office, Sony Pictures might only take home $5 million to $7.5 million. Movie exhibitors get the rest of the sales. He did see the video-on-demand release as a possible incremental boost to revenue, but overall the movie would likely bring home less money than a wide release. "In my opinion, it would be difficult for Sony to generate a profit on this film given the circumstances," he said.
Initially the security hacks seemed little more than a nuisance, and perhaps a point of embarrassment, for Sony. The leaked emails from executives at Sony Pictures became fodder for celebrity gossip as salary information and candid, sometimes venomous, comments about movie stars made headlines.
The matter took an insidious turn though when the group that claimed responsibility for the information breach threatened violence at movie theaters if The Interview ever made it to screens.
Soon after, theater chains including AMC Entertainment Holdings (AMC) , Cinemark Holdings (CNK)  and Regal Entertainment (RGC)  said they would not show the movie. Sony then pulled The Interview entirely, initially saying it might not ever be seen.
Cue a touch of public uproar about the First Amendment, and a bit of scolding from President Obama on the danger of giving into threats.
Now Sony Pictures is thumbing its nose a little at the cyber-bullies that tried to stop The Interview from seeing the light of day.