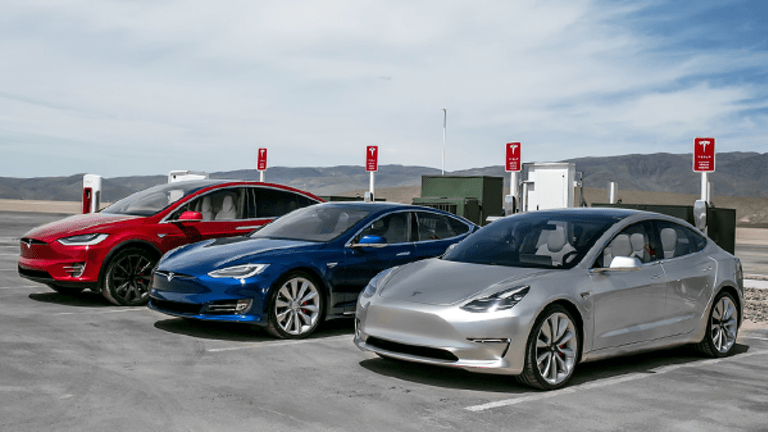 This Tesla Model 3 Looks Like It's Falling Apart -- Here's Why That's Not Good
It could be high time to consider build quality and potential for costly repairs in future models.
As Tesla Inc.  (TSLA) - Get Free Report continues ramping up production of its Model 3 sedan, the electric carmaker might want to give a little more stock to quality control and potential for costly repairs, according to a few disgruntled reviewers on the internet.
The Model 3 retails for around $35,000 and aims at a mass market buyer, but the relatively affordable price tag could be offset by costly repairs, if online forums and Twitter users are to be believed.
Beyond Twitter, user forums on the automaker's site are teeming with mixed reviews. One forum user wrote that he or she is waiting for a Model 3 to be delivered in 2018, but maintenance problems and "nightmares of other issues" have the driver second-guessing the decision to buy a Model 3 at times.
The Model 3 isn't the only vehicle with alleged troubles. There have been reports of a rattling noise in the Model X suspension. Another user posted photos of the aluminum in the passenger side A-pillar cracked open with a gaping hole after what the user said was only four days of owning the Model S car.
And another forum member reported a four-month-old Model S that only blows hot air out of the A/C. And one user -- who got comments reporting similar experiences from other users -- said the Model X showed warnings "car can shutdown any time" before the car sputtered to a stop on a full battery.
To be fair, almost any vehicle can suffer mechanical troubles and pesky electrical issues. But with Tesla's lofty goals in the years ahead and a hefty price tag for some models, one could argue now is the time to address the troubles head on. Musk wants to crank out 500,000 cars next year -- an impressive feat for what was a boutique automaker not too long ago.
Renewed concerns over quality come just after Tesla stock suffered its longest losing streak in more than two months. Shares finished trading on Friday, Sept. 22, down for a fourth-straight session, ending the trading week 7.6% lower than it started and earning the second-worst performance on the Nasdaq on Friday.
But it's worth noting Tesla's reputation -- and stock performance -- isn't all bad. The arguably fanatic Tesla owners seem to have something good to say for every negative review. Plus, Tesla stock has gained over 61% since the start of 2017. In midday trading Tuesday, Sept. 26, Tesla stock moved slightly higher by 0.13% to $345.45.
Watch: Tesla's Elon Musk Is All Jokes as the Model 3 Accelerates Into 'Production Hell"
More of What's Trending on TheStreet: