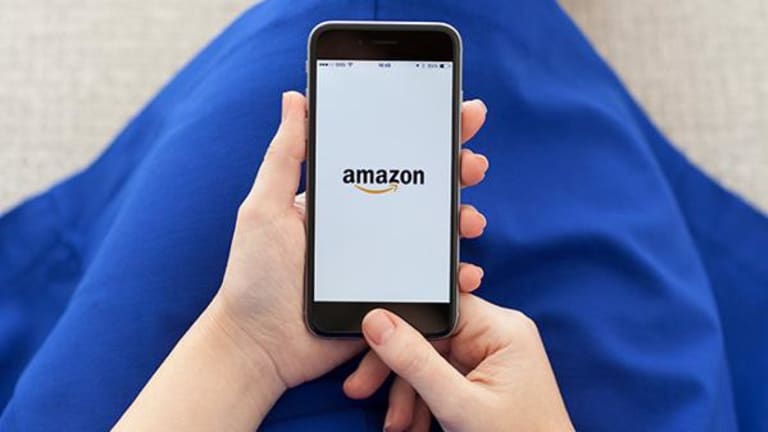 Something Big Is Happening on Amazon That Should Terrify Macy's, Target and Sears
Where did you buy your last shirt?
Who cares about trying on new clothes in a store's dressing room to see if they fit. Apparently, not many folks. 
According to a new survey from Morgan Stanley, nearly 46 percent of consumers purchased clothes on Amazon (AMZN) - Get Amazon.com, Inc. Report over the last twelve months. This marked the second highest percentage in the survey, trailing only Walmart's (WMT) - Get Walmart Inc. Report 60 percent. Purchase frequency seems to be picking up, too, as Morgan Stanley found that 36 percent of consumers have purchased clothing on Amazon a "few times" this year vs. 31 percent a year ago. 
The survey was conducted online in the U.S. with 1,000 adults age 18 and over from April 4 to April 12.
There were some alarming stats in the survey that should have executives at Macy's (M) - Get Macy's Inc Report , Target (TGT) - Get Target Corporation Report and other bricks-and mortar retailers on edge (even more so than usual).
About 47 percent of likely Amazon apparel shoppers expect to buy more clothes on the internet juggernaut and fewer clothes at other retailers over the next twelve months. Morgan Stanley believes Amazon's market share gains "unsurprisingly" appear to have come straight out of department stores and Target.
Cumulatively, the investment bank found that Target, Macy's, Sears Holding Corp. (SHLD) , Kohl's (KS) S, and J.C. Penney (JCP) - Get J. C. Penney Company, Inc. Report lost 1.6 percent of market share in 2016, roughly consistent with the 1.9 percent share Amazon is estimated to have gained.
Amazon's ability to gain apparel shoppers probably explains its thirst to hawk more private label brands. 
In January, it was reported that Amazon is preparing to launch an athletic apparel line to compete with the likes of Under Armour (UA) - Get Under Armour, Inc. Class C Report , Nike (NKE) - Get NIKE, Inc. (NKE) Report  and Lululemon (LULU) - Get Lululemon Athletica Inc (LULU) Report . Meanwhile, it has also pushed more into basic apparel for men and women. All of these categories are top of mind with Amazon clothing shoppers, according to Morgan Stanley's survey. 
The most popular Amazon clothing category remains casual tops with 67 percent of clothing shoppers buying the category, followed by shoes (52 percent), athletic wear (40 percent), and casual bottoms (40 percent).
With a share shift such as this, suddenly the wave of retail store closures and bankruptcies this year makes much more sense. 
Trending news on TheStreet:
Tesla's Elon Musk Thinks You'll Travel to Work Like This in the Future and It's Nuts
Unfortunately for Chipotle, the Price for One of Its Most Beloved Ingredients Is Soaring
Alibaba's Founder Jack Ma Just Depressed Everyone by Predicting a Future of More Pain Than Happiness