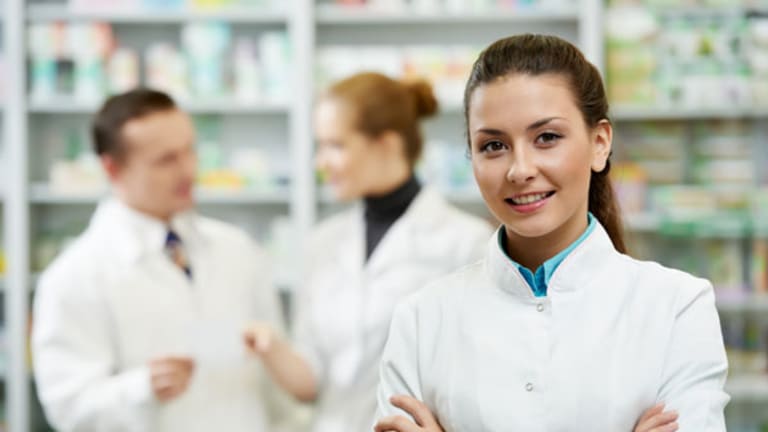 Somaxon: P&G Won't Wake Up Silenor Sales
Somaxon lands a big-name marketing partner for its sleep drug Silenor, but competition from cheap generics remains a challenging impediment.
SAN DIEGO (
) --In the spirit of full accountability, I have to congratulate
Somaxon Pharmaceuticals
(SOMX)
for landing
Procter & Gamble
(PG) - Get Procter & Gamble Company (The) Report
as a marketing partner for the commercial launch of Somaxon's new sleeping pill Silenor. I didn't believe Somaxon would deliver a Silenor deal and
said as much back in March
, so I was wrong.
Unfortunately for Somaxon, even a consumer marketing giant like P&G is not going to help Silenor become anything more than a niche -- and likely unprofitable -- addition to the $2 billion insomnia drug market, now dominated by low-cost generics.
P&G's participation is essentially risk free. The company paid nothing to Somaxon for rights to sell Silenor and insisted both companies maintain (and pay for) separate sales forces. Somaxon has to pay P&G a fixed fee and royalties totaling about 15% of Silenor's net sales and must foot the bill for any other Silenor commercial costs, including expensive items like advertising.
Somaxon describes the P&G deal as a "co-promotion agreement" but that implies each party sharing some financial risk. From the way I see it, P&G isn't committing much to this project at all, other than perhaps finding something for its under-utilized prescription drug sales force to do during the day.
P&G sold off its branded drug business in 2009, so these remaining prescription drug sales reps have had little to promote.
Moreover, P&G appears to have Silenor on a short leash. The agreement with Somaxon expires at the end of 2012. If Silenor fizzles, as I expect, P&G walks.
Silenor is a low-dose (3 mg and 6 mg) capsule formulation of the old and generic antidepressant doxepin. The drug works by blocking histamine, a neurotransmitter in the brain that promotes wakefulness. This sleep mechanism isn't unique to Silenor, however. Diphenhydramine, one of the active ingredients in over-the-counter medicines like Tylenol PM, Advil PM, Benadryl and Unisom, also makes people sleepy by blocking histamine.
Silenor is not a controlled substance, which could be an advantage over other branded insomnia pills like
Sanofi Aventis'
(SNY) - Get Sanofi Report
Ambien CR and
Sepracor's
Lunesta. Somaxon says Silenor has a superior side effect profile compared to its competitors and does not carry the same risk of dependence or withdrawal.
True, but again, Silenor is not unique in this regard.
Takeda
launched the sleep pill Rozerem in 2005, also without the shackles of a controlled substance label from the government. That wasn't enough to turn Rozerem into a commercial success, especially after generic versions of Ambien reached the market in 2007. Takeda no longer actively promotes Rozerem.
Somaxon intends to price Silenor at a small discount to Ambien CR and Lunesta and will provide doctors with liberal supplies of free drug samples in order to entice patients to give Silenor a try.
This might work early in the launch effort, but it could also serve to remind doctors that Silenor is just low-dose doxepin. If a patient likes the 6 mg dose of Silenor, a doctor might prescribe a slightly higher, 10 mg dose of doxepin -- available generic and very cheap, thereby saving patients the higher cost of a Silenor prescription.
Insurance companies will not pay for Silenor, regardless of price, before patients first try generic sleeping pills, which puts Silenor at a commercial disadvantage right from the start.
Zolpidem (the generic form of Ambien) was launched in 2007 is now the most widely prescribed prescription sleep aid in the U.S., with 63% market share measured by total prescriptions through June, according to IMS Health, the prescription drug tracking service.
Ambien CR, the branded, extended release version of the drug still marketed by Sanofi, has just 9% market share by total prescriptions. Lunesta has 8% market share, while Rozerem (most like Silenor) has captured a puny 0.9% market share, according to IMS.
If Silenor is going to avoid flopping like Rozerem and reach single-digit market share parity with Ambien CR and Lunesta, Somaxon will have to raise the drug's awareness with doctors and patients. For insomnia drugs, that usually means spending money on direct-to-consumer ads, including TV commercials.
P&G knows that previous consumer marketing efforts for prescription sleeping pills have largely failed to pay for themselves, which is why terms of the Silenor partnership require Somaxon to pay for advertising.
Sepracor, before being acquired by the Japanese drug maker
Dainippon Sumitomo Pharma
, famously spent hundreds of millions of dollars annually to promote Lunesta with its "butterfly" TV commercials, but all that advertising translated into just 13% market share at peak (before generics eroded sales.)
Takeda also spent lavishly on TV ads for Rozerem (remember the spots featuring Abe Lincoln and the talking beaver?) but the company never recouped that investment.
The checkered history of insomnia drug marketing "doesn't bode well for Somaxon," says John Mack, publisher of
Pharma Marketing News
, a monthly newsletter focused on prescription drug marketing.
Investors, to their credit, seem to understand the extreme challenges facing Somaxon. The stock is up 30% to $4.40 a share since the P&G deal was announced on Aug. 25, but Somaxon remains far below the $10.60 reached soon after Silenor was approved in March.
--Written by Adam Feuerstein in Boston.
>To contact the writer of this article, click here:
Adam Feuerstein
.
>To follow the writer on Twitter, go to
http://twitter.com/adamfeuerstein
.
>To submit a news tip, send an email to:
.
Adam Feuerstein writes regularly for TheStreet.com. In keeping with TSC's editorial policy, he doesn't own or short individual stocks, although he owns stock in TheStreet.com. He also doesn't invest in hedge funds or other private investment partnerships. Feuerstein appreciates your feedback;
to send him an email.