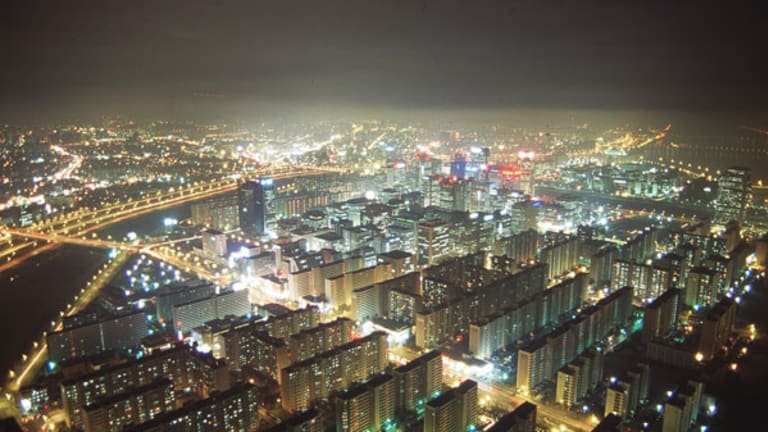 Solyndra Filing for Bankruptcy
U.S. solar company Solyndra is headed into bankruptcy, with 1,100 workers to be laid off.
(Solyndra bankruptcy story updated for financial details from Solyndra filings)
NEW YORK (TheStreet) -- U.S. solar company Solyndra, which once had dreams of a big IPO, is headed into bankruptcy.
1,100 employees of the Fremont, Calif.-based company are being laid off.
Reports began surfacing on Wednesday morning as employees of the company located in the U.S. and Europe began talking about showing up to work to find the doors locked, and shortly after noon on Wednesday, Solyndra made its demise official.
"Despite strong growth in the first half of 2011 and traction in North America with a number of orders for very large commercial rooftops, Solyndra could not achieve full-scale operations rapidly enough to compete in the near term with the resources of larger foreign manufacturers," the company said in a statement.
Solyndra plans to file for Chapter 11 bankruptcy.
Solyndra, which earlier this year scaled back its manufacturing facilities and laid off a portion of its workforce, said in its Wednesday statement that it will seek to license or sell its technology as part of the bankruptcy process. Selling or licensing a thin film solar technology that proved unable to compete on a cost basis in a rapidly commoditized solar marketplace could be a difficult task, analysts say.
Solyndra has been both a symbol of the promise and peril of alternative energy in its nascent stage of development.
The company not only received the backing of high-profile venture capitalists, but has been a favorite of the Obama administration and Department of Energy loan funding.
Solyndra received a $535 million loan guarantee through the Department of Energy's 1705 loan guarantee program in September 2009, which was the first such loan guarantee provided by the federal government.
Solyndra has been prominently featured in the argument from the government that green energy creates jobs.
President Obama even appeared for a photo op on the floor of a Solyndra plant.
The Obama administration has faced criticism from the press, and from the right, over the relationship between the president and political boosters involved in the alternative energy funding business. Steve Westly of Westly Group, is one example, a prominent California venture capitalist who had once predicted a successful IPO for Solyndra. A report from
ABC News
and the
Center for Public Integrity
published earlier this year that challenged the process through which Solyndra received its DOE loan, also cited the example of Oklahoma oil billionaire George Kaiser, an investor in Solyndra, who raised money for Obama.
In a 2009 interview with the press, Westly had said, "I'll go out on a limb -- Tesla, Silver Spring Networks, and possibly Solyndra will go public by the first quarter of next year. I say this because all three of these companies in 2008 did between $10 million and $15 million in revenue, and in 2009 they will do over $150 million. When a company has 10x growth, that is a company you can take public."
Tesla completed a successful IPO in June 2010, while Silver Springs, a smart grid metering company, filed for its IPO this summer. Solyndra, meanwhile, scrapped its IPO plans at the same time that Tesla went public.
As the solar industry goes through a shakeout with prices in freefall and oversupply of cheap solar panels, consolidation and bankruptcies are occurring, but Solyndra's failure should be viewed as direct result of its inability to develop a manufacturing process with a competitive cost model. This may have been a failure magnified by the industry shakeout, but the cause was Solyndra itself, which had years to improve its cost model and never succeeded, leaving itself vulnerable to any sudden change in solar sector and capital markets dynamics.
Indeed, Solyndra tried to spin its Wednesday bankruptcy statement with the explanation, "Regulatory and policy uncertainties in recent months created significant near-term excess supply and price erosion. Raising incremental capital in this environment was not possible. This was an unexpected outcome and is most unfortunate."
Not so, say analysts. "Solyndra has been the test case for throwing good money after bad in clean energy subsidies," said Aaron Chew, analyst at Maxim Group. "You can imagine the photos of Obama at Solyndra that Fox News will now run."
Indeed, the political aspects of the Solyndra story and the Obama ties to green energy investors are being spun again too, but one can pick and choose within the green energy sector to make a business failure appear as political pork, but this risks missing the more important point, and it's more complicated than an argument that the Solyndra loan was a handout to Obama donors. The Walton family of Wal-Mart fame, noted contributors to conservative politicians, were among the first private investors in
First Solar
(FSLR) - Get First Solar, Inc. Report
, which recently received 3 loan guarantees from the DOE totaling more than $2 billion. In fact, an investment affiliate of the Waltons was also a significant investor in Solyndra.
Gordon Johnson, solar analyst at Axiom Capital, and a fierce critic of the DOE loan guarantee program, wrote in an email to
TheStreet
on Wednesday, "The DOE says they analyzed the validity of this
Solyndra technology, and thought it was valid. Heck... they told me just a couple of months ago that Solyndra would turn a profit soon." As a taxpayer, the Axiom Capital analyst launched a by-now standard rhetorical salvo against the DOE loan program too, saying, "My money is being WASTED on projects like this."
Johnson, who has recommended short positions on several solar stocks as the sector plummeted this year, also chimed in on the broader issue in the green energy space, of economic and markets reality that rarely lives up to the hype pushed by the green energy companies, Wall Street, the government and venture capitalists: "Solar stocks are just massively overvalued, and people don't get it because they buy the 'it's good for the environment' thesis. This creates a great opportunity for guys like me to help others make money as it creates a dislocation in the market."
Putting all of the rhetoric aside, the Solyndra story, at its core, is about a "cutting edge" technology that failed to keep pace within a still-nascent industry where low-cost and commoditization has increasingly been the rule. It also poses significant questions for the DOE and federal government in its effort to develop an effective financing model for a better energy infrastructure in the U.S.
Already this year embattled U.S. solar company
Evergreen Solar
(ESLR)
announced its bankruptcy, while sector analysts expect a similar fate could be in the cards for
Energy Conversion Devices
(ENER)
, as well as several European companies, and Chinese solar manufacturers from the second and third tier ranks of its rapidly expanding solar sector. If Evergreen Solar's bankruptcy, too, was accelerated by the severe downturn in solar, the downturn was not the cause, as several Wall Street analysts have been calling the eventual Evergreen bankruptcy since the beginning of 2010. In fact, if the current industry downturn has quickened the failure rate within solar, record profits for the sector in 2010 may have simply prolonged the life of doomed companies like Evergreen and Solyndra.
Even the most successful U.S. solar companies are experiencing duress during the recent market gyrations, with
First Solar
(FSLR) - Get First Solar, Inc. Report
, a major recipient of DOE loan guarantees, turning cash flow negative for the first time in the past two quarters. First Solar is expected to be one of the long-term winners in the solar space, nevertheless, due to its leading cost model, but investors continue to debate whether its shares are overvalued in a market seeing such rapid price reductions and such fierce competition from China.
SunPower
(SPWRA)
, which continues to print quarterly losses and remains a high-cost vendor, has only recently been saved by French oil giant
Total's
decision to buy 60% of the company and offer it a generous debt capital commitment for future solar project development.
The Department of Energy loan guarantee program backs up a company in the event of a default on outstanding loans, allowing banks to finance alternative energy projects that by their nature have a relatively high risk profile. If a company's operations are successful and it is able to meet loan payments, the DOE loan guarantee merely serves as a backstop to allow a project to move ahead with financing on reasonable terms without ultimately costing the U.S. taxpayer anything.
In the case of a Solyndra bankruptcy, however, the DOE was on the hook entirely, according to a
New York Times
account of the financing model. Unlike all of the other loan guarantees the DOE had made, Solyndra was loaned money directly from a federal bank. Solyndra had exhausted almost all of the loan guarantee -- $527 million of the $535 million total -- when it decided to declare bankruptcy. As of January 2, 2010, the last data for which Solyndra made a disclosure in its IPO filing, Solyndra had $140.9 million of borrowings outstanding under the DOE guaranteed loan facility and $907 million in equity financing.
The DOE loan guarantee program has faced significant opposition during the budget battles in Washington, and has already seen Congress scale back its funding this year. The Solyndra headline will no doubt be fodder for future attacks on the DOE loan guarantee program. In the least, it requires a reconsideration by the federal government of its evaluation and monitoring of its loan program grantees.
A Department of Energy spokesman described Solyndra as a success to the
New York Times
on Wednesday, saying it manufactured a product that was purchased by customers, a somewhat weak argument for calling a company a success that is laying off 1,100 workers after having used $527 million in federal money. In a Solyndra filing from January 2010, it had generated negative gross margins for 6 consecutive quarters and cost of revenue that continually was higher than revenue generated. By any standard market analysis, this is not a success, even if getting to scale in solar will result in ugly gross margins for a prolonged period of time.
The only dim hope of Solyndra going down in history as having had a more than temporary value as a temporary company that employed 1,100 Americans temporarily and had revenue which exceeded $100 million for one year, 2010, is if Solyndra's technology is somehow important in the future of the solar industry, now very much in doubt, and it will only be if it is purchased by another company and ultimately used successfully and for a sustained period, to a more mature stage of corporate development. Barring that it's a failure, a bad one, and a black eye on the federal government, the Department of Energy, and the private investment community. One more business failure involving both the government and private capital but one that was supposed to be a standard setter in a new sector.
For now, for all of its promise and hype, Solyndra was the gift that kept on giving to opponents of green energy and government funding of it. At least now, the solar company presented its last gift to detractors as it filed its bankruptcy papers. Its a gift that might prove to be more than a throwaway, though, unlike Solyndra's solar business.
-- Written by Eric Rosenbaum from New York
>To submit a news tip, email:
.
Follow TheStreet.com on
and become a fan on