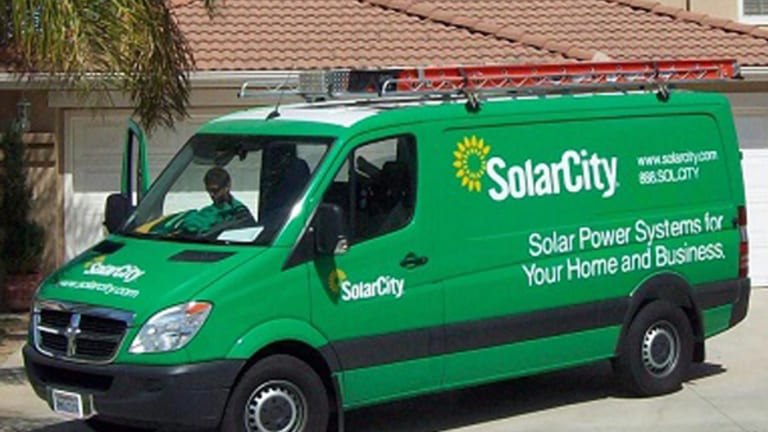 SolarCity Gets Charge From Tesla Gigafactory
Tesla announced its massive battery plant two months after SolarCity launched a major battery-based electrical solution for businesses. As one grows, so will the other.
NEW YORK (TheStreet) -- Nothing happens in Tesla CEO  (TSLA) - Get Free Report Elon Musk's world by accident.
Two months prior to the announcement of "gigafactory" plans that is causing nerd orgasms all over the tech and auto sphere, another of Musk's interests, SolarCity (SCTY) announced a new program that would provide large batteries to businesses to help them lower peak demand rates.
The program, DemandLogic, announced in early December, couples the solar panel installations that SolarCity is known for with refrigerator-sized batteries that store up to a third of the solar power. Specially design software can be programmed to take advantage of that stored electricity during times of peak demand.
Read: Apple Tops Most Admired List... Again
According to the company's press release, peak demand costs for electricity have been rising faster that rates generally, putting a strain on businesses. Using the DemandLogic program, businesses can smooth out that energy demand from utilities, reducing energy costs.
Musk is chairman of SolarCity's board. Who manufactures the batteries for DemandLogic? Tesla, of course. From Tesla's recent 10-K, with my emphasis added:
The Tesla Gigafactory is currently expected to attain full production capacity in 2020, which is anticipated to be sufficient for the production of approximately 500,000 vehicles annually and stationary storage applications.
Granted, any benefit to Tesla from a ramp up in "stationary storage" orders for SolarCity's DemandLogic will be miniscule compared to the 500,000 planned Tesla autos. But it certainly makes a nice, small hedge against any problems encountered meeting that goal. And it is just one more example of how Musk sees the three companies, Tesla, SolarCity and SpaceX, as an interconnected web.
Read: J.C. Penney Is Changing Course
On the other hand, if the Gigafactory can lower the cost of those SolarCity batteries, the benefit to SolarCity will be much greater, making the package more competitive and an easier sell in more locations.
I'm not the only one to make this rather obvious connection. Take a look at SolarCity's chart for the last five days. The announcement of the Gigafactory came the evening of Feb. 25. SCTY traded on high volume the day preceding the announcement and opened 3% higher on Feb. 26. It has remained up.
In SolarCity's DemandLogic, we see a practical solution for the company's customers that also has a benefit for its sister company, which needed to expand its battery-producing operations to produce more, better and cheaper cars.
Read: More Homebuyer Landlords Just Means Fewer Houses on the Market
How does that fit in with Musk's third company, SpaceX? Hard to tell. As a private company, SpaceX is under little obligation to tell us anything. Musk has said in interviews that SpaceX doesn't patent its technology for fear of handing proprietary technology to two of its direct competitors, the state-run programs of Russia and China, where U.S. patents are next to impossible to enforce. But I doubt Musk would have the same concerns about sharing technology developed in SpaceX's rocketry and space travel labs with Tesla and SolarCity.
Are SolarCity shares an entry into Musk's universe of tech exploration? I don't think that kind of observation is sufficient reason to buy a stock, but it may add sweetener to the prospect. From the standpoint of running a business, that interconnectedness, that sense that Musk is considering the potential benefits of each idea across all three companies, investments in both Tesla and SolarCity look more compelling.
-- Written by Carlton Wilkinson in New York