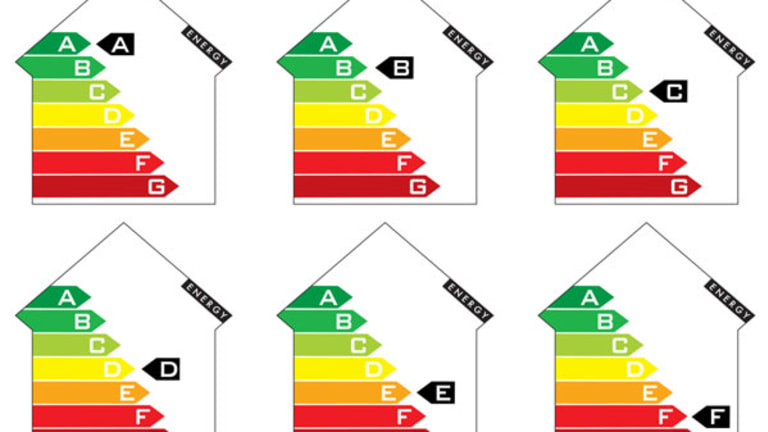 SunPower: Best of Times, Worst of Times
SunPower signs 711 megawatts in solar project deals.
(Sunpower story updated for Auriga downgrade, share slump)
NEW YORK (
) -- It was the best of times and the worst of times for
SunPower
( SPWRA) shares on Monday and Tuesday.
On Monday, SunPower shares surged by more than 8.8% after the U.S. solar company announced more 711 megawatts in projects sold to
Southern California Edison
, but projects years-out in terms of development and earnings impact.
Then late on Monday, Auriga Securities downgraded SunPower to a sell and SunPower shares proceeded to give back half of Monday's gains, down between 3% and 4.5%, and reaching their average daily volume of shares before the midday mark on Tuesday.
SunPower has been one of the most beaten-down stocks among the solar group, and therefore, any catalyst for the group as a whole that indicates a stronger 2011 than the bears would allow helps SunPower to rise from its 42% decline over the past year. That rally point for solar occurred on Monday, when
LDK Solar
(LDK)
upped its 2011 guidance, leading to big gains for many stocks in the solar sector.
>>Solar Winners: Solar Finally Feeling the Love
It was a tale of two very different solar tapes in the announcements from SunPower and LDK then -- LDK is also up 50% over the past year in contrast to SunPower's big decline -- yet both, in their own way, circle back around to the issue of cost and pricing in the solar market.
SunPower had the largest loss on Tuesday among solar stocks that had rallied on the previous day.
For SunPower, the power purchase agreements may be signed today, but they remain predicated on continued cost reductions from the high-cost module maker that will make the project economics work by 2014.
"SunPower is pricing these projects with a forward pricing curve that it has yet to achieve in its manufacturing process, and that's the big unknown," says Mark Bachman, analyst with Auriga Securities. "If SunPower can achieve the pricing model that they are forecasting, then the projects work," the analyst adds.
In fact, in the Auriga downgrade of SunPower to a sell late on Monday, the analyst argued that the cost reduction roadmap that SunPower has put in place will allow it to reach a competitive level by 2014, but that will be two years after the low-cost Chinese leaders reach a similar cost point.
>>Solar PV Eating Solar Thermal's Lunch
Recently, solar thermal project developer Tessera Solar was forced to sell a project it had been developing with Southern California Edison. The cost of solar thermal relative to the cost of photovoltaic technology was reportedly a major issue for Tessera, as the cost of photovoltaics has come down precipitously over the past few years. The Tessera sale showed that even projects under a power purchase agreement are far from a done deal for solar developers.
Pricing is not the only unknown for SunPower. As Wedbush Securities analyst Christine Hersey noted, these new SunPower projects would not show up in the earnings model for the solar company until 2013 and beyond. Furthermore, while the Southern California Edison deal is a positive development for SunPower's longer term project pipeline, it's fair to reserve judgment on the quality of the proposed projects until additional details are available and environmental studies have been completed.
It would be taking away from the SunPower announcement to place excessive focus on aspects of the solar project business that are typically potential risks to development: the forward pricing curve and permitting issues including endangered species and land-use rights. SunPower itself indicated that the deals have not impact to current year earnings.
SunPower's announcement shows that the U.S. solar company has made some progress in competitive bidding for big projects in the U.S., and that was the bottom line in Monday's announcement.
Auriga's Bachman says that there has been some skepticism about SunPower having a good position at a bargaining table when it comes to the large-scale U.S. project market -- and, in particular, for its Oasis solar power plant system using tracking technology.
The tracking technology is intended to make a case for the levelized cost of electricity (LCOE). Viewing project development based on module cost alone is not a winning argument for SunPower, with its highly efficient modules trailing industry lowest pricing. The Oasis tracking technology, therefore, is part of the SunPower argument that it needs to show can work, and these deals, at least in theory, are a step in that direction.
At a larger level, tracking technology as a part of the U.S. solar project market has received two recent endorsements. Last week,
First Solar
(FSLR) - Get First Solar, Inc. Report
announced that it had purchased a company that makes solar trackers, and LDK Solar announced a 70% stake in a U.S. solar project developer that uses third-party tracking solutions for its projects. The First Solar deal, a straight-out acquisition of tracking technology, was the more surprising of the two deals, as there had been previous indications that tracking technology would not be cost-effective for First Solar's low-cost thin film modules.
>>Solar Laying Tracks in Project Business
The three projects for which SunPower has signed a power purchase agreement with Southern California Edison, notably, are slated to use SunPower's Oasis model. This doesn't mean that when the projects are ultimately permitted and constructed there's a guarantee they will be using the Oasis model. However, the news of three tentative deals for Oasis is a bright spot for SunPower.
SunPower claims that the Oasis model, which uses 425-watt SunPower solar panels with the SunPower T0 Tracker, results in up to 25% more energy capture over fixed-tilt solar power systems.
The Auriga analyst notes that many of the typical permitting issues that can delay projects, if not kill them, related to endangered species and land use, are issues which tracking technology can help to offset by decreasing the need for acreage on which to develop solar plants.
However, it's the more general vote of confidence in SunPower's place at the bargaining table for U.S. solar projects that the 711MW in deals contracted by SunPower on Monday highlight, at least for the time being.
"These deals show SunPower is getting more competitive with Oasis, and this is a good sign for them," Auriga's Bachman says.
However, the 711MW of success reported by SunPower on Monday doesn't mean the pressure points for SunPower shares have changed.
In taking SunPower's price target down to $11, the Auriga analyst wrote late on Monday, "Given our belief that SunPower is facing increased price-competitive pressure from its Chinese peers, coupled with increased competition for utility scale projects in the U.S., we forecast just 8% revenue growth in 2012 versus a market that should grow by 24% over the same timeframe (in megawatts).... In our view, SunPower will likely forsake revenue growth to protect its branding efforts as the highest-efficiency solar module maker, and we are forecasting overall gross margin to decline to just less than 20% in 2012."
The three SunPower contracts in the 711MW signed with Southern California Edison include:
110 MW in Los Banos, Calif., scheduled to be operational by year-end 2014
325 MW in Rosamond, Calif., scheduled to be operational by October 2016
276 MW in Rosamond, Calif., scheduled to be operational by October 2016
-- Written by Eric Rosenbaum from New York.
RELATED STORIES:
>>Solar Grinch: Spain Does the Unthinkable
>>The Solar Mystery Market of 2011 is...?
>>Solar PV Eating Solar Thermal's Lunch
>To contact the writer of this article, click here:
Eric Rosenbaum
.
>To follow the writer on Twitter, go to
.
>To submit a news tip, send an email to:
.