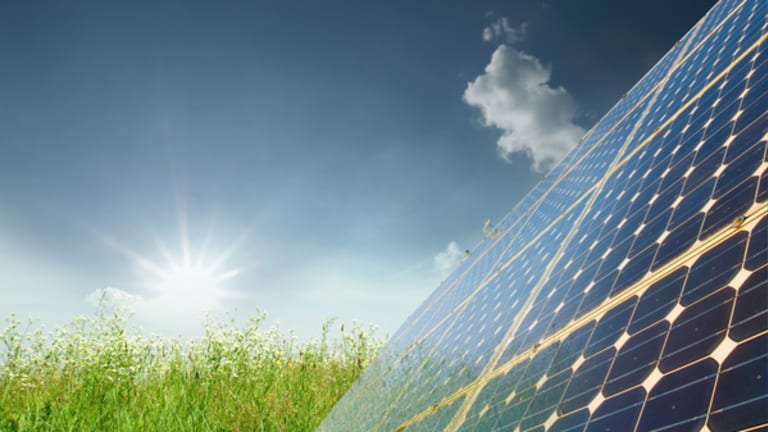 Solar Winners: Power-One, SunPower
U.S. solar stocks move up, even as the outlook for climate legislation takes a big hit.
(SunPower, Power-One story updated for Italian solar install data)
NEW YORK (
) -- There's some level of irony in the fact that some of the biggest U.S. solar players, from
SunPower
(SPWRA)
to solar inverter company
Power-One
(PWER)
, are having their best trading day in recent history as the White House confirmed that climate change "czar" Carol Browner was leaving her post without executing on the goal of comprehensive climate change legislation.
On Monday, shares of
First Solar
(FSLR) - Get First Solar, Inc. Report
reached a new 52-week high, after Goldman Sachs added the U.S. solar bellwether to its conviction buy list.
>>Solar Winners: First Solar, LDK
Solar stocks shouldn't trade on the outlook for climate legislation any more than they should trade based on the price of oil alone. However, it's in the least a sign that the recent gains made by the U.S. clean tech industry, including the extension of the federal cash grant program for another year, may be the legislative scraps that benefit the alternative energy industry, as opposed to hopes for sweeping legislation to move the U.S. away from fossil fuel consumption. Most Capitol Hill watchers had given up on climate change legislation after its failure last year, anyway.
Environmental policy has more often been led by states than the federal government anyway, and with a backlog of utility-scale solar projects in the U.S. reaching towards 10 gigawatts, the growth projections for U.S. solar are not unwarranted. The White House has certainly made it a priority to include clean energy in its larger economic and job creation programs, yet the departure of Carol Browner suggests that in another "middle of the road" strategy, the Obama administration will be focused on energy policy that promotes business, and that means at least a partial olive branch to the traditional energy lobby.
Benjamin Salisbury, political analyst for FBR Capital Markets, wrote in a note assessing Browner's resignation on the eve of the State of the Union that it's "another signal that the Obama Administration may be softening its approach to environmental regulations, especially those aimed at raising prices and/or reducing fossil fuel consumption. We expect the President to use tonight's State of the Union speech to continue exploring common ground with Republicans including regulatory reform, clean energy, manufacturing competitiveness, and research and development. This should be viewed as positive for fossil fuel and particularly coal companies," the FBR analyst concluded.
If it wasn't the rhetoric about a new energy future and new energy landscape in the U.S. moving solar stocks ahead on Tuesday, there were some granular details propelling SunPower and Power-One. SunPower shares were up 4% and to their highest price since November, at $15, after a power purchase agreement was announced for a SunPower project bought in December by Duke Energy. It's only a 6.7 megawatt project, but it's a positive data point on a week when solar has been at one of the "all" high points in its typical "all or nothing" trading range.
The big mover in shares of both SunPower and Power-One, though, may have been projections out of Italy for an even bigger year of solar installations in 2011 than previously forecast. Italian market data released on Tuesday indicated that solar installations in Italy could reach 8 gigawatts by year-end 2011, which would be nine years ahead of the schedule proposed by the Italian government for the country's solar installation growth target. The data means that the fourth quarter and 2011 could be even better in Italy than previously projected, and numbers for companies focused on Italy be raised in the near-term, but it also likely means that political risk in Italy during 2011 for potential subsidy reductions or even a cap on solar installations will be greater than ever before. Great earnings defying multiple compression in the solar sector was the norm in 2010, and could be the norm again if Italy becomes a political hotbed for solar.
SunPower owns a big project pipeline in Europe and a fair share of it in Italy, while Power-One is a major player in the solar inverter market in Italy, even if Germany remains its largest market.
SunPower shares have been moving higher since the open on Monday when Goldman upgraded First Solar. SunPower has been among the most beaten-down stocks in the sector, and the rising-tide-lifts-all-boats theory certainly applies to SunPower as much as any solar stock. The rest of the solar universe, and in particular the Chinese solar stocks, took sizable hits on Tuesday.
Power-One, the solar inverter company, was up by more than 3% before the Italian data hit the market, and had already passed is average daily volume of shares traded by midday Tuesday. This was partially a marketing-driven trade, as there was news out on Tuesday that Power-One had made its first U.S. solar project inverter sales.
The deals, reported in the
Phoenix Business Journal
, weren't large in scale, but the news was timed for release before next Monday, when Power-One will be cutting the ribbon on its new solar inverter manufacturing plant in Phoenix. All the sell side analysts were invited to the ceremony, and while neither the official opening of the plant or the first sales into the U.S. are enough to dispel critics who still doubt how quickly Power-One can penetrate the U.S. market, the calculated news was sure to attract some attention, says analyst Carter Driscoll of Capstone Investments.
"This is all the prep work, with a couple of orders in the bag and the plant tour next week. Power-One bears have been correct to argue that it's hard to penetrate a new market that already has established players, but this news flow is in the least showing that Power-One is committed to the U.S. market," the analyst explained.
SatCon
(SATC)
is among the more established solar inverter brands in the U.S.
The trading action and news on Tuesday "is a reminder that Power-One is here, and a mini-milestone," Driscoll said. The analyst added that uncertainty in Europe has abated a little with the news that German politicians and the solar industry have reached a tentative agreement on feed-in tariff cuts. However, the European outlook remains the much more important to Power-One than the news tidbits out of the U.S., as well as any unexpected increase in demand from projects in China, where Power-One is also manufacturing inverters.
Indeed, once the outlook related to political risk in Italy hit the market, Power-One shares were down by 4.7% and SunPower shares in the red also.
Power-One also announced that it will be reporting its fourth quarter earnings on Feb. 3, and for a stock that's attracted significant short interest, there could have been covering of positions early on Tuesday.
The Italian solar political equation will take time to sort out, but it's sure to be one of the big items for Power-One when it reports next week.
The past two earnings reports from Power-One have been tales of two very different tapes. After its second-quarter blowout earnings, Power-One shares skyrocketed. Yet by the time of its third quarter earnings, when Power-One again put up huge numbers, the bears were piling onto Power-One and making the case that its peak had already been reached. The fourth quarter is expected to be another strong quarter -- now even better than some expect based on the latest Italian market data -- but Power-One has already sent the market the message that its rapid margin growth has to slow, and while that message should be embedded in shares, it can't take into account the latest fears about Italy capping a key market.
The Capstone Investments analyst thinks a modest beat was already priced into Power-One shares, and some analysts had taken up Power-One numbers in the past few weeks based on the reports of Italian demand, including Stifel.
Capstone Investments Driscoll was hoping that the actual earnings trade involving Power-One wouldn't be like the volatile trade of the last two quarters, but that was before the Italian data released on Tuesday caused a sentiment shift on its shares. Putting the Italian wildcard aside, Driscoll said unless Power-One blows away the estimates again -- which isn't likely -- or comes in with margins that have eroded much more than expected -- most are modeling more or less flat margins -- the Power-One earnings could be a neutral event for the first time in three quarters.
"They are doing the blocking and tackling now to reiterate the bull thesis," Driscoll said.
-- Reported by Eric Rosenbaum in New York.
RELATED STORIES:
>>Solar Winners: First Solar, LDK
>>First Solar Chart Looks Toppy
>>Solar Winners: SunPower's Winning Day
>To contact the writer of this article, click here:
Eric Rosenbaum
.
>To follow the writer on Twitter, go to
.
>To submit a news tip, send an email to:
.