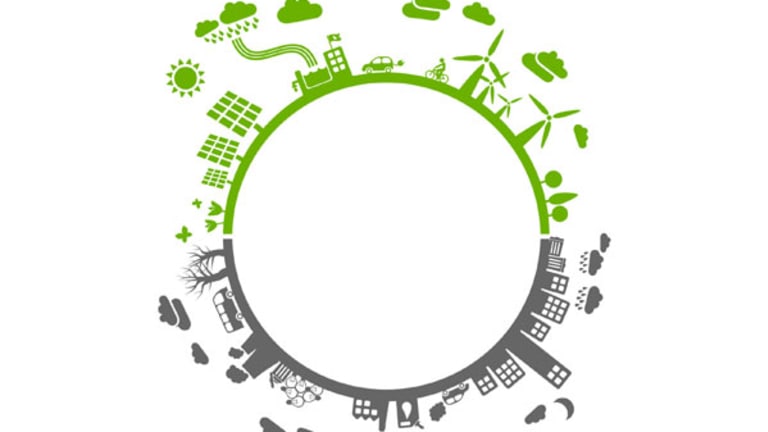 Solar Winners: MEMC Leads Sector Rally
A day after a 15% plunge in share price, MEMC Electronics engineers a big comeback on Friday.
(MEMC Electronics story updated for closing price and volume in solar sector)
SAINT PETERS, MO. (
) --
MEMC Electronic Materials
(WFR)
staged a considerable comeback on Friday, and was the best performer in the solar sector on a day during which a number of solar firms rallied on analyst bullish outlooks.
One day
after MEMC dropped 15% -- one of the market's biggest Thursday decliners -- MEMC ended trading on Friday up just short of 8%, and traded at almost three times its average daily trading volume -- with 16 million shares traded on Friday versus 5.9 million shares traded on an average day for the semiconductor and solar company.
Before the solar bulls say "I told you so" about the recent solar sector selloff and MEMC's Thursday drop, most of the confidence in MEMC is based on a comeback in its semiconductor business, even if solar segment weakness continues in 2010 and 2011.
However, Friday was a big day for solar companies, as an HSBC analyst based in Hong Kong put out a report saying that the fears of a solar crisis stemming from upcoming subsidy cuts in Germany were overdone, and sticking to a thesis that has become common among bullish solar analysts: the HSBC solar report indicated that it is the low cost solar producers from China who will benefit the most as a result of the German subsidy cuts.
Trina Solar
(TSL)
finished Friday up 7.6%, with more than one million shares above its average daily volume traded.
LDK Solar
(LDK)
, which still has a mountain of debt on its balance sheet, but was singled out by HSBC as one of the Chinese net gainers from the German changes, was up 6.8% on Friday.
JA Solar
(JASO)
, newest World Cup sponsor
Yingli Green Energy
undefined
and
Canadian Solar
(CSIQ) - Get Free Report
, were up approximately 5% on Friday.
By the end of the week, Trina Solar had gained more than $1 in its share price to close on Friday at $24.08, while the rest of the solar pack was pretty much where it began the week in share price.
Not surprsingly, the solar rally did not extend to the big solar players that are considered higher-cost options, even if they are among the most established brands from both the U.S. and China without World Cup sponsorship.
First Solar
(FSLR) - Get Free Report
was up marginally on Friday, while
Suntech Power
(STP)
was down close to 1.4%.
A bullish call from Credit Suisse analyst Satya Kumar is at least partially responsible for MEMC's quick reversal from Thursday's selloff. Credit Suisse raised MEMC to outperform and raised its price target to $19.50 from $17.
Other analysts, such as Gary Hseuh at Oppenheimer & Company, are also positive on MEMC after the company conducted Thursday's analyst presentation in New York City. However, several analysts are taking a more cautious view on buying.
"When MEMC traded off 15% it became more compelling," Hseuh said; he added, however, that Oppenheimer has valuation in the range of $11.
MEMC was at $12.48 on Friday morning after its 7% spike. Recovering half way from Thursday's loss is not surprising, since
analysts overall thought that the MEMC earnings included mixed signals, and a drop of 15% followed by a big upgrade will attract some investors to what they believe is a good entry point.
Paul Leming, an analyst with Soleil/Princeton Tech, is also optimistic about the MEMC story, particular due to current valuations. In fact, Leming said he had been pounding the table to get people to buy MEMC stock since it moved down to the $12 range, when he upgraded MEMC to a buy.
Leming noted that MEMC is a stock that had traded between $15 and $20 from March 2009 through October and only toward the very end of last year fell to its trough range between $11 and $12.
If MEMC has been a buy ever since it troughed, why did it sell off so severely after its earnings report on Thursday?
The Soleil/Princeton Tech analyst says that most of the selling on Thursday was done before MEMC management made its presentation in New York -- notably, this was the first time that MEMC has ever held an analyst day.
"There was a mindset among analysts that if they were doing their first-ever analyst day, they must have a good story to tell and will provide aggressive guidance. The MEMC shares were selling off sharply before they presented their core numbers on volume recovery in the semiconductor business, and that was the most bullish part of the presentation," Leming said.
Leming noted that MEMC was already down by 12% at 10 a.m. on Thursday, and that was just around the time that MEMC management started going through some of the semiconductor numbers.
Oppenheimer's outlook on MEMC actually improved considerably after the analyst day presentation -- its original research note after the MEMC earnings was titled: "Nothing to Write Home About."
Still, it is important for solar investors to remember that the analyst confidence on MEMC post-analyst day is not a bullish call on solar for 2010 and 2011.
"The solar outlook is awful for the next 18 months," the Soleil/PrincetonTech analyst said. "The outlook for solar isn't uncertain -- it is certain, and certainly bad," Leming added.
One of the main reasons for the
MEMC analyst day was to talk about its controversial acquisition of SunEdison, the formerly private solar project developer. MEMC provided what some analysts consider aggressive guidance of $200 million in revenues from SunEdison in 2010.
Analysts like Leming and Oppenheimer's Hseuh are cautious on the SunEdison numbers because the type of large-scale projects that SunEdison constructs include significant downside risk. Projects are often delayed and sales of the electricity to be generated can also be hard to execute on, meaning quarter-to-quarter the SunEdison numbers may prove hard to estimate.
"The main concern is the revenue trajectory for SunEdison: $200 million is what MEMC management would like us to believe, but given that it is a project-based business and extracts its toll on the MEMC cash flow and balance sheet in the construction process, we are cautious," Oppenheimer's Hseuh said.
Leming thinks that as much as 80%-90% of the MEMC growth story could be tied to the semiconductor business, as opposed to solar, though he stressed that he won't be coming out with hard numbers until next week.
Piper Jaffray analyst Jesse Pichel is reserving judgment on the aggressive semiconductor growth outlined by MEMC management. The Piper Jaffray analyst acknowledged that the semi business is recovering, but still thinks MEMC guidance for this segment may be overly ambitious.
The Piper Jaffray analyst wrote: "MEMC guided to 60-70% growth in semis, however, we would wait for better semi wafer pricing visibility before pricing in this level of growth ... They estimate some of their highest average sales price growth rates ever in 1Q10 and 2Q10. While ASP declines for several preceding quarters do not make this impossible, we continue to believe this recovery scenario is aggressive."
In its bullish call, Credit Suisse is estimating that the semi-segment of MEMC's business will provide 41 cents of 71 cents total earnings per share in 2010, with solar providing 28 cents and SunEdison 2 cents.
In 2011, Credit Suisse is estimating that $1.09 of MEMC earning per share will come from the semi business, while 33 cents comes from solar and 7 cents from SunEdison. Both the 71-cent earnings per share estimate for 2010 and the $1.49 for 2011 are a significantly more positive outlook on MEMC than Credit Suisse had posited previously -- its 2010 earnings per share estimate had been 42 cents until Thursday's MEMC management presentation.
Soleil/Princeton Tech's Leming says that the real story is the focus of the new MEMC management on the semiconductor business.
Leming had harsh words for the former management team of MEMC that had built its strategy around the short-term demand for polysilicon from the solar sector. "To say the prior CEO neglected the semiconductor business would be an astonishing understatement; he almost destroyed it," Leming said.
MEMC's market share steadily eroded from the second half of 2005 through 2008, and then plant problems in Pasadena in 2009 compounded the already difficult situation. Leming says the former management team treated its semiconductor customers as second fiddle, and thought nothing of missing a delivery to an Intel or a Samsung if it meant they could push more high-priced polysilicon on the solar sector for a quarter.
Performance had eroded so significantly that
MEMC's new CEO agreed to forego his minimum bonus of $500,000 in 2009, and allocate the cash to the 450 employees who will be laid off as a result of plant closings in the next two years.
The polysilicon price crash and the solar sector oversupply ended that strategy, and Leming says it was a flawed strategy for MEMC that should have been obvious even before the global market crash. "Shortages don't last forever, in polysilicon or any product area," Leming said.
"The core of the story here is semis. MEMC is getting back to its roots," Leming said.
-- Reported by Eric Rosenbaum in New York.
RELATED STORIES:
>>Solar Sector's Black Box: MEMC Electronics
>>Solar Losers: MEMC CEO Bonus
>>See our new stock quote page.
Follow TheStreet.com on
and become a fan on
Copyright 2009 TheStreet.com Inc. All rights reserved. This material may not be published, broadcast, rewritten, or redistributed.