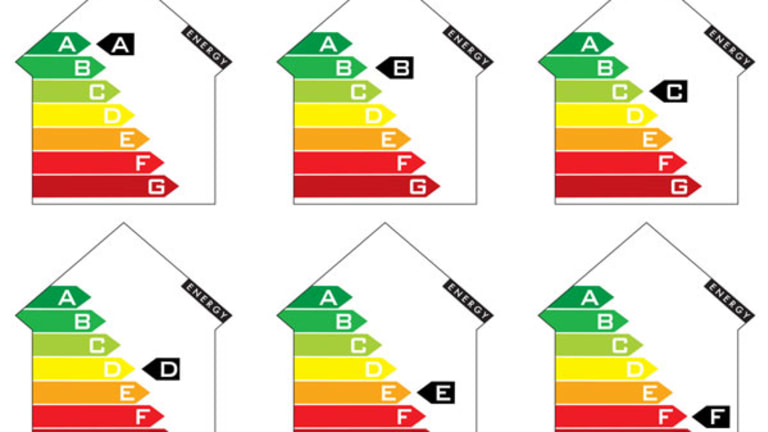 Solar Winners & Losers: Suntech Power
Suntech reports its earnings -- but the big surprise is its plan to move into solar wafering.
(Suntech Power solar winnners and losers story updated for analyst comment, market close)
NEW YORK (
) -
Suntech Power
(STP)
reported earnings that were expected on Wednesday morning -- after all, the Chinese module maker had pre-reported the bad news two weeks ago -- but Suntech still managed to take the Street by surprise in saying it wants to get into the solar wafering business.
Suntech has long-term wafering contracts with several Asia-based solar wafer markers, and its largest wafering contract by dollar value is with
MEMC Electronic Materials
(WFR)
, valued at $5 billion to $6 billion.
Analyst reaction to the vague commentary from Suntech about moving upstream into wafering was cautious, suggesting that Suntech's already strained balance sheet does not necessarily need a big commitment to solar wafer manufacturing.
The Street doesn't seem to doubt the long-term argument for bringing more wafer production in-house, as part of vertical integration of the Suntech model. The expectation is not that Suntech wants to take over the world of selling wafers to third-parties, but buffer its gross margins, which are expected to decline from a peak, by bringing more cost efficiencies in-house for its own module production. However, it's the immediate balance sheet issue, as well as the timing and scope of the wafer plans that has the jury out.
"We support vertical integration, but how is Suntech going to fund this move?" asked Jefferies analyst Jesse Pichel. The Jefferies analyst estimated the Suntech plan $500 million to $750 million for ingot/wafer capacity and extend an already leveraged balance sheet.
Indeed, the Suntech solar wafer ambitions raises the question: Is a Chinese solar company whose stock has lost half its value this year prepared to dilute shares further with a secondary offering? Suntech received no earnings rally on Wednesday to raise its share price ahead of a potentially diluting secondary deal. Suntech shares began the day trading up, but by the end of trading were down more than 2.5% on twice its average daily trading volume, and that seemed about right for a Chinese solar company that failed to answer some critical questions, while adding another big question about funding its solar wafer plans.
"I think Suntech will do a secondary or draw down on the loan provided this year by the China Development Bank, and considering their capacity, the plans have to be considered significant," said Gordon Johnson, analyst at Axiom Capital.
The Chinese solar wafer kings, like
LDK Solar
(LDK)
and
ReneSola
(SOL) - Get Free Report
, have been saying that wafer pricing can't be expected to remain at the current levels buoyed by the high industry demand. "The entry into the wafer market adds a layer of risk. How can Suntech beat the existing Chinese players at their own game?" Jefferies' Pichel asked.
Christine Hersey, analyst at Wedbush Securities, said that Suntech's discussion of the wafering raised a red flag, especially as the Chinese module maker noted that wafer pricing had gone up recently. No one expects that trend to remain in place long-term, and therefore, by the time Suntech would be up and running with wafer manufacturing, it might not achieve the gross margin improvement from the move upstream it anticipates.
"It seems odd to make a decision to go upstream at this point in time," Hersey said, though she added that Suntech's discussion of wafering was so vague that it was hard to take a definitive stance. Suntech did not provide details on how it would enter the wafering market -- a joint venture, for example, or whether the move would be related to buying assets from financially strapped Shunda, in which Suntech's big investment led to a big write-off this quarter. Nor did Suntech provide any guidance on how much solar wafer capacity it was interested in producing or on what time line.
Edwin Mok, analyst at Needham & Co., wrote in a Suntech earnings wrap that despite improvements in processing costs ($0.52/W in 2Q vs. $0.56/W in 1Q), near-term tightness in wafer supply will continue to disadvantage Suntech from a cost perspective. This supports the long-term decision to add wafering capacity, enabling STP to reduce costs to remain competitive. However, the cost benefit of vertical integration will take time and is unlikely to change its margin profile in the near-term, the Needham analyst argues.
The Chinese module maker continued to leave some other big questions open after its most recent earnings, notably related to its Pluto modules and its accounting related to affiliated company GSF.
However, Suntech upped capacity for the year from 1.5 gigawatts to 1.8 gigawatts, on a morning when Barclays upgraded the entire solar sector on a more bullish 2011 growth scenario. The outlook from a company that has dropped 50% this year could be the reason for the small move up in Suntech, even as the Street remains troubled by the Chinese module maker's overall cost equation and premium.
Its next generation Pluto modules still seem more or less spinning their wheels, with Suntech stating in the earnings that production reached 6 megawatts in the quarter. That's 6 MW of what Suntech has previously said is a Pluto capacity of 450 MW, so the Street didn't get the answer it was looking for on the Suntech call about why Pluto still seems like a distant planet.
"We still don't know if Pluto is scalable," said Jefferies analyst Pichel, noting that Pluto module production costs are greater than the average sales price of Chinese modules on the market today.
Related to the ongoing issue of the revenue recognized by Suntech -- but not collected on -- from sales to GSF, Wedbush analyst Hersey said it was more of the same from SunPower. "Suntech said the same thing as last quarter about expecting to collect, and we've been waiting every quarter to hear something different," the analyst said.
Another question raised after the Suntech earnings call by Gordon Johnson of Axiom Capital related to the sold out conditions in solar. If Suntech is completely sold out, as it claims to be, why is it selling modules into a venture like GSF that has yet to sell projects? If pricing is so strong on the open market for Suntech, why does the Chinese solar module maker continue to sell into an affiliate of which it is the majority owner?
Another thing that didn't change with the latest Suntech earnings is the Street consensus that it has one of the worst cost models in the industry, more or less a Chinese equivalent to
SunPower
( SPWRA). Yet, Suntech continues to trade at a premium to Chinese module peers.
Suntech's discussion about Pluto and GSF might stay the same, but that premium seems harder and harder to justify, even with a more bullish outlook on 2011.
-- Written by Eric Rosenbaum from New York.
RELATED STORIES:
>>LDK Solar: Too Big, Too Fast?
>>Will Chinese Renege on First Solar Mega Project?
>>Solar Winners & Losers: LDK Solar, SunPower
>>Buy JA Solar, Not Solar Angst: Analyst
Follow TheStreet.com on
and become a fan on
Copyright 2009 TheStreet.com Inc. All rights reserved. This material may not be published, broadcast, rewritten, or redistributed.