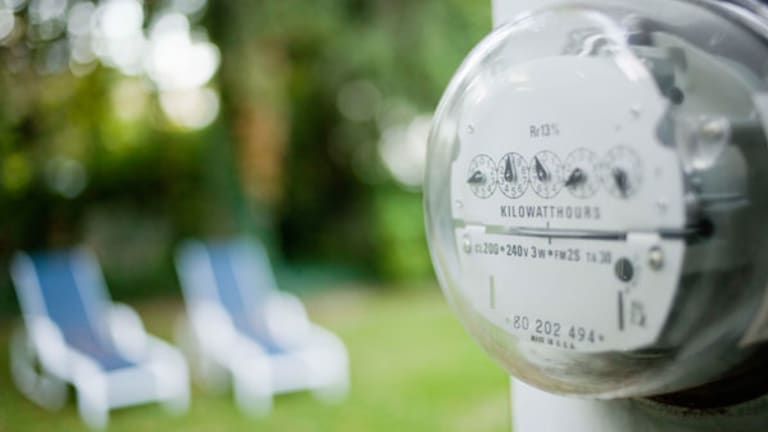 Solar Winners & Losers: Italy Drops the Boom
Solar stocks tumble as a draft legislation in Italy suggests there could be a strict cap on solar installations, the key growth market for 2011.
Solar stocks tumble as a draft legislation in Italy suggests there could be a strict cap on solar installations, the key growth market for 2011.
(Solar winners and losers, Italy story, updated for analysis of Italian environmental minister comments, analyst comment and trading action.)
NEW YORK (
) -- Shares of most solar stocks were down broadly on Monday as fears of more sudden, and more severe, changes in the boom market of Italy overtook the stocks. A new draft being introduced this week in Italian parliament could cap solar installations at 8 gigawatts, and the cap would be implemented immediately and with no grandfathering clause.
Solar stocks were mixed in trading on Tuesday, as equities declined, and as a
Reuters
article included more positive commentary from the Italian environmental minister about support for solar. However, those comments from the environmental minister were, upon further reflection, factually accurate while not fully reflecting the nature of debate in Italy over the future of solar subsidy support.
It's worth going comment by comment through the environmental minister's comments to
Reuters
, which several analysts consulted by
TheStreet
said did not offer any incremental information about the ongoing debate in Italy over solar.
Italy's environmental minister Stefania Prestigiacomo told
Reuters
"8 GW is not a cap."
That's true. It's not a cap, and it never has been. It's been the goal for solar installations in Italy by 2020, but it may be reached nine years early. As a result, making the 8GW mark a "cap" is part of the debate, and stating that "it's a goal" and not a cap, reflects the origins of the program in Italy, not the debate ongoing this week on potential changes to Italian government support for solar.
The
Reuters
headline quoting the environment minister states that the renewable energy incentives are set to be renewed this week in Italy.
That's true also, but it's also why all the debate is going on. The renewable energy standards need to be renewed by March 5 for a European Union directive deadline, but it doesn't mean that the renewable energy incentive won't be renewed with significant changes. In fact, renewal of the solar support scheme could in fact be an overhaul of the policy, analysts told
TheStreet
on Tuesday.
Analysts also indicated that it is the economics minister, and not the environmental minister in Italy, who has the majority in parliament, and therefore, the upper hand in negotiations. This doesn't mean there will not be a compromise that avoids a cap -- several solar analysts continue to believe a cap will be avoided, even analysts who believe Italy is serious about limiting solar growth. However, it also means that the position introduced by the economics minister could trump that of the environmental minister.
For any solar investor, the most important caveat in digesting the latest from Italy is to remember that a draft is only a draft. It's far from the final package of solar subsidy changes to be approved in Italy, and more may be learned by tomorrow (Wednesday) morning. It's a fluid situation. However, the language in the draft seemed more extreme than the market expected -- and, in the least, it suggests that the Italian government is serious about slowing the growth of solar.
The fear that exists about solar in Italy hasn't changed, in any rendering of the new draft: Is it a market scenario 2011 that is a repeat of Spain 2008 or Germany 2010?
In both cases, the solar industry was confidently predicting that the changes would not be as severe as feared. In the case of Germany in 2010, the industry was right; in the case of Spain 2008, the industry was wrong. Recent commentary about potential changes in Italy has focused on any changes to its solar support being pushed out to 2012, which allowed solar stocks to rally. Germany slowed at the end of 2010, but it didn't play out as the original draft legislation introduced at the beginning of 2010 would have implied for the German market, and which the new draft from Italy implies could be an sooner-than-expected slowing in Italy.
Recent commentary in the Italian market has focused on a cap on individual project size for agricultural land projects of 1 megawatt, and restrictions on the amount of solar power per hectare. The new draft not only includes these provisions, but an overall cap of 8GW. The 8GW is the most concerning issue for the industry, as there may have been installations in Italy in 2010 between 5GW and 6GW and 8GW could be reached by the third quarter this year.
The general sentiment in solar stocks this week presents the classic conundrum for investors. Solar management teams remain confident in their ability to sellout out at increasing shipment levels, yet on the other hand, it was Italy that propped up the market in the fourth quarter of 2010 as Germany slowed down. If Italy institutes a hard cap on solar in 2011, it would be the single greatest limit to solar growth globally, and current ASP and margin assumptions may have to be adjusted downward.
First Solar confidently predicted in its earnings last Friday that it was pricing to move volume and would sell out all of its production in 2011, yet First Solar already moved to reduced 2011 pricing in the fourth quarter of 2010. Jinko Solar is modeling for revenue growth that could be 50% above the Street consensus. Yet if Italy caps its market, analysts expect pressure on average sales prices and margins to be acute throughout solar.
Morgan Stanley analysts wrote in a review of the draft on Monday, "The decree calls for a suspension of feed-in-tariffs for new plants once 8GW has been installed and also calls for a maximum ratio of 100kW per hectare (previous expectations was 200kW per hectare) for ground-based plants on farm land, along with a size limit of 1MW for installations on farm land. These new provisions are expected to go into effect immediately. Our understanding is that there is no grace period and no grandfathering for ongoing investments. Although there is the possibility that changes could be made before the cabinet discusses the bill on Tuesday evening, our belief is that the odds are low.
Collins Stewart analyst Dan Ries wrote in a note on Monday morning, "The language is troubling in that it suggests there could be an abrupt end to the current boom in solar installations in Italy. It is hard to determine when cumulative installation of 8,000MW would be achieved, but we believe the country is currently approaching 7,000MW of actual installations. Due to a lag time of 3-4 months between a systems being installed and it being officially registered, the official registry currently shows only 3,700MW. That official registry is rising at a pace of roughly 1,000MW per month, as systems from the surge experienced in late CY10 are only now being registered. At the current pace, 8,000MW would be reached in 3Q11."
Maybe what occurs in Italy will be neither Spain 2008 or Germany 2010.
Dan Ries, analyst at Collins Stewart, thinks that even as talk of a cap dominates discussion, there will be significant pressure to avoid a policy that encourages a boom, and then a complete stop, which means that an 8GW cap isn't likely. Other analysts have noted that year after year there is talk about a cap in Germany, but it has never come true.
A policy that ends the boom in an orderly fashion and resets the country at a volume level that policy makers can live with is the wiser road for Italy, in the opinion of the Collins Stewart analyst. The analyst added that the environmental minister, as well as the industry minister, will have to fight to make this policy an orderly transition, though, since the more powerful voice is that of the economic minister, who has begun negotiating from the position of putting a cap on the table.
Morgan Stanley believes that when the recent rally in solar stocks is set against the Italian situation, there will be better opportunities to buy once ASPs decline and multiples compress in the sector, especially for U.S. solar stocks that have rallied and trade at premiums to Chinese solar stocks, First Solar and
SunPower
( SPWRA). Collins Stewart advises that it is time to hone a list of solar stocks to focus on low-cost module vendors that can be profitable in a deteriorating price and margin environment.
One important distinction about the potential Italian cap yet to be understood -- and that's if it stays in the draft legislation -- is whether it will simply be the trigger for a replacement target for Italy's solar market, without stopping installations. For example, Italy could say that the current feed-in tariff system will end when 8GW are reached, but at that point, it could introduce a new system with a long-term goal of 20GW of solar by 2020. The new solar program could include reduced tariff rates and additional project restrictions, but a hard stop on solar in Italy at 8GW wouldn't be the case.
The Italian government could just use the 8GW threshold as a trigger to review and revise the program. It could place a temporary freeze on installations as it hashes out new policies. Either way though, the tone is incrementally negative as debate begins in Italian parliament, and a problem for solar finance will be that banks won't be comfortable lending in Italy with that kind of uncertainty in the market, analysts in the sector contend. Even a temporary freeze on installations could also cause the loss of many jobs in the Italian marketplace, which will also be an issue in negotiations.
"We believe that the sector has rallied in recent weeks due to expectations that the current demand boom in Italy will continue to last throughout the year. If the draft bill passes without any significant changes, then we believe that there will be selling pressure in the sector as demand in 1) the largest market with 2) the highest ASPs will be negatively impacted, similar to what happened to the Spanish in 2008. Given their large pipeline of utility scale projects in North America in the second half of 2011, we believe that both First Solar and SunPower will suffer less negative volume and pricing impact than the rest of the industry, but they will still likely suffer some degree of multiple compression in the coming months as volume and pricing expectations for the group are reset," Morgan Stanley wrote on Monday.
First Solar was back below the $150 mark this week for the first time since January, when all solar stocks began their big run up, primarily stoked by the rally in crude oil prices in February.
Notably, SunPower predicted in its earnings that Italy would make no changes to its solar subsidy scheme before 2012, staking out a position of certainty about potential regulatory change that seemed bold, in the least, given that it requires a complete understanding of Italian parliamentary politics.
Solar companies have put up strong numbers for the fourth quarter, but the recent rally was more about the outlook in 2011 and Italy remaining strong. It's Italy that allowed for such huge numbers to be printed in the fourth quarter, too.
Sam Dubinsky, analyst at Wells Fargo Securities, has been making the case for weeks that chasing solar stocks with the uncertainty related to European subsidy programs, especially in Italy, does not make sense. This fear played out on Monday, as all the great fourth quarter reports were drowned out by the hint of an Italian solar subsidy change that will be worse than recently imagined.
Other analysts say that regardless of the exact cap discussion now underway in Italy, the big picture negative for solar is that the Italian government has clearly woken up to returns being too high in Italy's solar market, feeding a bubble.
Solar finds itself in a typical situation: companies are reporting blowout earnings for the past quarter and guiding up, but investors aren't going to pay high multiples for outperformance with the sector constantly in flux. A week ago, no one in the solar sector was expecting Italy to say the word "cap", yet no one should have ruled out the potential for this approach from Italy either.
Between the perma-bears who argue that a cap is a definite and the perma-bulls who argue Italy won't do anything, the true nature of the solar sector is volatile trading based on the general level of uncertainty, and the multiples reflect this dynamic.
-- Written by Eric Rosenbaum from New York.
RELATED STORIES:
>>Solar Stock Earnings: First Solar Declines
>>Italian Solar Politics: 7 Burning Questions
>To contact the writer of this article, click here:
Eric Rosenbaum
.
>To follow the writer on Twitter, go to
.
>To submit a news tip, send an email to:
.