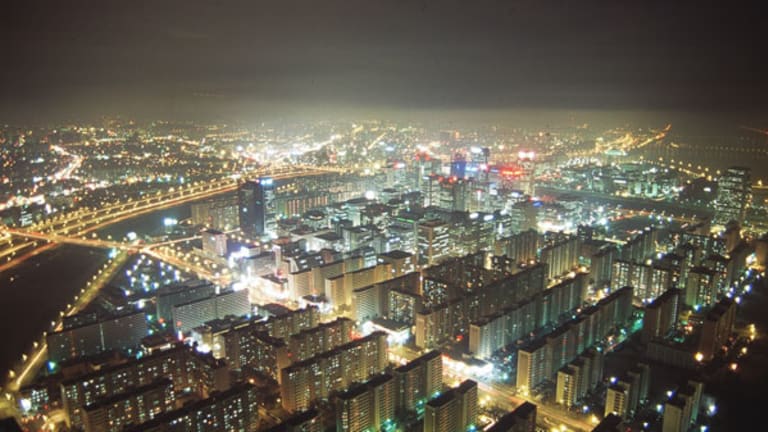 Solar Winners & Losers: Canadian Solar, Yingli Green Energy
Canadian Solar pops on news that it will finally report delayed first quarter earnings, but it's a down day for solar stocks.
NEW YORK (
) -- There's only one winner in solar on Thursday, and it's win is based on the fact that it may be exiting the regulatory penalty box.
Canadian Solar
(CSIQ) - Get Free Report
announced early on Thursday morning that it will hold a conference call to discuss first quarter results after the market close on Thursday.
It's a potentially big deal because Canadian Solar has been under the microscope of a Securities and Exchange investigation about its accounting practices, and hasn't reported the past two quarters as a result of the SEC investigation and internal audit process.
>>Canadian Solar Hit With SEC Inquiry
The entire solar sector was down on Thursday, but Canadian Solar shares were up 9%. That said, year-to-date Canadian Solar is down 55%.
Canadian Solar was fast approaching its average daily trading volume, of just over one million shares, before the midday mark on Thursday.
Canadian Solar is by no means in the clear, even if the news that it would be reporting first quarter earnings seemed to send a bullish signal on the solar company for some investors.
Canadian Solar has been conducting its own internal audit of its accounting controls, while the SEC investigation has been traveling on a separate but parallel path. Therefore, Canadian Solar could report first quarter earnings based on the results of its internal audit, while the SEC investigation may not necessarily be over.
>>Canadian Solar: a Weakened Currency?
Christine Hersey, solar analyst at Wedbush Securities, who spoke with Canadian Solar's CFO four weeks ago, noted that the internal audit committee was looking at what results the solar company might or might not have to reclassify, but that could be determined independent of SEC investigation status. "Today's announcement does not mean Canadian Solar will come out and say the SEC has concluded its inquiry, though when we met with them four weeks ago they were saying that they believed they had provided the SEC with all the information requested."
In any event, the Canadian Solar announcement probably means the SEC investigation is at least drawing to a close.
Canadian Solar reporting first quarter results should not be a surprise in terms of the specific numbers. Back in the first quarter, Canadian Solar had to pre-report earnings based on expectations of a big foreign exchange charge.
There were plenty of losers in solar on Thursday, as the broad markets selloff led the volatile sector down. There was a report from
Digitimes
on Thursday morning that Germany was considering a hard cap on solar in 2011. It was an anonymously sourced report, but all the same it didn't help to ease fears about a disconnect between bullish solar management 2011 commentary and the never-ending fears of further subsidy cuts or worse still, a Spain 2008 redux.
Yingli Green Energy reported an earnings, revenue and gross margin beat in the second quarter on Thursday morning, yet its shares were down like the rest of the solar pack -- not leading losses, which was a distinction left for the small-cap solar stocks that have raced up the most in recent trading, but down between 2% and 3% after reporting a solid quarter.
It wasn't a perfect quarter for Yingli, by any means. While Yingli raised gross margin guidance for the year, that was based on record gross margins in the first half -- and, in fact, its gross margins are headed down in the final two quarters of the year. Additionally, while solar is in a sold out period for the second half of the year, Yingli is expecting cost to move up slightly and pricing down, which is going to force some changes in Street models that expected costs to continue on a declining trend.
Yingli is ramping up its polysilicon plant and adding 400 MW of module capacity and expects that the cost reduction trend will be back on track to begin 2011 -- but, in the end, the commentary from Yingli about the second half of 2010 was not the clean report that eases investor worry.
"The quarter was good, but there are question marks with the numbers," said Wells Fargo Securities Sam Dubinsky. Gross margin and ASPs going down while peers are seeing better ASPs, and costs not coming down as fast as modeled while expenses were up in the quarter, were a few of the question markets highlighted by Dubinsky. He said it wasn't a pristine quarter, but the reaction could have been more tied to the lack of a "wow" factor. Yingli has already gained 21% in the past few weeks off its June low.
>>3 Chineses Solar Stocks That are Heating Up
Yingli poured money into a World Cup brand advertising campaign in the quarter and was trumpeting the success of the campaign on its earnings conference call, but overall expenses also went up significantly in the quarter. One analyst noted of Yingli's advertising campaign that it's great to say brand recognition is improving, but with the sold out conditions in solar, brand recognition was not a prerequisite for success in the second quarter.
Wedbush analyst Hersey noted that based on Yingli's comment that its non-silicon processing costs were reduced by a penny from 75 cents to 74 cents in the second quarter, relative newcomer
Jinko Solar
(JKS) - Get Free Report
could have moved ahead of Yingli, at least in the short-term, with its cost model.
As for Yingli commentary on 2011 -- that demand is double the level of production the Chinese solar company is even capable of keeping up with -- that's likely to be thrown out with the bath water.
Those are the type of comments that solar investors have come to discount, given the harsh experience with Spain's hard stop on solar a few years back, shortly after solar companies were saying everything was coming up roses. On the flip side, the sold out conditions in solar right now have already been priced into the stock.
One curious comment from Yingli's earnings statement, repeated during its conference call with analysts, was that it is "the leading" module shipper in the New Jersey and California.
Wedbush analyst Hersey, who covers the California market closely, said that this was a statement from Yingli that had her scratching her head.
SunPower
( SPWRA) and
Sharp
have been the long-time leaders in California, and among Chinese module makers, it's
Suntech
(STP)
that has made the most significant gains recently.
"I can't understand how Yingli is calculating the California numbers. I have no idea what they are referring to?" the Wedbush analyst said.
-- Written by Eric Rosenbaum from New York.
RELATED STORIES:
>>#Chineses Solar Stocks That are Heating Up
>>Canadian Solar: a Weakened Currency?
>>Canadian Solar Hit With SEC Inquiry
>>Senate Punts, Kicks Clean Energy in the Head
Follow TheStreet.com on
and become a fan on
Copyright 2009 TheStreet.com Inc. All rights reserved. This material may not be published, broadcast, rewritten, or redistributed.