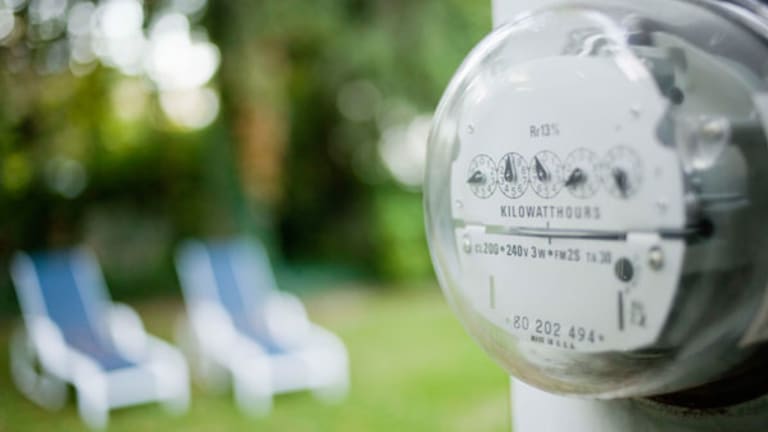 Solar Winners: LDK Solar Rallies Alone
LDK Solar rallies on its earnings to a new 52-week high, but it's far from the poster child for reaction to solar earnings in the third quarter.
(Solar Winners story updated for Phoenix Solar report)
NEW YORK (TheStreet) -- LDK Solar (FSLR) was alone among solar stocks rallying on strong earnings, hitting yet another 52-week high on Tuesday. The LDK rally hasn't been the solar sector standard bearer for the earnings reaction from solar investors in this third quarter. Even in LDK's case, it hit a 52-week high shortly after the open and then traded down for the remainder of the day, swinging from a high at $15.10 to a close at $13.90. By Wednesday morning, the new 52-week high for LDK was a fleeting moment, and shares were down more than 6%.
Solar investors just aren't feeling the love for solar stocks no matter how much they beat third-quarter numbers by or how much they raise numbers ahead of the fourth quarter. As for statements that 2011 orders are sold out and pricing adjustments aren't even an option for customers, all the good 2011 commentary seems to be falling on deaf ears.
Case in point: the only other solar stock rallying on Tuesday was
Energy Conversion Devices
( ENER), the perennially imperiled niche U.S. solar company.
When a company with an earnings loss is rallying because it managed to generate operating cash flow in a quarter, while companies beating Street EPS estimates by a wide margin are declining, there's something wrong in the state of solar, and it's not because Denmark is lowering feed-in tariff subsidies.
"While certainly more a positive than a negative for its balance sheet, we do not view this source of cash flow as sustainable and continue to look towards positive operating income as critical to stem ENER's cash bleed over the long term.... Despite the operating cash flow upside, continued net losses cannot be ignored.... ENER generated a net loss (x-1x items) of ($14m) in the quarter," wrote Hapoalim analyst Aaron Chew in an earnings wrap on Energy Conversion Devices.
Meanwhile,
JA Solar
(JASO)
easily beats the Street and says that demand looks great for 2011 and hears ... nothing but crickets. There are even critics of the LDK rally, saying that the reason it fizzled down from its 52-week high was because it was a rally sustained by short-covering anyway. Analysts raised JA Solar numbers in reaction to the earnings and said, more or less, "investors just don't get JA Solar."
JA Solar bulls like Jesse Pichel argue that the selloff in JA Solar shares, which continued on Wednesday morning, was simply a function of investors not understanding the company's conservative approach to gross margin guidance. Yet other analysts, like the team at Stifel, worry that its margin profile is falling behind that of vertically integrated Chinese peers.
In any event, it seems the nitpicking over the details in solar earnings may be the equivalent of making mountains out of mole hills, and the real mountain that can't be moved right now is overall concern about 2011, which is nothing new for solar.
Another sign that investors might read as ominous headed into 2011 is that German solar company Phoenix Solar declined to provide 2011 guidance when it reported on Wednesday morning. The Phoenix earnings report also showed a slowing in the German market in the third quarter, and the company management said on its conference fall that the German total installation level in 2011 will fall by an order of magnitude in the gigawatts. That's been the expectation of many solar analysts, still, the lack of outlook on 2011 from a major German solar company has the power to spook already spooked solar investors. The entire solar sector was again trading down on Wednesday morning.
Several analysts said the Phoenix Solar decision to not provide guidance for 2011 was not helpful for an already uncertain set of solar investors. Analysts cautioned, though, that there is always a game of chicken going on between the solar installers like Phoenix and solar module makers, with negative commentary from Phoenix potential reflecting its attempts to push back against module maker pricing. Nevertheless, it seems like qualitative fear could overrun quantitative fundamentals through the end of 2010.
Investors can point back to the
ReneSola
(JASO)
report from last Friday too. The Chinese stock received a big boost in pre-market trading on Friday, but on thin trading volume, and by the end of the day, ReneSola shares had lost ground. The Chinese solar company said mostly the right things on the conference call about 2011, also: demand is locked up and pricing looks strong. ReneSola has traded down every day since Friday.
Some analysts were looking at Tuesday as a key day to measure if there was any earnings rally fuel left for the solar sector, with the strong LDK report after the market close on Monday to be followed by the JA Solar and
Solarfun Power
( SOLF) on Tuesday morning. Yet it wasn't just the reporting stocks, but the sector as a whole that sold off on Tuesday, with almost all the Chinese solar stocks down.
A losing day for the markets and a down day for the euro is never particularly good for solar. The euro is down five cents in the past three trading sessions, after reaching a solar rally high on Nov. 4 above $1.42. The markets opened lower again on Wednesday and the euro continued lower too after the opening bell.
In the end, there may in fact be nothing at all wrong with solar other than its typical trading pattern ensuing again. The lack of a rally on strong commentary about 2011 may simply indicate that things have gotten a little frothy for investors after a big rally for the solar sector. For a sector that has had its problems with credibility in the past, investors may not be willing to extend the benefit of the doubt to solar companies with the historically slow first quarter -- i.e. winter in Europe -- on deck and compounded by fears of declining subsidy support in Europe.
ReneSola's stock price already rose 172% this year, and even if it is trading at 6 times earnings, like Solarfun, being cheap isn't enough right now to get net money into the solar sector. JA Solar's earnings commentary had no pop, but its share are up 60% this year.
The blah reaction from solar investors to many of the earnings reports shouldn't be a surprise. As Wells Fargo Securities analyst Sam Dubinsky noted in explaining the lack of pop in ReneSola shares after its beat and raise quarter, "Upbeat on 2011, but investors skeptical. Similar to peers, ReneSola guided for ongoing momentum to continue into 1H 2011, despite subsidy headwinds and weather driven seasonality in Germany (>50% of global solar demand). Investors will likely remain skeptics until December, which is when a slowdown should occur if Germany stalls."
The Solarfun story is complicated by the fact that it announced a dilutive secondary offering on Tuesday alongside its earnings. However, the Chinese solar module maker outlined a 2011 that makes clear why it needs to raise money, with a major expansion of its module, wafers and cell business.
The Wells Fargo analyst said, "We also believe investors are concerned the solar market is getting frothy following a slew of bullish earnings reports throughout the supply chain; companies have largely guided firm demand/pricing entering 1H despite subsidy cuts in several key markets and weather related seasonality."
The Street is raising numbers and picking out all the positives from the earnings, yet the actual trading from investors suggests that there are few recognizable catalysts left for the solar stocks to trade up again as a group before the end of the year. Most of the analysts are saying all the same things about why solar companies aren't getting any earnings bounce from saying all the same things about 2011 demand and pricing looking healthy.
Gary Hsueh, analyst at Oppenheimer & Co., said he's been hearing the same thing since the round of solar conferences in the fall, beginning back at the conference in Valencia, Spain: installers aren't singing the same tune as module suppliers, and the issue of a peak being reached overrides the commentary from the solar companies, especially with the winter season coming. All the companies are saying Q1 is fully booked and demand is at worst flattish compared to fourth quarter, and pricing down modestly.
"The problem is that although we've been sold on this all fall, I've got to believe there are variances around that one scenario, and variance could be skewed to downside," the Oppenheimer analyst said.
Hsueh said while the big Chinese players from ReneSola to JA Solar have talked about pricing being firmed up for 2011, "the installers and integrators we spoke to say there is no such thing as fixed pricing on demand contracts for next year. Things are always subject to change," the analyst said.
Companies like Solarfun and LDK Solar have outlined huge capacity expansions, and yet the demand view is for demand flattening next year, raising fears of oversupply, which is nothing new for solar. "Investors are looking at this space for any incremental after earnings and asking, 'What's the rationale for holding these names past earnings?'" the Oppenheimer analyst said.
"There's nothing encouraging through end of the year, and there's only downside risk from here," says Auriga Securities analyst Mark Bachman. "For companies to say that volume will be flat to modestly up in a seasonally slow period is creating a huge air of skepticism," Bachman said, echoing the concerns of the other analysts. "Everyone is saying all the right things, but we know these stocks trade on seasonal and cyclical patterns and fear and pessimism take over these names."
The Auriga analyst thinks the capacity expansion plans are warranted, though, and in the case of a stock like Solarfun trading at 6 times earnings, the capital raise to drive expansion could make it compelling. It's especially compelling after selling off by 11% on Tuesday, though given the uncertainty about 2011, the analyst is sitting on the sidelines with Solarfun shares right now.
Bachman added that even if Solarfun is a good stock to take a look at after Tuesday's selloff, and with the risk of dilution from a secondary now known, it's only a stock play, "if you're not afraid of owning through a quarter of pessimism."
RELATED STORIES:
>>Worst Clean Energy Stock 2010: Broadwind
>>Solar Stock Winners: GT Solar
>>Solar Losers: 5 Keys to the Power-One Selloff
>>Solar Winners: Time to Take the Money and Run?
>>Solar Stocks Now a Core Holding, Poll Says
Follow TheStreet.com on
and become a fan on
Copyright 2009 TheStreet.com Inc. All rights reserved. This material may not be published, broadcast, rewritten, or redistributed.