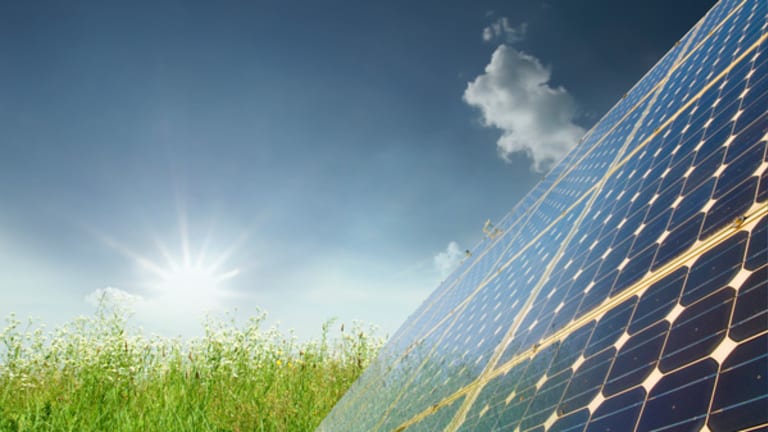 Publish date:
Solar Winners: Huge Day for Spire
Most of the big names in solar are down on Tuesday, but solar equipment play Spire Corp. is having its biggest market day in months on Tuesday.
Most of the big names in solar are down on Tuesday, but solar equipment play Spire Corp. is having its biggest market day in months on Tuesday.
(Spire story updated for market close price and volume)
BEDFORD, Mass. (
) --
Spire
(SPIR)
, the solar industry equipment manufacturer, was up more than 42% on Tuesday on atypical trading volume. Close to 300,000 shares of Spire were traded during Tuesday's session, versus an average volume of 26,000 for the thinly traded solar stock.
Spire's spike -- of $1.81 to $6.08, surpassing a price level the shares had not seen since September -- was notable on a Tuesday that saw most of the solar stocks trading down. However, this is not the first time that Spire has gone up on a day that was a bad one for most of the solar sector's high flyers.
Spire 12/29/2009 Stock Performance

(click on chart for more detail)

Equipment manufacturers like Spire are seen by some investors as defensive stocks within the momentum sector. There have been days during the fourth quarter when both Spire and equipment player
GT Solar
(SOLR)
were both up on bad days for solar. However, GT Solar was, in keeping with the down trend in solar on Tuesday, declining 3.7% in the afternoon, and with less than half its average volume of shares being traded.
There was no news of note from Spire on Tuesday. In fact, its latest major piece of news was the completion of the year-long sale process of its medical equipment unit to
C.R. Bard
undefined
a few weeks ago. That long-anticipated sale, completed two weeks ago, could not account for a spike of more than 42% on Tuesday.
The only market precedent that seemed applicable to Spire's ascendant Tuesday was a quarter-end phenomenon that also lifted shares of Spire at the end of the third quarter. A solar analyst who could not be named because he does not cover Spire, said that at the end of the third quarter, Spire experienced a significant buy-in that pushed its shares up by a similar amount -- on Sept. 29 shares of Spire were at $5.92 -- a share-price level that Spire surpassed by the Tuesday market close. Spire shares had cratered to $3.80 at the end of November.
Still, the big bump in Spire's share price on Tuesday is well off a 52-week high of $9 reached in May. And thinly traded Spire shares are notoriously volatile. Spire was at $3.36 on March 20, and reached its 52-week high only six weeks later. Spire returned to a price near that March low at the end of November, before its $1.81 spike on Tuesday.
Meanwhile, problems for Spire have not disappeared. While the divestiture of its medical equipment business, which was operating at a loss, should finally allow management to focus on the solar business, analysts have been disappointed by the company's lack of results. Even analysts positive on Spire's long-term outlook say it is time for the solar equipment firm to "put up or shut up" so to speak, because it is past the time of management simply talking about the opportunities for the solar player that are already known by the market.
It is still too early to say whether Tuesday's huge gains were just more of the short-term volatility that has plagued the thinly traded Spire stock, or a sign that investors believe 2010 will be the year that the solar equipment player produces positive results.
What's more, Spire has been on watch with its banks since its equity shareholder level has been below $10 million.
-- Reported by Eric Rosenbaum in New York.
RELATED STORIES:
>>Solar Winners: Hoku, GT Solar, Spire
>>Solar Stocks to Watch in 2010
>>See our new stock quote page.
Follow TheStreet.com on
and become a fan on
Copyright 2009 TheStreet.com Inc. All rights reserved. This material may not be published, broadcast, rewritten, or redistributed.