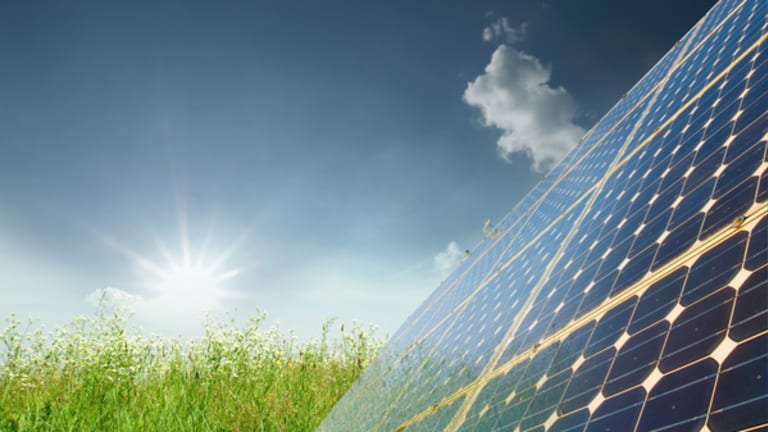 Solar Winners: GT Solar's Biggest Order Ever
GT Solar nabs its biggest-ever deal in the solar equipment market.
(GT Solar story, updated for polysilicon market details)
NEW YORK (
) --
GT Solar
( SOLR) shares are rising on Wednesday after the solar equipment vendor signed its largest polysilicon equipment deal -- and largest single deal in company history -- with South Korean polysilicon giant OCI.
OCI is paying $228 million for polysilicon reactors that will hit GT Solar's books in the first fiscal quarter of 2012.
GT Solar shares were up between 7% on Wednesday to a new 52-week high of $12.32, and had reached their average daily trading volume at the mid-day mark. Shares had hit a previous 52-week high of $12.13 on Monday.
"They are executing really well on grabbing new orders over the past few months and across all three business segments
solar furnaces, polysilicon reactors, and sapphire substrate," said David Arcaro, analyst at Battleroad Research.
In terms of the OCI order, the Battleread Research analyst said the deal was not a surprise, though the pricing seemed attractive for GT Solar. OCI had previously announced plans to expand it polysilicon fabrication, and GT Solar has been its equipment supplier for a long time, though he noted that OCI had not named GT Solar as the polysilicon reactor supplier when it announced the plant expansion. OCI has already announced plans for a fifth-stage in its polysilicon facility expansion which will begin in 2013.
OCI also signed a sapphire substrate equipment order earlier this year with GT Solar, as it seeks to become a bigger player to the LED market, where sapphire is a core raw material for LEDs. GT Solar's entrance into the sapphire "arms race" has been noted as a competitive threat to LED market sapphire provider
Rubicon Technology
(RBCN) - Get Free Report
, which has posted a string of recent quarterly beats, though in the most recent quarter did report pricing pressure in its primary sapphire wafer market.
On pricing, the $228 million price tag for the polysilicon reactors implies a price of $4.5 million per reactor, according to Battleroad Research, which would be at the high end of the $3 million to $5 million range at which polysilicon reactors sell.
The $228 million in revenue generated is also notable, equating to two quarters worth of polysilicon revenue for GT Solar, Arcaro noted. "New orders serve as catalysts for this stock," Arcaro said. The analyst added that between backlog and new orders, his GT Solar model implies GT Solar meeting revenue targets through March 2013. "That's nine quarters worth of revenue, but the stock is not reflecting that based on its multiple," the analyst contends. "The Street isn't giving GT Solar credit for fiscal 2013," he added. GT Solar is currently trading at 8 times the average analyst earnings estimate for 2012.
Stifel analyst Jeff Osborne raised his price target on GT Solar from $14 to $16 on Wednesday based on the added visibility and size of the backlog making the 2012 outlook seem conservative. The Stifel analyst noted that since the end of the third quarter, GT Solar has booked nearly $900 million in new orders primarily driven by the strength in sapphire and polysilicon equipment. Stifel estimates GT Solar's current backlog to be near $2billion (accounting for announced F4Q and F1Q bookings) or greater, and said the company's most recent fiscal 2012 guidance at $1.5 billion didn't appear to assume incremental fiscal 2012 sales from subsequent orders. "
The largest order for GT Solar previous to the OCI polysilicon deal was a $219 million agreement signed in April with a Chinese LED company for GT Solar's newer sapphire furnace equipment line. "The new orders in polysilicon and the sapphire orders come with higher margins and lower opex than the legacy furnace business. There's earnings power here, especially given the visibility into orders," Battleroad's Arcaro said.
The potential for overcapacity in the polysilicon market remains a concern in the solar sector, and of the Chinese government, which recently commented that it might look to shut down the operations of polysilicon plants producing fewer than 3,000 metric tons per year. However, there is a gap between the current supply/demand outlook in the solar sector, as it relates to the polysilicon needs of end-market players, and the lead time on orders for new polysilicon production equipment from Asian technology materials giants like OCI.
Pricing in the polysilicon market has declined recently, though it has remained at a level in the range of $75/kilogram that is considered relatively healthy. Polysilicon prices have fluctuated greatly in recent years, falling as low as the $30 range after the financial crash and hard stop on solar installations in Spain, and then rebounding to above $100. When polysilicon was above $100 many of the solar companies moved to bring polysilicon production in-house to take spot market pricing fluctuation out of the cost equation.
Reviewing management commentary from the polysilicon market, Auriga Securities analyst Mark Bachman recently wrote, a $75/kg range suggests there is little change in spot poly prices since 3Q10, despite supposed overbuilding of channel inventory or noise of spot poly price declines ... we see it more likely that spot poly prices remain supported through at least Q2 and possibly into Q3."
Technology trade publication
Digitimes
published a report on Wednesday suggesting that polysilicon prices could fall to $65/kg because of what it referred to as "stagnant" demand.
The health of the spot market poly is important to major solar stocks in several respects.
LDK Solar
(LDK)
plans to spin off its polysilicon plant business this year, and its ability to achieve a higher spinoff value will partially depend on pricing in the polysilicon market, as well as supply and demand in solar.
While the U.S. thin film solar leader
First Solar
(FSLR) - Get Free Report
is not dependent on polysilicon as a raw material, many of the major Chinese solar module makers use polysilicon in their crystalline silicon solar modules, and have to buy at least some of their polysilicon on the spot market. In-house polysilicon costs can be as low as $30/kg, versus current spot pricing at $75/kg. The ratio between spot purchases of polysilicon and long-term contract agreements at a fixed price can be an important factor in the costs associated with polysilicon needed for module production.
As Chinese solar module makers run out of room to eliminate non-silicon costs from their total cost per watt equation, the importance of the polysilicon cost is magnified. In the first quarter,
Trina Solar
(TSL)
reported that non-silicon cost per watt went down by a penny from the fourth quarter, from 74 cents to 73 cents, though the 73-cent/watt cost was back to Trina's cost level from the third quarter of last year.
Ramping up polysilicon production to a level at which economies of scale are gained has been a problem for solar companies, as in the case of
Yingli Green Energy's
undefined
ongoing polysilicon ramp.
China's
ReneSola
(SOL) - Get Free Report
is trying to ramp polysilicon production from 3,000 metric tons to 8,500 metric tons and projects it will reach an internal cost of polysilicon at $35/kg by the end of 2011.
In terms of the GT Solar deal with OCI, though, it's in a polysilicon equipment order cycle that takes 12 months to 18 months to complete. The supply from this latest order from OCI wouldn't be coming only until late 2012 or early 2013.
This doesn't mean GT Solar is immune to the solar sector oversupply risk, because its core solar equipment business would be hit by any pullback in solar wafer, cell and module markets. Yet Stifel, for one, still believes the outlook is conservative, even in a slower growth market.
While we believe the current investor fears center on a substantial slowdown in DSS
solar wafer furnaces shipments coupled with a slowdown in polysilicon bookings leading to a flat to down 2013, we view management's guidance of at least $750million in backlog exiting F2012 as overly conservative, as it would imply a considerable slowdown in bookings to ~$450million for the whole of F2012 (at the mid-range of guidance), which has already been well surpassed," Stifel's Osborne concluded.
-- Written by Eric Rosenbaum from New York.
RELATED STORIES:
>>Solar Stocks: Trina Solar and the new Solar Reality
>>Germany Takes Aim at Solar Again
>>Solar Losers: Evergreen Solar on the Brink
>To contact the writer of this article, click here:
Eric Rosenbaum
.
>To follow the writer on Twitter, go to
.
>To submit a news tip, send an email to:
.