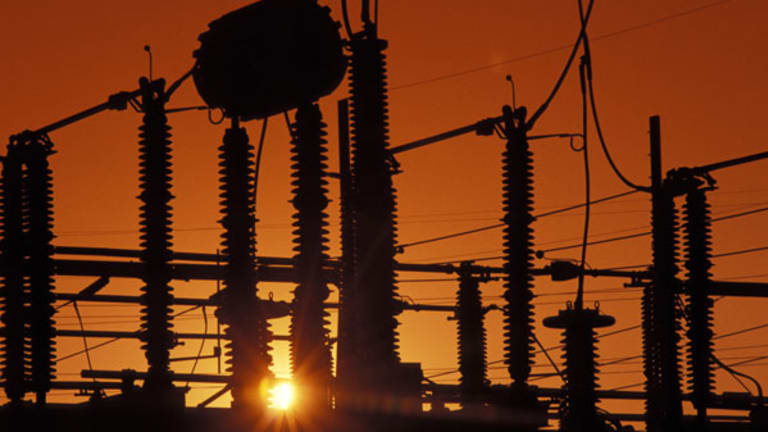 Solar Winners: Chinese Solar Stocks
Solar stocks, the Chinese solar stocks in particular, continue to trade as if there's no end to the gasoline to pour on the solar fire.
(Chinese solar stock, solar winners story, updated for Hapoalim Securities analyst comments)
NEW YORK (
) -- Shares of Chinese solar stocks are on fire on Wednesday, though there doesn't seem one clear source of gasoline for the bullish action in the Chinese solar plays. Most significant is the level of volume in trading. The shares of Chinese solar stocks aren't just higher, and moving against the general equities market sentiment, but significant volume trading is being seen in most of the major Chinese solar stock plays.
There are two news developments that could be behind the continued rally in solar stocks: For one, the euro was trading above $1.36 on Wednesday. The return of the euro has been a big part of the solar rally in recent weeks, as the once-predicted implosion of the euro was the cause for a sector selloff back in June.
A top official at China's National Development and Reform Commission, which calls the shots on green energy policy, spoke on Wednesday about the emerging giant's green energy plans. A
Bloomberg
report quoted Xie Zhenhua, vice chairman of the National Development and Reform Commission, saying that China will continue to implement measures including tax incentives, price reforms and financial subsidies to spur environmental and power conservation in the next five years.
Information quoted by the NDRC official on spending plans for green energy and green energy targets through 2020 were not new information. In fact, the latest from China was more of the same broad brushstroke talk about renewable energy goals. China has been talking about its national feed-in tariff for alternative energy for the past few years and there have been reports throughout 2010 claiming that the finalization of the FIT was imminent, all reports which turned out to be wishful thinking.
The recent optimism in solar can only be described as unbridled, and given some of the uncertainties headed into 2011, that should at least be a point of concern for investors. Many solar stocks are trading at arguably low P/E multiples, but multiples based on earnings assumptions for 2011 that could be vulnerable.
>>Solar Stocks: the Optimists are Running the Asylum
In the short-term solar trading scenario, there is reason for investors to be placing their bets on solar stocks. Hapoalim Securities solar analyst Aaron Chew explained that investors are positioning themselves ahead of what is likely to be strong third quarter earnings reports and optimistic guidance for the fourth quarter driven by three factors: the Euro, continued firm pricing, and healthy demand ahead of the January storm of feed-in-tariff cuts. Third quarter earnings previews are starting to come out and estimates are going higher, as well. This doesn't alter any of the risk factors come January 2011, but it does present investors with an opportunity to capitalize on any solar earnings rally action before next year rolls around.
It certainly wasn't the news from the U.S. sending Chinese green stocks higher, where 180 lawmakers urged President Obama to pursue unfair trade practice claims against China for support of its green energy industry. Congress was also voting on Tuesday on a measure to slap Chinese imports with tariffs.
>>3 Obama Green Programs Mired in the Red
Even while the latest news from China on its green ambitions amounted to no more than a rehash of much of what China has expressed previously, the move up in the Chinese solar stocks was significant.
LDK Solar
(LDK)
,
Trina Solar
(TSL)
,
Jinko Solar
(JKS) - Get Free Report
, and
Canadian Solar
(CSIQ) - Get Free Report
were leading the way, with returns in excess of 6%. LDK Solar, up 9%, may still be benefitting from the huge loan package announced by the China Development Bank earlier this week, a $9 billion loan commitment for LDK, the largest loan commitment of many provided to Chinese solar companies this year. LDK sold off on Tuesday after an 18% rally when news of the loan package broke on Monday, but its Tuesday selloff was erased in its new 52-week high reached on Wednesday.
Trina Solar recently received a number of buy initiatives from securities analysts, but Trina has long been the No. 1 buy stock in the sector.
Sam Dubinsky, an analyst at Wells Fargo Securities, noted that there have been several initiations of sector coverage in recent weeks, several bullish calls like those from Piper Jaffray - which started 10 solar stocks at a buy - yet none of the initiations moved the stocks significantly.
Dubinsky said the action on Wednesday did show people making big bets on the sector, even if there was no tangible news that he knew of in support of the bullish trading. "The China news was fluff," the analyst said.
Fluff or not, all of the Chinese solar stocks were at or well above their average daily trading volume by the mid-day mark on Wednesday.
The entire solar sector was up on Wednesday, including the U.S. solar plays, and there were some notable volume moves among beaten down U.S. solar stocks.
Evergreen Solar
( ESLR), which still faces bankruptcy concerns, was up near 8% on Wednesday on more than twice its average daily volume of trading by mid-day.
Energy Conversion Devices
( ENER), the other dog among U.S. solar plays, was also well above its average daily volume and up by more than 8%.
Investors weren't just placing their bets on the well-worn story of Chinese solar stock advantages, but the U.S. solar names that in recent months could do nothing right to raise their stock prices.
Such bullishness in solar is typical on days when the markets are rallying, less so on days when the markets and Nasdaq in particular are suffering through a losing session.
--Written by Eric Rosenbaum in New York.
>To contact the writer of this article, click here:
NAME
.
RELATED STORIES:
>>Solar Stocks: the Optimists are Running the Asylum
>>3 Obama Green Programs Mired in the Red
>>Steelworkers Union Attacks Chinese Green Energy
>To follow the writer on Twitter, go to
.
>To submit a news tip, send an email to:
.
RELATED STORIES:
Copyright 2009 TheStreet.com Inc. All rights reserved. This material may not be published, broadcast, rewritten, or redistributed.