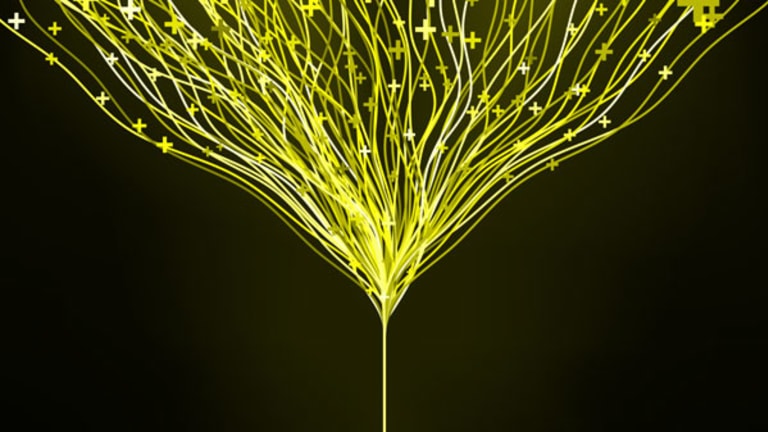 Trina Solar and the New Solar Reality: Green Energy Stocks
Trina Solar's aggressive stance at a time of uncertainty indicates that pressures on the solar battleground are mounting.
(Trina Solar outlook story, updated with comments from Auriga, Susquehanna, Soleil analysts)
NEW YORK (
) -- First-quarter results from Chinese solar company
Trina Solar
(TSL)
were weak, as expected, but a gross margin guide-down for the second quarter took the market by surprise, and may indicate a new reality for the investor view of the solar sector.
Indeed, earnings models across Wall Street couldo come down if a higher-volume, lower-margin, aggressive battle in solar is to typify the sector's future.
Trina guided gross margins down to the low 20s range for the second quarter, as the Chinese low-cost solar leader becomes more aggressive about volumes. Trina operating expenses rose in the most recent quarter and the solar company expects that trend to remain in place as it seeks greater sales across a wide geographic footprint.
"Gross margin for the second quarter was worse than expected, but personally, I don't think this is a high 20s gross margin business," said Mizuho Securities analyst Paul Clegg. "This market will surprise people in terms of volume, but will also surprise in margin levels going lower. If you want it to be successful in terms of solar panels being ubiquitous on every rooftop, it needs to be a lower-margin business," Clegg added.
Trina had guided first-quarter gross margins down to 27.5%, from 31.4% in the fourth quarter 2010 and 30.9% in the first quarter last year, however, this margin weakness was telegraphed by Trina in its earnings pre-report, but not the second quarter margin decline to the low 20s.
The recent uncertainty in Europe, specifically the slowdown in the Italian market, led to
negative first quarter pre-reports
from Trina Solar,
Yingli Green Energy
(YGE)
and
LDK Solar
(LDK)
.
It's the future battleground in solar that analysts were reading into the Trina results on Tuesday. It has been noted in recent months that European solar support changes mean a few European markets serving as demand sinks for solar modules is no longer a repeatable sales strategy for solar companies. The Trina Solar outlook suggests what it will take, and what it could do to margins, to succeed in the new, even more global, solar battleground. The latest signal that uncertainty from Europe will remain a headwind for solar came last Friday in
comments from German chancellor Angela Merkel
about potential changes in the level of support from Germany for future solar installations.
Trina Solar said that taking into account solar wafer and cell requirements outsourced to third party suppliers to meet demand in excess of its internal capacity, gross margin for the second quarter will be in the low 20s in percentage terms. Trina expects to ship between 430 megawatts and 450MW of solar modules in the second quarter.
The second quarter shipment guide was better than some expectations, and was the flip side of the margin weakness, suggesting a volume game that Trina can win even if the price is lower gross margin. Trina's guidance implies roughly 1 gigawatt of module shipments in the second half of the year to meet its full year guidance of 1.75 megawatts to 1.80 GW, which was reaffirmed on Tuesday.
Dan Ries, analyst at Collins Stewart, wrote on Tuesday, "The biggest surprise in the report was the 2Q11 guidance, which calls for module shipments in the range of 430-450MW, up 37% seq. at the midpoint and well above our prior forecast of 350MW. While the demand environment is improving, it appears that TSL is taking a more aggressive stance as it strives for 10% market share. To produce 430MW, TSL will have to purchase wafers/cells for roughly half that volume, which will weigh on GM, guided in the low 20% range in 2Q11 (vs. our prior forecast of 27.2%). The solar market has become more competitive, and our forecast has been adjusted to reflect the deterioration."
Sam Dubinsky, analyst at Wells Fargo Securities, said that Trina's guide for shipments of 430MW to 450MW, up 34%-40% quarter over quarter, was to his knowledge the highest sequential growth in the solar group. Share gains, improved seasonality, and renewed Italian deployments were contributing factors. "While one could argue that Q2 is meaningfully higher due to Q1 push-outs, volumes are still up about 20% in H1 2011 versus H2 2010, a decent feat given sectorwide challenges entering the year."
The argument can be made that the recent inventory builds across the solar sector are the short-term reason why Trina Solar is being so aggressive, and that things will go back to the way they were after the inventory is worked off.
The short-term pain was apparent in the Trina Solar first quarter numbers, with days sales outstanding increasing from 54 days in the fourth quarter to 90 days. Accounts receivable increased from roughly $377 million to $543 million sequentially. At the end of the fourth quarter 2010, Trina Solar's cash balance of $791 million compared to accounts receivable of $377 million. At the end of the first quarter, cash of $555 million was compared to the $543 million in accounts receivable.
There was some sentiment on Wall Street that it is still too soon to call a "new reality," though the Trina results did in the least present that possibility. If 2010 represented a peak margin year for solar companies, the Trina results and outlook didn't necessarily solve the riddle of where solar sector margins reset. Average sales prices are declining faster than cost improvements.Trina's non-silicon cost improved by a penny in the first quarter (but were back to the costs from the third quarter, after having added a penny to costs in the last quarter of 2010). Meanwhile, lower sales prices and more competition result in the need for even more volume.
The Trina volume increase expectation for the second quarter shows this trend, but the low 20 gross margin guide isn't yet set in perpetuity given the inventory glut in Europe, analysts caution. Furthermore, all solar companies are reaffirming full year guidance and expecting demand to rebound strongly in the second half of the year. In this case, it might be safest to argue that the ideal earnings and margin metric for the solar space is still a work in progress, and Trina, and its most recent strategic decisions, are signs that this work remains unfinished.
Mark Bachman, analyst at Auriga Securities, wasn't backtracking one bit from the view that Trina's results were a short-term issue, even if he came to the conclusion that investors will wait for proof before re-staking this bullish Trina position. The Auriga analyst said if Trina management failed in convincing investors that it has earned the right to "exude confidence in its forecasting ability," he is willing to back Trina.
"Solar investors will likely stay on the sidelines until shipment volumes resume and will then bid the stock higher while chasing demand into the seasonally strong fall installation season. Regardless, we are not wavering in our support of TSL and reiterate our buy rating and $41 price target," Bachman wrote on Wednesday. Bachman conceded a high level of skepticism among investors after the Trina earnings, but took the macro solar market view, writing, "With all the major solar end-markets now having established subsidy programs, we expect volumes to increase given the relative certainty of attractive project IRRs and availability of debt financing."
In an interview with
TheStreet
on Tuesday, Richard Thompson, CEO of solar inverter company Power-One, said that the return on investment for solar projects that is still available,
post
feed-in tariff changes in Europe, is
by solar naysayers who predict a demand demise for the sector.
Mehdi Hosseini, analyst at Susquehanna Securities, upgraded Trina Solar from a sell to a hold after its post-earnings decline, more or less because he now thinks that the stock will come down from the aggressive Street model which he has always believed was flawed. Hosseini argued that the Trina results were more than just a one-quarter blip and indicated that his thesis -- that low-cost alone isn't necessarily sustainable, at least in the case of the consensus Street earnings model for Trina -- has played out. Hosseini's earnings model for Trina pegs annual earning power in the next two years at roughly $2.50, versus a current Street consensus of $4.
"Last year I was dead wrong because of Italy, but now we are back to the real environment, not a bubble," Hosseini said. He explained that early last year Trina completed a secondary equity offering and said that it would keep capital spending low and focus on cash flow -- but it was only the bubble conditions in 2010 that allowed Trina to stick with that plan, limiting its spending and in-house production ramps without feeling the margin pinch, the Susquehanna analyst says. Trina actually has to spend on sales and marketing, and research and development, and if it wants to be a truly global player, operating margins have to be 10% to 12%, Hosseini maintains.
The Susquehanna analyst noted that Trina did guide to activity picking up again in the second half of the year, both in volumes and pricing power, but said, "now nobody is buying it. Last year was the window dressing and this year reality surfaced, so I'm moving to the sidelines. This is a low teens operating margin business."
Taking the middle ground of the debate -- or at least saying that the debate can't be decided today -- Paul Leming, analyst at Soleil Securities/Princeton Tech, said that it all comes down to average sales prices for solar modules in the second half of the year. Leming said that if investors look back to the fourth quarter earnings calls across the sector, all solar management teams talked about being "sold out" in the first quarter. The solar management teams can now defend themselves by saying, "We couldn't see Italy coming," but that just means there is the potential for one more "unforeseen" event that solar misses in the second half of the year. In the least, the solar management teams have not earned credibility, Leming said.
The Soleil analyst came to the conclusion that he can't disprove solar management teams' continued confidence that all is worked out in the second half of this year, or prove the more bearish case -- to which he is more inclined -- that average sales prices would have to fall severely to stimulate significant demand in a market typified by aggressive capacity expansion plans at all the major vendors. "From my point of view, nothing that happened in the first quarter or is going to happen in the second quarter will settle debate on this group. The question has been for some time and continues to be, 'Where are module prices going to be in August?'" Leming concluded.
Trina shares were below $23 for the first time since December 2010 on Tuesday and Wednesday.
Raymond James analysts alluded to this debate in an email to
TheStreet
on Tuesday, noting that the worse-than-expected margin degradation is more of a cause for concern than anything else in the Trina first quarter results, which also included a non-cash foreign exchange charge and higher tax rate. "It looks like 1Q and 2Q's margins are more a function of ASP declines and higher inventory levels in Europe given the project push-outs there. What I think is more interesting is the company's market expansion policy, and how they're getting more aggressive in regards to pricing (and higher opex expenses) in order to gain share. While the company consistently hit gross margin above 30% in 2010, it doesn't look like they're going to be at that level again anytime soon," Raymond James analysts concluded.
Mizuho's Clegg added that the higher operating expenses reflected the fact that Trina was paying more to staff-up within a distribution effort. "All these companies are increasingly becoming global, and that means lower margins than previously expect. The overall dollar figures continue to go up, but the solar companies need to do it," Clegg said.
Trina's operating expenses in the first quarter were $66.8 million, an increase of 17.8% sequentially and 136.5% year-over-year. Most importantly, operating expenses represented 12.1% of its first-quarter net revenues, an increase from 8.8% from the fourth quarter of 2010 and 8.4% from the first quarter of 2010. Trina said the increased spending was for expansion in its global structure to meet its strategic growth objectives and R&D. Spending was up by $10 million in the first quarter, with R&D expenses up by more than $2 million, general expenses up by roughly $6.5 million, and sales expenses increasing by $1.3 million.
While analysts focused on the aggressive approach Trina Solar was taking during a time of uncertainty in solar and fear of overcapacity, margins remains a trigger-finger issue for solar investors as it causes a reset of Street earnings numbers. The higher-volume game featuring lower average sales prices and increasing operating expenses feeds into the lower margin guidance.
Collins Stewart reduced its Trina Solar 2011 earnings estimate to $3.68 from $4.71 -- though 42 cents of the revision was the first quarter miss. For 2012, Collins Stewart revised its earnings estimate for Trina Solar down to $4.41 from $5.13.
Almost all the other stocks in the solar sector rebounded on Wednesday from a big losing day no Tuesday in the wake of the Trina results.
Jinko Solar
(JKS) - Get JinkoSolar Holding Co., Ltd. Sponsored ADR Report
, which was down 9% on Tuesday, clawed its way back to a 2% gain. Jinko actually had one of the cleanest first quarters among solar companies and made a case for being a "tier 1" company like Trina against some of its detractors, though analysts have also noted that for companies like Jinko, with less long-term contracts than Trina, a tight market can actually be easier to navigate.
Solar wafer makers
LDK Solar
(LDK)
and
ReneSola
(SOL) - Get ReneSola Ltd. Sponsored ADR Report
were down 7% and 5%, respectively, on Tuesday, but LDK was one of the few solar stocks that remained in the red on Wednesday with Trina, and only with a marginal decline. There were reports that pricing in the wafer market had eroded rapidly. The wafer pricing had served as an earnings ballast to these companies as they seek to gain more share of the solar module market, though the Trina commentary and channel checks on spot wafer sales may have been doubling the pressure on these shares, analysts said.
LDK pre-reported a revenue miss that could be as high as $100 million. It also guided to better gross margins in the first quarter, but with wafer pricing falling rapidly, that margin profile can change quickly as well.
Collins Stewart said in a report on Tuesday that wafer pricing has fallen to between 60 cents and 70 cents in recent days, well below the 84 cents it had been embedded in its second quarter outlook.
Mizuho's Clegg said given the weakness in solar in the first part of the year, it was surprising that wafer pricing had held up as well as it had, but it was also surprising that it plummeted so quickly.
All solar shares were under pressure as the Trina aggressive stance suggested that "life is increasingly difficult on weaker-branded, higher-cost vendors," in the words of Collins Stewart's Ries.
Yingli Green Energy
(YGE)
and
SunPower
( SPWRA), the two top brands in China alongside Trina, were down 3% on Tuesday, but rebounded on Wednesday. Neither has yet released first quarter results, though Yingli, like Trina, pre-announced that shipments would disappoint. Yingli was also down marginally on Wednesday, along with Trina and LDK. Many solar stocks have come down steeply since share price highs reached last fall, and analysts say the existing declined make the lack of further bleeding, or limited bleeding, no surprise.
-- Written by Eric Rosenbaum from New York.
RELATED STORIES:
>>Green Energy Stocks: Electric Cars Stall
>>Solar Losers: Trina, Yingli, Jinko
>>Germany Takes Aim at Solar, Again
>To contact the writer of this article, click here:
Eric Rosenbaum
.
>To follow the writer on Twitter, go to
.
>To submit a news tip, send an email to:
.